At the risk of generalizing, the vast majority of investors are not chart oriented and anytime an article includes a stock chart, they will often move on. But as one great trader and teacher John Bollinger once said, those successful in this game quickly learn to use anything that works, and charts often provide some valuable clues as to where a stock or market is headed.
I must admit to have been struggling with the contention by bullish analysts like Dick Bove (who regularly appears on financial TV) that some stocks, including financials, represent a "once in a generation opportunity to buy." This is not what my leading sector and fundamental indicators have been flashing, so I have become accustomed to tuning out the raging bulls on CNBC and Bloomberg.
But one chart got my attention yesterday. I first noticed a bullish head & shoulders bottom (H&SB) pattern on the Dow Jones Transports Average yesterday that had just been confirmed as the index soared Tuesday. It is a powerful reversal pattern that often indicates a potential change in trend.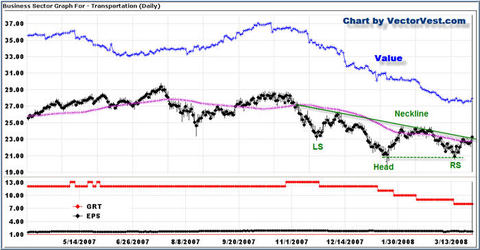 Figure 1 – VectorVest Transports sector index representing seven transportation industries and a total of 145 transportation stocks compared to just 20 for the Dow Jones Transports Average [DJT] confirming the bullish head & shoulders bottom (H&SB) chart action in the Dow Jones Transports Average.
I then looked at a broader transportation index published by VectorVest that includes 145 transportation-relative companies compared to just 20 for the Dow Transports Average.
As we see from Figure 1, it also showed the same H&SB bullish chart pattern. Further investigation showed that while value (blue line) based on current and forecasted earnings had fallen to $27.93, it was still well above the composite stock price of the group of $23.29. Like the price of the index, value had also recently turned up.
Fundamentals such as earnings per share [EPS] (black line) and earnings growth [GRT] (red line) had fallen as well but were still positive and, given that fundamentals generally lag stock price in a rally, this weakening trend was not a real concern. The only concern was that the recent break up was not accompanied by a significant increase in volume that provides insight into the strength of the move. As the fuel that drives markets higher, without significant growth in volume, a rally is generally short-lived.
Dow Theory states that to confirm market trend, both the Dow Industrial Average and the Dow Transports Average must be trending in the same direction. Transports broke out of their downtrend in the third week of March while the Industrials continued lower bringing into question the bear trend. The bullish chart pattern was one sign that the downtrend may be in the process of changing.
To confirm the uptrend according to Dow Theory, both the Transports and Industrials will have to put in a new high. But, while that still may be a while away, continuing to play the bearish side of this market while oblivious to this development could prove an expensive oversight especially if we see volume begin to explode from here.
Disclosure: None.