Coal's not pining! Coal's passed on! Coal is no more! Coal has ceased to be! Coal's expired and gone to meet its maker! Coal's a stiff! Bereft of life, coal rests in peace! Coal's kicked the bucket, it's shuffled off its mortal coil, run down the curtain and joined the bleeding choir invisibile!! [Monty Python]
Coal is dead. The fact that its proponents have propped it up like Lenin in his ice cave is no argument for its survival.
If there was any doubt about this, the Policy and Economics Department Association of American Railroads has released its June rail traffic obituary report.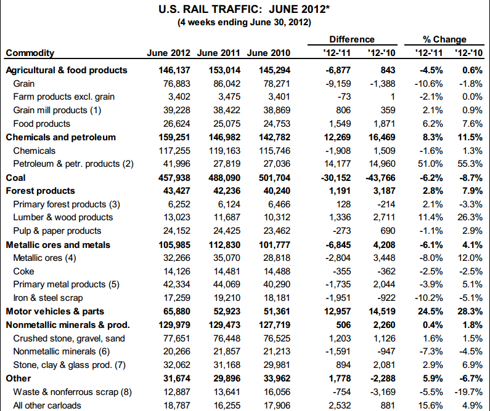 That's right. Following one of the hottest Memorial Day's on record and during one of the hottest Junes ever, 6.2% less coal was shipped than the prior year! Less! And 8.7% less than 2 years ago.
Coal has gone to meet its maker alright and one need only look one itemized line higher to see the reason why - petroleum traffic was up a colossal 51%. Natural gas, newly cheap after last Winter's warmth, has replaced coal as the hydrocarbon fuel utilities use to condition their customers' air in this Summer's record heat.
Summer of the Powder River Basin Living Dead
I suppose we could dig a little deeper to see if this is hitting the coal industry evenly. Haven't we been hearing that coal from the Powder River Basin is cheaper and cleaner (and hence more popular on match.com) than some other types of coal? Harry?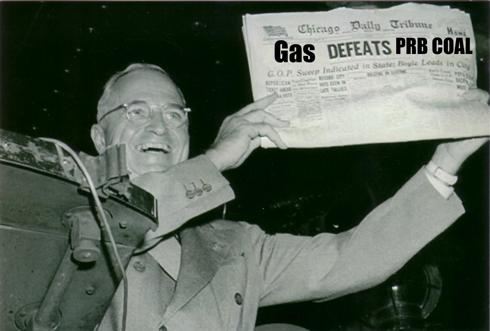 Kansas City Southern (NYSE:KSU) is a railroad that delivers coal from the Powder River Basin:
KCS serves eight (now nine per conference call) coal-fired utilities in the U.S. and receives more than 30 million tons of coal annually through the Kansas City, Missouri interchange. These unit trains of 125 cars originate on the BNSF and UP (NYSE:UNP) railroads. The majority of coal originates in the Powder River Basin region of Wyoming; however, KCS also hauls coal from Illinois, Utah and Colorado mines.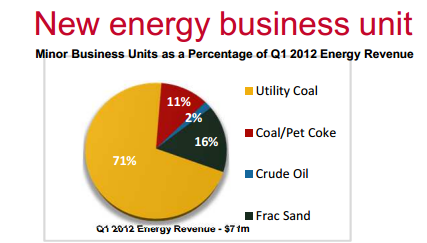 KSU reports traffic weekly on its website. Let's compare the latest week reported with the comparable week a year ago.
2011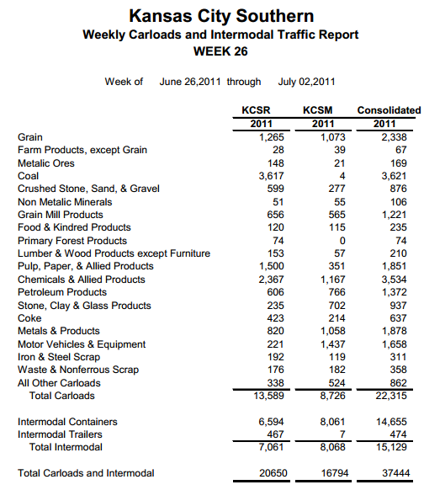 2012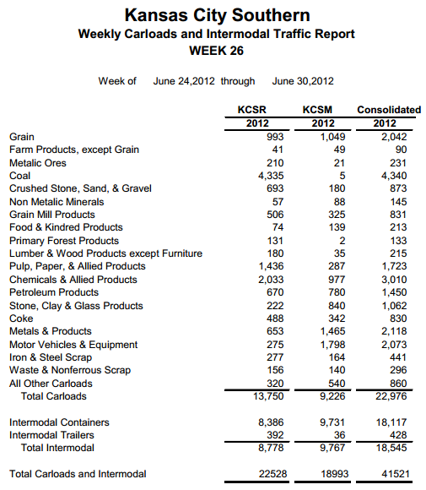 Hmmmm. Strange things are afoot in the Powder River Basin. If coal is so dead why did KSU ship 20% more carloads this year than last year? Maybe that week was an anomaly. Let's go back to the beginning of June and compare the most recent five week period to the comparable period last year (We'll use the "R" column, "M" is Mexico).
2011
3617, 3113, 4239, 4099, 4886 = 19,954
2012
4335, 4518, 4425, 3793, 5083 = 22,154
That's still an 11% increase. Remember, Winter destroyed natural gas prices, coal is not supposed to even be competing: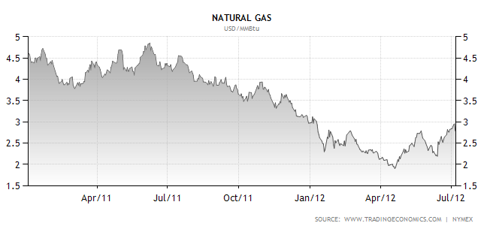 Is it because this Summer is so hot? Maybe...but last Summer was one of the hottest ever breaking over 26,000 heat records.
KSU did bring on a ninth utility customer compared to a year ago, and that makes a difference. So if they shipped 100 units to 8 customers a year ago that's 12.5 units per customer. An increase of 11% means shipping 111 units, spread evenly between nine customers is 12.33 units per customer. That's virtually no change.
But that is not even supposed to be happening. Coal - dirty and brutish - is supposed to be supplanted by frackable gas - beautiful and elegant. Adding a coal utility customer is not "supposed" to be happening.
Is it because gas prices spiked recently? You could definitely think so looking at the chart, but listen to KSU on their first quarter conference call:
Pat Ottensmeyer

I'm talking about improvement from the first quarter and improvement from the second quarter of last year.

Scott Group - Wolfe Trahan

Okay, so you think that utility coal will be positive year over year in second quarter?

Pat Ottensmeyer

Yes.

[KSU 1st Qtr Conference Call]
That was on April 24th! Look at where natural gas prices were on April 24th.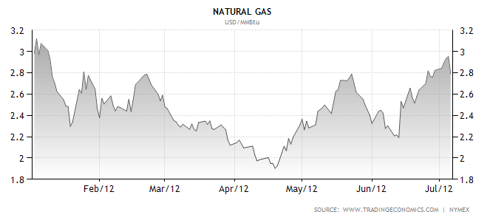 Part of the run-up in the face of cheap gas was utilities preparing for the worst after the record heat last Summer, here is KSU utility customer Great Plains (NYSE:GXP):
From the railroad, we've done a great job of restocking, and so we're headed into the summer with our kind of our peak opportunity early in place for coal inventory.

James L. Dobson - Wunderlich Securities Inc., Research Division

And what's your goal on that, Terry, is that just sort of 40, 45 days of burn.

Terry Bassham

No. It was more than 45 to 50 last year. We're going to increase that, probably I'd say 15, 20 days, probably on average among the plants to have a little heavier load on the ground. Again just a safety measure given what happened last year. [GXP 1st Qtr Conference Call]
Don't let that "in place for coal inventory" comment fool you - this call was May 4th (well before the deliveries that outpaced last year). So while some of this may be "just in case" coal, it is coal they plan to burn nonetheless, even if it were a mild Summer. That would be called baseload coal, and if they are taking it (sometimes utilities ask to defer contracted shipments), even with gas prices so low, that is a very good sign for PRB coal.
Generally, they have been base load. They have been considered base load plants, but obviously, when you combine a very warm winter, and in particular in Texas where you have a deregulated environment and natural gas, competition from natural gas fired plants with demand being down because of the weather, even base load plants are going to be affected.

But I would say we have always considered our utility plant customers to be base load demand or production.

Tom Wadewitz - JPMorgan Chase & Co.

Okay, and you think that's still true looking forward?

Mike Upchurch

Yes.

[KSU 1st Qtr Conference Call]
Conclusion
The fracking boom combined with the 4th warmest Winter on record led to very low natural gas prices. That led many utilities that were burning coal to switch to gas, and coal companies have paid the price.
The fact that these utilities have not materially decreased their shipments in the face of this huge gas glut is very bullish for the long term outlook of the Powder River Basin.
The rest of coals' fate remains to be seen and may have to wait to play out overseas as ports open and demand increases from newly constructed power plants. Powder River Basin coal, though, is cheap, clean as far as coal goes, easy to mine, and seems to be fairing better. Investors can play the basin 3 ways.
1) If you like the diversification railroads provide you can still get PRB exposure with Union Pacific and Kansas City Southern. Beware playing Genesee & Wyoming (NYSE:GWR), Norfolk Southern (NYSE:NSC), and CSX (NYSE:CSX) for coal though, they focus mostly outside the PRB and on more expensive Central Appalachian coal.
2) Utilities that burn a lot of the cheap PRB coal may make good investments as gas prices rise and especially if Summer stays hot. These companies include Black Hills (NYSE:BKH), Westar (NYSE:WR), Empire District (NYSE:EDE), Entergy (NYSE:ETR), and Great Plains Energy. Otter Tail (NYSE:OTTR) offers really good basin exposure but also dabbles in many different businesses. Other utilities that have some exposure to the basin but are more diversified include the larger utilities like American Electric Power (NYSE:AEP), AES (NYSE:AES), Duke (NYSE:DUK), Consolidated Edison (NYSE:ED), Exelon (NYSE:EXC), Public Services Enterprise (NYSE:PEG), Southern Company (NYSE:SO), and TransAlta (NYSE:TAC).
3) Coal producers operating in the PRB like Arch (NYSE:ACI), Peabody (NYSE:BTU), Cloud Peak (CLD), and Alpha Natural Resources (NYSE:ANR) have sold off with the rest of the coal sector. They may be able to recover sooner than the rest of the sector, and if the Summer stays hot and gas prices keep climbing they may recover quickly indeed. Cloud Peak is a pure play PRB producer. Arch is the biggest producer in the basin, and may have more room to run as it has sold off a lot more than Cloud Peak.
Disclosure: I am long ACI.