Last week I wrote an article about top-performing electric utility companies over the past 18 months and how they looked going forward. The intro included a discussion of the merits of investing in utilities: the essence of the argument is that utilities are strong safety, dividend yielding plays, and that the market of the past 12-18 months has put a premium on such plays, leading to outperformance in both stock price appreciation and total return. The Utilities Sector (XLU) has gone up almost 17% since January 1st, 2011, more than double the S&P 500's return (SPY).
I ran a screen of utility companies that have a market capitalization of at least $5B and a dividend yield of at least 3.5%. As stated last time, this yielded 22 companies. 10 of them significantly outperformed the sector as a whole for that 18-month period, gaining 25% or more in share value. Six others performed roughly in line with the sector as a whole, gaining between 18 and 22% over the past 18 months. It's those stocks that are in the spotlight here. For each company, I'll give a brief assessment of the business and key events or things to watch for. I'll then add my short take on the company (as a short man, I can't do much more than that). Information comes from TDAmeritrade, The Wall Street Journal, the companies' websites, Seeking Alpha transcripts, and YCharts. Non-GAAP earnings are used except on the charts.
To the lines!
1. Ameren Corp (AEE)
Price (as of July 6th close): 33.42
Market Cap: $8.1B
2011 P/E: 13.05
2012 P/E (estimated): 14.34
2013 P/E (est.): 17.50
2011 P/FCF: 10.28
Yearly Revenue Growth: -1.02%
EPS Growth last two years: 4.7%
Estimated EPS Growth next three years: -4.82%
Dividend Yield: 4.79%
Price change (1/3/2011-7/6/2012): 18.30%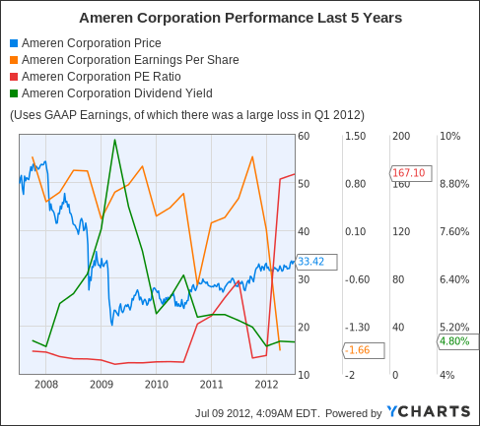 Ameren Corporation is a Midwest-based utility company, with Ameren Illinois and Ameren Missouri its two main businesses, both traditional regulated utility units. Its earnings are going in the wrong direction, as one can see from the P/Es above. At issue are apparently two mundane challenges that the utility industry has been facing: weather and energy prices. Ameren has been struggling to grow based on 2010's extremely hot summer, and this year's mild winter also affected the need for power. The other issue is that with energy prices low, due to abundant natural gas, the shift away from coal usage, and the still struggling global economy, the company's unregulated merchant generation business is unlikely to add much to earnings this year.
The company's guidance for 2012 earnings of $2.20-$2.50 EPS bakes in a weather adjustment for the summer to "normal temperatures". Normal weather is something of a quaint notion these days, so it could be that Ameren sees some positive shocks from a hot summer. The company adjusted its guidance in light of first quarter earnings, keeping the overall number the same but adding $.05 to the merchant generation guidance while taking it away from the regulated business. This was mostly an accounting issue, but with natural gas prices starting to kick up a bit, it might be that there is more upside down the line here.
Of note is Ameren's strong free cash flow from a year ago. That cash flow went mostly towards paying down debt. The company's forecasted free cash flow for 2012 (as calculated by forecasted operating cash flow less forecasted capital expenditures) is about $.74/share, leaving a forward P/FCF ratio of over 45.
As a last note, Ameren raised its dividend for the first time since the financial crisis in Q4 2011. The payout ratio based on 2013 earnings, which analysts expect to drop off even more, is already 84%, so it's questionable that Ameren can and will raise its dividend again this Q4, but it is something to watch for. The company does not have a strong history of dividend growth, keeping the dividend high but unchanged for a decade leading into 2008, then cutting it significantly after 2008, and only now raising a little.
Short Take: Lots of question marks here, and the trends of flat dividend growth and falling earnings make an unlikable couple. This one can be avoided.
2. Alliant Energy Corporation (LNT)
Price (as of July 6th close): 45.56
Market Cap: $5.1B
2011 P/E: 16.57
2012 P/E (est.): 16.10
2013 P/E (est.): 14.65
2011 P/FCF: 175.23
Yearly Revenue Growth: 7.29%
EPS Growth last two years: 20.15%
Estimated EPS Growth next three years: 6.09%
Dividend Yield: 3.95%
Price change (1/3/2011-7/6/2012): 22.64%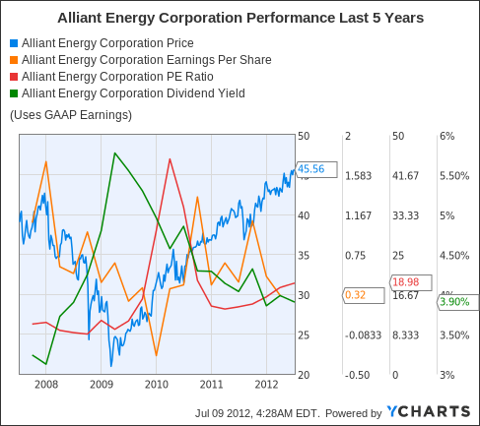 We're back on sturdier ground with Alliant Energy Corporation. Another Midwest outfit, Alliant supplies electric and gas to customers in Wisconsin, Minnesota, and Iowa through two main units, Wisconsin Power & Light and Interstate Power & Light Company. Regulated energy provides the bulk of the earnings - Alliant is guiding for 95% of its $2.90 midpoint 2012 earnings guidance to come from the regulated energy. Management has tilted its guidance, with a maintained range of $2.75-3.05 EPS, towards the lower side of the range due to the warm winter.
Alliant has been increasing its natural gas usage, an unsurprising move considering the low cost of natural gas. More impressive is that the company has taken advantage of lower costs to institute a rate cut and freeze in its Wisconsin business, allowing customers to benefit from the rate cuts. Of course, that's part of the regulated business model, but still a positive sign.
Alliant has also been quite transparent about its dividend policy. On the Q4 2011 earnings call, then-COO and now CEO Patricia Kampling mentioned a, "target dividend payout ratio is 60 to 70% of utility earnings," with the most recent hike coming at the beginning of the year. Currently, the payout ratio is 65% of guided 2012 earnings; the 6% earnings growth rate could provide a guide for how fast the dividend will grow. The company has increased the dividend for 9 consecutive years.
Short Take: A classic, solid utility play. You probably won't go wrong with Alliant, but there are other options out there with similar growth prospects and a richer dividend.
3. Northeast Utilities (NU)
Price (as of July 6th close): 38.69
Market Cap: $12.1B
2011 P/E: 16.26
2012 P/E (est.): 16.53
2013 P/E (est.): 15.11
2011 P/FCF: negative
Yearly Revenue Growth: -8.82%
EPS Growth last two years: 11.37%
Estimated EPS Growth next three years: 4.27%
Dividend Yield: 3.54%
Price change (1/3/2011-7/6/2012): 21.10%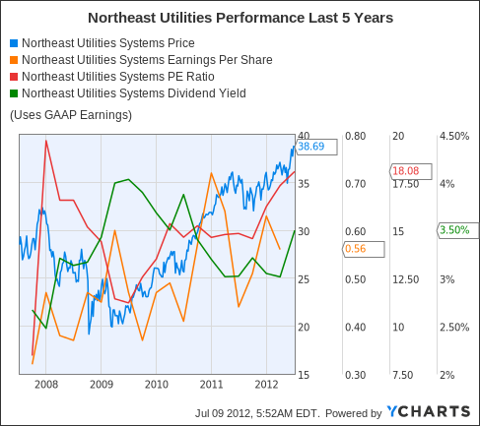 Northeast Utilities is the leading utility company in New England, serving 3.5 million customers in Massachusetts, Connecticut, and New Hampshire. This might help explain why it is the 2nd most-disliked company in the country: between the generally grouchy dispositions we New Englanders can have and the tempestuous and wide-ranging weather patterns, it is not a simple market for utility companies.
Northeast became the leading utility company after a merger of equals with NStar Energy, a company whose gas and electric business were based around the perennially strong Boston area and in Cape Cod. The merger closed in April of this year; while other mergers in the sector have been fraught with intrigue and machinations, this one seems to be going fine.
Going forward, Northeast expects the consolidated strength of the company to offer big opportunities, especially in growing the natural gas heating market, which has not achieved great penetration in Massachusetts or Connecticut. The company also seems fairly pleased about the settlements with Massachusetts and Connecticut state governments that allowed the merger to go through. Lastly, the merger offered an opportunity for the company to align the dividend policies of the two legacy companies, which has led to two consecutive dividend hikes for legacy NU shareholders. Management conceded that the dividend rate is still quite low, offering the opportunity for, "pretty attractive dividend growth in the future." With the forward payout ratio below 60%, there is indeed room to grow the dividend: at 2013 earnings estimates of 2.56/share, a 60% dividend payout would amount to $1.54 annually, 12% higher than current levels.
Short Take: The current numbers don't stand out, but those who see the merger as a good runway to future earnings and dividend growth still have a chance to get in reasonably early on the move. The company does need to work on its customer satisfaction levels, however.
4. SCANA Corporation (SCG)
Price (as of July 6th close): 48.15
Market Cap: $6.3B
2011 P/E: 16.21
2012 P/E (est.): 15.38
2013 P/E (est.): 14.50
2011 P/FCF: negative
Yearly Revenue Growth: -4.18%
EPS Growth last two years: 2.14%
Estimated EPS Growth next three years: 4.82%
Dividend Yield: 4.11%
Price change (1/3/2011-7/6/2012): 18.16%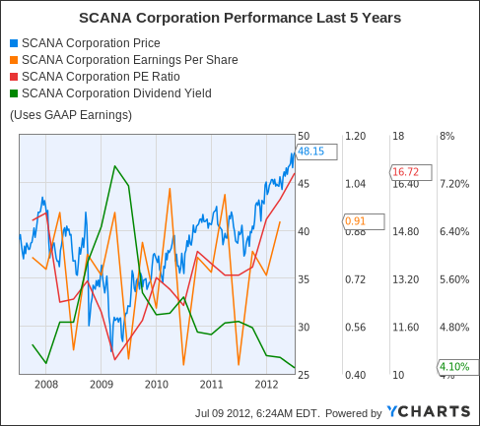 SCANA is based in South Carolina, with business in North Carolina and Georgia. The company is a typical regulated utility company, but is most known for its nuclear plants. SCANA received construction and operating licenses in March for two new nuclear units in South Carolina, and has been quite vocal about its commitment to safety and various possibilities in the wake of the Fukushima tragedy. The company's track record is so far so good, though it only takes one slip-up to tarnish a sterling record.
The company has recently filed for a couple rate increases in both its electric and natural gas businesses. SCANA can achieve another full percentage point in its Regulatory allowed ROE, so there is organic room for the company to grow its earnings. The company is targeting 3-5% earnings growth over the coming years. So beyond the nuclear plants, for which the pending approval was an overhang in terms of the already sunk capital expenditure costs, the company is proceeding on a typical utility track. It has raised its dividend 12 consecutive years, and the payout ratio for 2012 expected earnings is still in the low 60s, percentage-wise, a sustainable level.
Short Take: I owned SCG for much of 2011 and was quite happy to get out with a 14% gain, thinking the rotation was over and cheaper utilities were to be had. That was at 45.15 a share. The stock set a 52-week high 7.4% over that mark last week, is as cheap as any of the 16 utility companies I've looked at so far, and looks like a continued strong play. Whoops.
5. Southern Company (SO)
Price (as of July 6th close): 46.54
Market Cap: $40.4B
2011 P/E: 18.11
2012 P/E (est.): 17.56
2013 P/E (est.): 16.50
2011 P/FCF: 29.27
Yearly Revenue Growth: 1.14%
EPS Growth last five years: 5.30%
Estimated EPS Growth next three years: 5.07%
Dividend Yield: 4.21%
Price change (1/3/2011-7/6/2012): 21.13%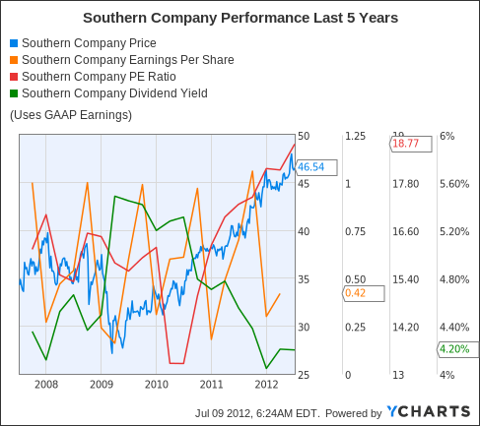 Southern Company is the one energy giant on this list. The Atlanta-based company serves Scarlett O'Hara territory well, with electric utility business in Mississippi, Alabama, Florida, and Georgia. Southern serves as a good example of how utilities are responding to the current energy situation: in 2010, the company generated 58% of its energy from coal, with natural gas and nuclear providing the other sizable portions (25% and 15%, respectively). That mix is changing, however, as the company expects to have natural gas provide nearly half of its energy generation this year and to be the bigger generating fuel in the next decade, with energy prices providing variability in the forecast. Meanwhile, nuclear "and other" generation is expected to grow from 17% to 21% over the 2010s.
Southern Company is a longtime dividend raiser, boosting the dividend for the 11th consecutive year this past quarter. The yield is solid but not superlative. The company has also received several downgrades as of late, mostly on valuation basis. Indeed, it's not only the most expensive company on this group according to P/E ratio, but also either as or more expensive than all the companies on the outperformers list I did last week. A symbol of our safety-seeking times, but with a very large valuation nevertheless.
Short Take: Southern Company is an industry leader, but leading the way in P/E ratios without a clear advantage is not the best yellow jersey to sport. If a rotation away from this sector does occur, Southern deserves to go back on the buy list.
6. Xcel Energy Inc. (XEL)
Price (as of July 6th close): 28.59
Market Cap: $13.9B
2011 P/E: 16.62
2012 P/E (est.): 16.15
2013 P/E (est.): 15.13
2011 P/FCF: 69.73
Yearly Revenue Growth: 3.34%
EPS Growth last two years: 6.49%
Estimated EPS Growth next three years: 4.64%
Dividend Yield: 3.78%
Price change (1/3/2011-7/6/2012): 21.35%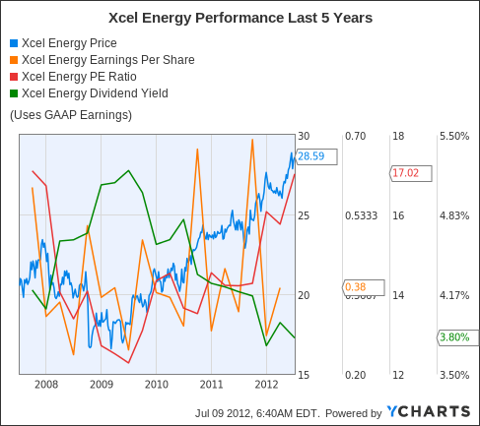 Xcel Energy does business in eight states across the Midwest and Northwest. The company has regulated electric and natural gas distribution businesses; the natural gas part provided 17% of 2011 revenues while serving 36% of the company's total customers, with electric doing the rest. Strictly in the regulated business, Xcel has a very stable business model, affording it solid and steady growth both in the past and the future, and both for earnings and dividends, the latter of which it raised for the 9th consecutive year this May.
Like many of its peers, Xcel maintained its 2012 guidance after the first quarter but adjusted expectations towards the lower end of the guidance range to account for the mild winter. All reports I've heard are that the Midwest summer is an extraordinarily hot one, which might allow Xcel to make up some of the lost earnings.
Short Take: Similar to Midwest peer Alliant, Xcel is a quality pick in a general dividend portfolio but not the stand out from this list or the utility sector in general.
Summary
The valuations in this group are not quite as stretched as they are for some of the outperforming utility companies, Southern Company excepting. There's no specific commonality among this group that explains why these companies haven't performed quite as well as the leaders over the past 18 months. Mostly, these companies steady regulated utility businesses that provide a decent dividend and low to mid-single digits earnings growth over the coming years. Nothing exciting, but they could provide a good rock for any portfolio.
SCANA is my top pick from this group, as it has both a low valuation and good growth prospects. Northeast Utilities is an interesting play due to possible merger momentum, though the bad reputation with customers is a concern. Southern is worth keeping on the watch list back burner until the valuation corrects a bit. Ameren is worth avoiding, considering its issues.
The first list I ran featured outperformers who may have outrun their earnings. The last list in this set of three will look at the underperformers in this group who haven't followed the rotation. For those looking for safer plays that haven't completely jumped their move, this might be the best list.
Disclosure: I have no positions in any stocks mentioned, and no plans to initiate any positions within the next 72 hours.