The world economy is slowing. Christine Lagarde notified investors Friday, July 6, 2012 that the IMF was set to lower its global GDP estimate for 2012 in 10 days. There is acute trouble in Europe. China, India, Brazil, and the US are all slowing. How does one invest in this kind of market? You look for stable companies with good management. It helps if they pay good dividends. Two Harbors Investment Corp. (TWO) is one such company. It has a dividend of 14.67%.
To some it may seem counterintuitive to invest in the residential real estate market. It has been falling for years now. However, this may be one of the safest areas to invest in. In the US it has fallen roughly 35% from its highs. However, it has not popped back up as much of the rest of the market has from its 2009 lows. It has only recently seemed to stop falling. At worst it seems to be near the end of its drop. In another recession, it might fall a bit more; but it is not likely to see the bottom fall out a second time. It is already finding that bottom; and the current mortgage interest rates are so low that they make buying a home a cost saving measure compared to renting in many areas. The 30-year fixed mortgage today, Monday July 9, 2012, averaged only 3.49%. The 15-year fixed averaged only 2.88%. The replacement cost of many homes is buoying the price of the home, after an approximate 35% drop in home prices since 2006. On top of this the Fed is holding Fed Funds rates at near 0%, and it has said that it will keep them there at least into 2014. Further the Fed has extended Operation Twist until the end of 2012. This is designed specifically to keep mortgage interest rates low (long term bond rates low). The entire situation is sounding much more stable than just about any other industry. "Don't fight the Fed" is perhaps a doubly true saying when an industry is also in the bottoming process, and the Fed is specifically targeting the industry for health.
TWO is a hybrid REIT investing in residential mortgage and housing sectors. It was formed in 2009. It may have RMBS and other assets dated prior to that, but they are all assets bought after the worst of the downturn. The management team got good deals on them. The overall market has supported the company. It has increased market capitalization by 20-fold since TWO's inception to its $2.34B today. Many think the lessening of government involvement and the increase in bank capital and liquidity requirements are creating opportunities in this business that are not often present. TWO, with its veteran management team, is trying to take advantage of this. Thus far it seems to be doing a good job with the result that investors are being treated to a great dividend of 14.67%.
TWO deals in agency assets (government agency guaranteed assets), which are relatively safe. However, it also deals in non-agency assets such as RMBS, which can be much more profitable. The fundamentals have improved in this sector. There is better loan performance, declining delinquencies, more stable housing prices, and great opportunities due to the banks and the government trying to decrease their involvement. The company is positioning itself to take advantage of home price appreciation and increased rents in the future. It is targeting properties at a significant discount to their replacement cost. It has repo borrowing average days to maturity of 80 days. It has diversified its counterparty risk with 20 different counterparties. It uses a combination of swaps, swaptions, and IOs to reduce the book value volatility. It has lower leverage than most of its peers with only 3.7 times leverage in Q1 2012 versus 6.2 times leverage for its average peer. This means lower risk at least in leverage. The two charts below show that it has also managed its interest rate exposure and prepayment risks to values far below its peers' averages.

These things all make TWO a good investment compared to its peers. They make TWO safer in many ways, although no investment of this kind can be deemed truly safe. The following table gives a description of TWO's portfolio as of March 31, 2012.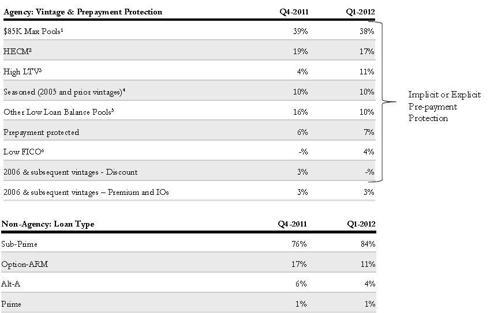 In some ways TWO's portfolio has gotten a little riskier in Q1 2012 versus Q1 2011. However, if you look at the tables above this last one, you may see that is not necessarily true. Overall the risk level appears to be close to the same. TWO has a Beta of 0.4, so the market does not view it as overly risky. It trades at a PE of 9.33. Again this is not overly high. TWO gives every appearance of being a well managed company in what may be one of the most stable areas of the market today.
The two year chart of TWO provides technical direction for the trade.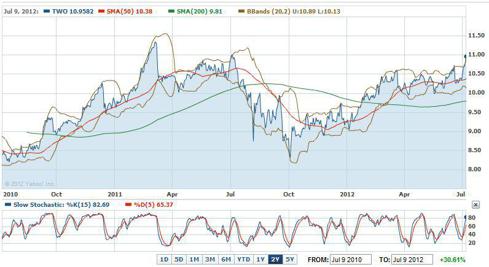 The slow stochastic sub chart shows that TWO is near overbought levels. The main chart shows that it is above its top Bollinger band. This is a signal that TWO is overbought. For most of 2012 TWO has been in an uptrend. However, it does regularly journey below its 50-day SMA. It is currently significantly above its 50-day SMA. This probably means that it might be smart to wait for it to fall below its 50-day SMA before buying it. The overall market seems ready to fall with the recent weak data from the EU, Brazil, China, India, and the US. Therefore waiting and/or averaging in are good strategies. Of course, a nearly 15% dividend can make up for a lot of timing miscues. If the market falls on the weak data and a weak Q2 earnings season, that could provide a good entry point for this trade. However, you also want to keep in mind that other people will be looking for safe trades in this tough market.
A couple other high dividend REIT stocks that I like are: American Capital Agency Corp. (AGNC), and New York Mortgage Trust (NYMT). Please do your own research on these before you buy them. I did write a recent article on AGNC though. I should mention that TWO is the seventh largest holding of the Mortgage REIT Income ETF. It should be comforting that REIT specialists have a high opinion of it.
NOTE: Some of the fundamental financial data came from Yahoo Finance.
Good Luck Trading.
Disclosure: I have no positions in any stocks mentioned, but may initiate a long position in TWO over the next 72 hours.