Natural gas pipeline partnership Boardwalk Pipeline Partners (BWP) works a model to produce steady revenue and profit. The company rewards unit holders with a high payout of distributable cash flow and a resulting high current yield. Interested investors must determine if the yield is worth the slow pace of distribution growth.
Boardwalk Pipeline Partners focuses on natural gas pipeline transport and storage. The company's pipelines provide interstate service from the natural gas sources to local distribution companies, gas-fired power plants and industrial gas users. Boardwalk generates 82% of revenue from capacity reservation charges and 14% from contracted utilization charges. The remaining 4% of revenue is classified as interruptible service charges.
In 2011, Boardwalk Pipeline Partners expanded its services into the midstream gas gathering and processing arena with the formation of Boardwalk Field Services. Midstream services are the growth source for faster growing natural gas pipeline MLPs like Williams Partners L.P. (WPZ) and MarkWest Energy Partners L.P. (MWE). Early Field Services projects are focused in the Marcellus and Eagle Ford shale plays.
The 7.5% dividend yield from Boardwalk Pipeline Partners is among the highest of the energy pipeline MLPs. The distribution rate has been increased each quarter. Recently the increases have been a quarter of a penny per quarter, resulting in a 4 cent increase over four quarters on a $2.13 annual dividend rate. This is less than a 2% distribution growth rate. Boardwalk has also been paying a high percentage of distributable cash flow as distributions and incentive distribution rights. For 2011, the amount distributed was 110% of reported distributable cash flow. For the 2012 first quarter, the payout was a high but more acceptable 90% of distributable cash flow.
Boardwalk Pipeline Partners provides a stable, high yield investment choice for investors who want to gather that 7% plus dividend stream right now. For investors willing to accept a lower yield in exchange for a better distribution growth rate, consider investing in Williams Partners yielding 5.7% or the fast growing ONEOK Partners L.P. (OKS) with its 3.3% yield may be better choices.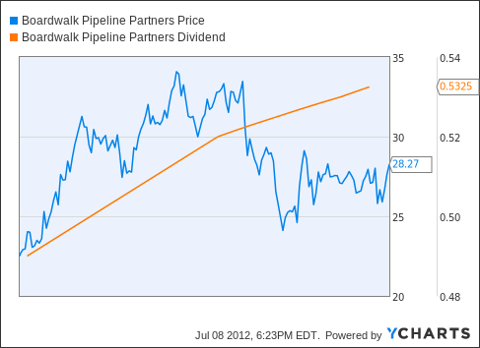 Disclosure: I have no positions in any stocks mentioned, and no plans to initiate any positions within the next 72 hours.