Located in San Diego, CA, Arena Pharmaceuticals (ARNA) is a biopharmaceutical company which discovers, develops and commercializes oral drugs that target G protein-coupled receptors. The company mainly focuses on developing drugs for obesity and cardiovascular diseases. The firm's lead product, Lorcaserin, was approved by FDA on June 27th. The drug was approved as an accessory to a low-calorie regime and increased physical activity for chronic weight management. This is the first weight-loss drug that has been approved in the last 13 years. It selectively targets receptors involved in appetite control. Lorcaserin will be marketed under the name Belviq. A research showed that after completing the trial and taking the now-licensed pills regularly, nearly two-thirds of patients lost 5% of their body weight at least compared to one-third for those taking the placebo. Moreover, more than one-third lost 10% of their body weight at least, compared to 13.8% for those on the placebo.
Arena is working in partnership with the Japanese pharmaceutical giant, Eisai Inc. (OTCPK:ESALF) for Lorcaserin.
Arena Pharmaceuticals announced the promotion of Craig Audet to the position of Senior Vice President, Operations and Head of Global Regulatory Affairs on July 5th. Audet will serve as an executive officer of the company in his new role. Audet has been working with the company since 2011 as vice president, regulatory affairs. It is believed that Audet played a crucial role in getting Lorcaserin approved by FDA. Therefore, this promotion should be an admission of Audet's key role in getting Lorcaserin approved. Audet has the experience and track record of good regulatory strategies and submission. Arena still has to get Lorcaserin approved for Europe and other territories. European approval is not expected before the mid of 2013.
Stock Performance
Arena has a market cap of a little over $2 billion. As stated above, the company got approval for Lorcaserin on June, 27. With the approval stock price soared and it went from $8.73 to above $13, in the end settling at $11.35 at the closing. This was a huge gain for the stock. 52 week low-high limits for Arena are $1.23-13.50. Stocks were not alone in this attention from investors. Option contracts for Arena also created a lot of interest. There was an increase of 35% in options traded in the drug market, totaling to 332.000 options. Arena was able to topple Apple (AAPL) and claim the top equity option traded for the day, the first company to do so in the last three months. The stock closed at $11.35 on Thursday, after gaining 13.27%. The volume of stocks was 42.21 million for the day, well over 40% more than the usual volume. Overall, the stock has increased dramatically within the last twelve months. Year-to date, Arena is up by roughly 700%. With a Beta value of 0.23, Arena is one of the least volatile among its peers. However, this sudden skyrocketing has dragged the stock near to the overbought territory. Arena is up by more than 25% in just eleven days. With a Relative Strength Index of 65%, you really need to give the stock a breather.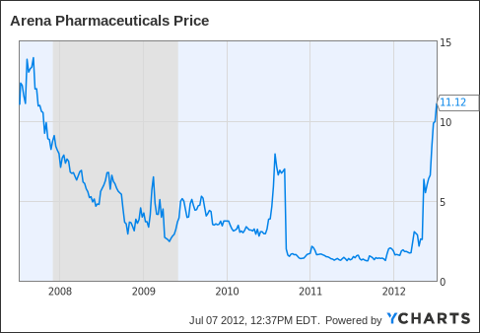 Financial Performance
Arena had total revenues of $2.1 million last year. According to analyst estimates, the revenues for Arena are expected to reach $550 million in U.S. by 2017, while worldwide sales are expected to reach $1.6 billion by 2020. Eisai Inc. has mercantile rights in both South and North America, which annihilates a considerable amount of potential revenue for Arena. Under the agreement with Eisai, Arena will produce the drug in its own plants and sell to Eisai. This enables a part of sales revenues from the Americas to go into Arena's pouch. For Europe and Asia, Arena will hold exclusive rights to market the product which will contribute towards improved revenue numbers. The obesity market is largely unexplored, which leaves Arena's future widely up to speculation.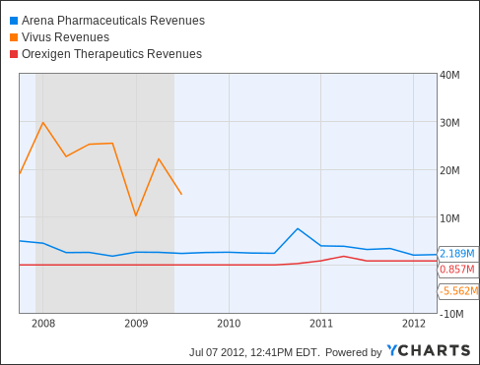 ARNA Revenues data by YCharts
Competitor Analysis
Arena's direct competitors are Vivus (VVUS) and Orexigen (NASDAQ:OREX). Vivus has also presented its own weight reduction drug Qnexa, in front of FDA for approval. A decision on the said drug is expected on July 17th. Lorcaserin and Qnexa both received positive votes by the FDA's Endocrinologic and Metabolic Drugs Advisory Committee in May 2012. If Qnexa is also approved then, Arena will have a direct competition to Lorcaserin.
Along with its benefits, Qnexa has some side effects as well. Especially with pregnant women, as a result, the company will put a plan in place to try and make sure that pregnant women do not take the drug. Vivus also plan on adding a label advising people to stop using the drug, should they lose less than 3% of their body weight in three months. There has been a negative sign at Vivus; Insider trading volumes were very high in the last month. Sale of the shares by insiders as compared to the exercise of option to buy was significantly higher.
Summary
The approval of Lorcaserin has opened the obesity market again, which was hugely untapped before. Lorcaserin is the focus of Arena and will contribute a great deal towards the future of the company. Arena is expected to receive approval of its MAA (marketing authorization application) by the European Medicines Agency and grow its entity in Europe. It is also expected that Arena will soon try to get the drug approved for other territories. According to my view, the stock may experience some volatility in the short term, but it should gain in the medium and long term. I think the Arena stock should be bought after a pullback, as all the indications point towards an increase in the stock price in the long term.
Disclosure: I have no positions in any stocks mentioned, and no plans to initiate any positions within the next 72 hours.