You have to give it to Jonathan Lebed. He and the "National Inflation Association" (they're basically the same, as we explained in our exposé on BroadVision). They took a company, BroadVision, Inc. (NASDAQ:BVSN) that was shrinking revenues for over a decade and promoted it from $8 to above $50 - on the basis of only hype.
That company has now fallen back, but for some time, Lebed and co. have a new target, a company called Synacor (NASDAQ:SYNC). We have already argued that unlike BroadVision, Synacor actually holds a great deal of promise. The company offers solution for monetizing digital content over the internet on multiple devices. It's basically a hosted service for companies that want to put video online.
To do that is complicated and costly. One needs streaming servers and keep files in different formats as no single format works for all devices. So it's no wonder that companies want to outsource these trouble to the likes of Synacor. The company has a rather unique business model in offering these services for free, but making money from search-and-display advertising instead.
Since broadband penetration and speeds keep increasing and ever more devices (smartphones, tablets, etc.) have turned into video consumption 'terminals,' there is a significant growth opportunity here, there is little doubt about that.
And the figures testify this. The last quarter (Q1 2012) saw Synacor log in a 64% revenue increase on last year's quarter and a whopping 200% increase in EBITDA year on year (y/y). Little surprise that management raised full year revenue guidance to $123M-126M, and they might well beat even that.
The company gained an interesting order since for its TV Everywhere platform (which has a different model, working on a subscriber base, rather than with advertisement money), serving as an authentication agent for streaming the London Olympic Games for 35 distributors like Dish and Charter.
Receivers of Jonathan Lebed and or the National Inflation Association newsletters will be well aware of this, as it has been screaming from the pages of those newsletters for quite a while. And indeed, that hasn't done the stock price any harm:
Click to enlarge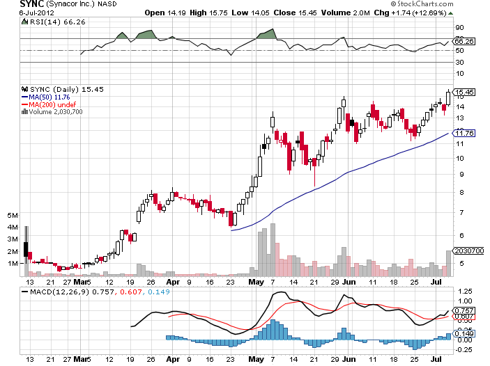 The company set a new all-time high of $15.75 Friday. It closed at $15.45, an increase of 12.7% on what can only be described as a very bleak market, no mean achievement for sure. Certainly if you consider that the stock price is now at least 50% over most analyst 12-18 month target ($10).
The company is pretty expensive. Analysts on average expect earnings per share at just 16 cents this year, giving the company a price-earnings ratio of nearly 100. Next year, they expect 38 cents per share in profit, still a steep valuation.
Now, you might say that these profit expectations don't include the latest deal, but as significant as the deal is, we're not at all convinced that it is equally big in monetary terms. The Olympic Games deal speaks of authentication only, while the client numbers are likely to be big, the pay per client won't be. Even though, we agree that it's a pretty significant deal.
But not as significant as Lebed alleges in one of his promotion mails:
SYNC is likely going to set a single company TV Everywhere authentication record! SYNC is already profitable with revenues last quarter up 64% and I expect to see SYNC's strongest quarterly results in history when SYNC reports 2Q results on July 23rd, which is 2 weeks from this upcoming Monday! If SYNC's 2Q results are as strong as I expect them to be, by the time the Olympic opening ceremonies begin 4 days later on July 25th, SYNC could potentially be trading over $50!
Trading over $50, we don't know about that. What we do know is that we wouldn't bet against Lebed and co. They are able to make stocks defy gravity for at least a considerable amount of time, and that with Synacor, they've got a real promising company in their hands, even if it's very richly valued already.
There were 2.8M shares short (June 15) out of a float of 7.9M, and these holders must be twisting and turning in the wind a bit. It's too early to join them, although this party isn't going to last forever.
Disclosure: I have no positions in any stocks mentioned, and no plans to initiate any positions within the next 72 hours.