Below we highlight the best and worst performing Russell 1,000 stocks since the market made its short-term bottom on March 10th. We also include the change in each stock from the 10/9/07 market top to the 3/10 bottom.
As shown, TMA is up 81% since March 10th, but it's only a $1 stock. The real winners have been VRTX, FRE, FNM, SPWR, CFC, LEN and FSLR. Each of these have had moves of more than 40% in less than 4 weeks. There are quite a few homebuilders on the best performing list, as the group gets more and more attention from investors who think their bottom might be in. Just 14% of stocks in the index are down since March 10th. BSC, MF, MGI and NCC top the list of losers.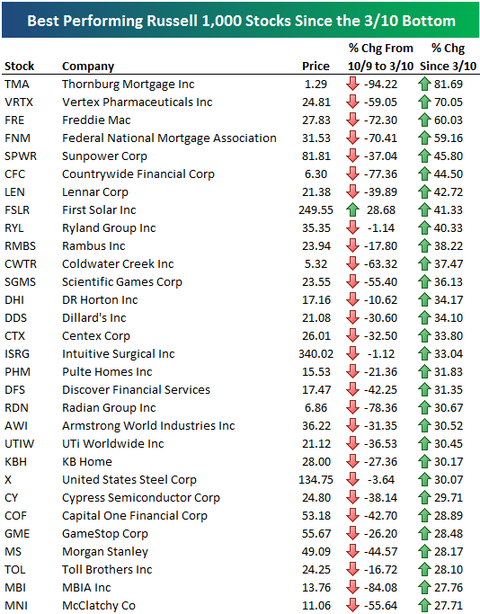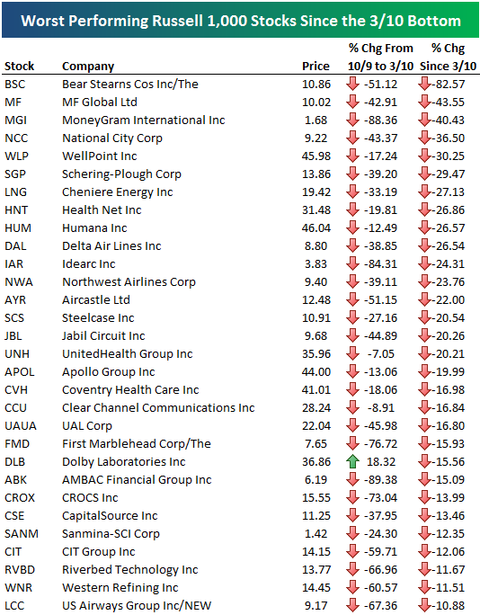 We performed our decile analysis on the stocks in the Russell 1,000 to see if the best or worst performing stocks during the market's declines (10/9 to 3/10) were leading or lagging the market during its recent rally. The top 100 performing stocks from 10/9 to 3/10 represent decile one, while the bottom 100 performing stocks represent decile ten. As shown below, there is not a clear trend, but the performance gets better and better as you move from best to worst. This means that the stocks that were down the most during the markets declines have generally performed better during the market's rally.