I love Jim Rogers. Yes, he's an alarmist at times. He could be anti-West for all I know. But for me, it's about him being correct and making money off his predictions.
Parts of me are kicking myself for not buying into commodities as he suggested back in 2008 during the financial meltdown. Rogers was the only one commenting on how commodities are so important for China. He mentioned copper specifically, as we all know.
But now, in his latest set of interviews, he still believes that farmland will continue to appreciate. You always read about these major news outlets like Business Insider, Wall Street Journal all claiming a bubble is forming around this. Is it possible? Rogers says no. And I'll support him on that due to my own humble opinions.
Jim Rogers is sticking with US agriculture farmland in particular. Why is that? I wanted to know, so I started investigating a few corporate players in the niche. Here are my results:
I really like the look of John Deere (NYSE:DE). If you compare the last six months of basic charting for John Deere versus a similar player Caterpillar (NYSE:CAT), you can easily see that CAT is suffering due to the Asian and global slowdown in economic growth.
But why is DE still on a rise of a 4 percent compared to CAT's -2 percent decline? Could it be the simple fact that farmers are feeling so bullish about their land value that they're also feeling bullish on upgrading farm equipment? Think about it, as the rest of us schmucks join the 8+ percent unemployment line, DE has shown nice growth for the last 6 months. The chart below came from Yahoo Finance. See the current one here.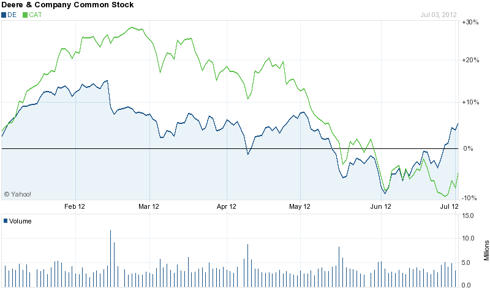 Even major outlets like Forbes are claiming:
In trading on Wednesday, shares of Deere & Co crossed above their 200 day moving average of $78.07, changing hands as high as $78.39 per share. Deere & Co. shares are currently trading up about 3.4% on the day. The chart below shows the one year performance of DE shares, versus its 200 day moving average:

Looking at the chart above, DE's low point in its 52 week range is $59.92 per share, with $89.70 as the 52 week high point - that compares with a last trade of $78.17.
Those technical reasons, plus my faith in Jim Rogers, have me convinced. Together they form a compelling case to pick up this stock until sometime in the fall. And to fine-tune the timing, I'll run my custom quant system to forecast the right time to unload it. Check for my follow-up report later this year on DE!
Disclosure: I have no positions in any stocks mentioned, and no plans to initiate any positions within the next 72 hours.