Investors considering energy stocks today encounter a turbulent market with unstable macro conditions fueling declining commodity prices. Energy stocks have generally taken a beating. As a result, dividend investors looking at energy will find a compelling combination of historically low valuations and historically high yields.
Of all the high yielding energy companies in the market, we think BP p.l.c. (NYSE:BP) may be the most compelling to consider.
BP
Price: $39.63
52-Wk Range: $33.62-48.34
Click to enlarge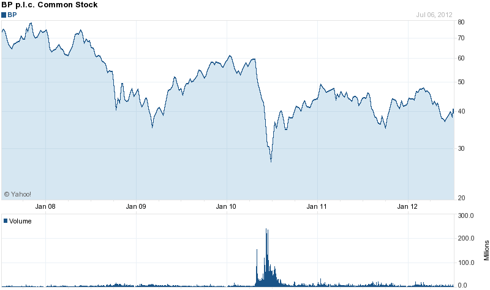 Source: Yahoo Finance.
The Story: Two years after its fall from grace following the 2010 Gulf oil spill, BP is starting to head in the direction of what we believe will be a sustained recovery as the company settles its remaining legal and regulatory issues and liabilities. Certainly, the oil spill has hurt the company in several meaningful ways, particularly in its massive cost in dollars, averted resources, and goodwill, but BP is still a major player in oil and gas and promises to be an industry leader for years to come. The stock remains discounted, but we believe it is only a matter of time before it rises to industry-comparable levels.
The Numbers: With a trailing P/E of 5.3 and a forward P/E of 6.8, a price/book ratio around 1, and a price/sales ratio around .3, BP is priced attractively. BP also boasts a sizable yield nearing 5%.
Notable Alternatives For Yield: As mentioned, the energy sector offers many compelling dividend opportunities. Some of our favorites after BP are the international oil giants, including Total (NYSE:TOT), Petrobras (NYSE:PBR), and Petrochina (NYSE:PTR). We also like China Petroleum and Chemical (NYSE:SNP) and its outsized yield, Halliburton (NYSE:HAL), Schlumberger (NYSE:SLB), BHP Biliton (NYSE:BHP), and ConocoPhillips (NYSE:COP) - particularly on the basis of these companies' low valuations and exposure to natural gas. We expect to see rising gas prices over the next ten years as U.S. energy consumption shifts to a more gas-hungry economy.
For a more concentrated exposure to natural gas, we like Devon Energy (NYSE:DVN) over Chesapeake Energy (NYSE:CHK) on the basis of Devon's yield, compelling valuation (trailing P/E of 5), and Chesapeake's recent track record of management misdeeds.
With the international financial infrastructure in tumult, commodity prices have taken a hit - which may present a good opportunity for investors to invest in these energy companies at relatively low valuations and elevated yields. Of course, if things continue to deteriorate at the macro level, investors will continue to suffer - in this sector, more than most.
Disclosure: I am long HAL.