Exelon Corporation (NYSE:EXC) is one of the largest electric utilities within the United States and the largest nuclear power utility in the country. The large-cap utility has underperformed the utilities sector for several quarters now, and Exelon has failed to increase its dividend since November of 2008. Nonetheless, Exelon is now the highest yielding utility, with a current annualized yield of around 5.6 percent.
So far within 2012, Exelon has underperformed the broader Utilities Sector as defined by the Utilities Select Sector SPDR ETF (NYSEARCA:XLU) and most of Exelon's large utility peers, including American Electric Power (NYSE:AEP), Duke Energy (NYSE:DUK) and Southern Co. (NYSE:SO). See below for a performance comparison chart for these utilities and the XLU ETF:
Click to enlarge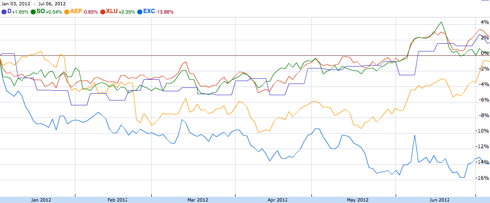 Exelon recently acquired Constellation Energy Group, and the sizable purchase also accounts for some of its equity underperformance. Though Exelon has operations and business activities in 47 states, the District of Columbia and Canada, the utility has four primary segments: (1) Exelon Generation, which generates and supplies electricity; (2) Commonwealth Edison, serving Chicago and Northern Illinois; (3) PECO Energy, serving Philadelphia and Southeastern Pennsylvania; and (4) Baltimore Gas and Electric, serving Baltimore and Central Maryland.
Some of the reason Exelon has underperformed the broader utilities sector is also because its geographic footprint is considered less than ideal. Many have argued that Illinois and Pennsylvania are examples of states that are not currently experiencing economic growth, and that they may undergo contraction in the near future. Similarly, Baltimore and Central Maryland are considered potentially weak markets, though the region does benefit from its proximity to Washington DC.
Despite this reasonably gloomy forecast for Exelon's regions, the company does benefit from a broad geographic footprint. Additionally, Exelon is still the largest competitive U.S. power generator, with approximately 35,000 megawatts of owned capacity, and it is also one of the nation's cleanest and lowest-cost power generation fleets. Much of the reason Exelon's energy is low cost and deemed clean is because of its nuclear generation. As the largest nuclear plant operator in the United States, Exelon produces less greenhouse gas emissions than many of its generating peers that depend more-so upon fossil fuels.
Recently, exceptionally cheap gas and heightened fears over nuclear generator safety have been other causes of weakness for Exelon, but over time those will likely subside. These issues have weighed on EXC shares in the recent past, but soon enough the ties will likely turn and the company is likely to recognize some benefits from these same characteristics that now injure it.
About one month ago, on Thursday June 7, Exelon was the largest gainer in the S&P 500. This was especially unusual for the company, given that despite the recent markets' volatility over the last two years, that 4 percent gain was Exelon's biggest single-day increase this year, and actually larger than any one-day increase though all of 2011. What is similarly remarkable is that on Friday, June 8, Exelon declined by about the same amount as its peculiar one-day gain. These wild back-to-back swings are not what one would expect from this widow-and-orphan stock. See the chart below for the three-day period surrounding this flash pop phenomenon:

The capricious moves could have taken place for multiple reasons, and one could be a reaction to Exelon's analyst presentation, also on June 7, where the company provided financial guidance for the second half of 2012. One positive aspect was that the company indicated it would maintain its current dividend policy, which yields a sizable 5.6 percent. Though Exelon is committed to maintaining its payout, no dividend growth appears likely in the coming two years. Exelon also indicated the Constellation Energy merger was working out reasonably well, and that the synergistic savings should be greater than expected.
The company also reduced its full-year earnings guidance to between $2.55 and $2.85, due to low natural gas prices. Low natural gas hurts the price of nuclear power, and Exelon nearly fully hedged-in recent prices for the next year. Additionally, the Illinois Commerce Commission recently mandated ComEd rate reductions.
Despite the many negative headwinds that have hurt Exelon in the recent past, the company continues to be one of the larger and more efficient utilities in the United States, and the highest yielding utility within the S&P 500. Though the company has not been able to raise its dividend, in a few years, the company should eventually recognize some benefit from its strong market position, growing demand for electricity and eventual price increases linked to inflation. At its current level, Exelon appears to represent lower potential risk and greater possible reward than the vast majority of its utility peers, while also providing its investors with more income.
Disclosure: I have no positions in any stocks mentioned, and no plans to initiate any positions within the next 72 hours.