This is part 2 of a 3-part series, which we are writing in order to give investors a guide on how to protect themselves, and at the same time profit, from the economic sanctions on Iran. We will discuss precious metals in this article, while part 3 will focus on a retail portfolio. Part 1 can be accessed here.
Effect of Iran Sanctions on Gold and Silver
After several years of a tense buildup to possible hostilities, the EU, on July 1, 2012, went ahead and imposed economic sanction against Iran. The sanctions primarily see to stop the import of oil from Iran, bringing the import of the fuel from the Islamic republic to a complete halt in the European Union. The union, in addition to the ban on import of oil, has also banned insurance of oil tankers from Iran, which adversely affects shipments from Iran to other countries.
Gold
Gold prices are expected to mount amidst worries about disruptions in oil supply, as a result of the renewed tensions in the Middle East, coupled with speculation that central banks will take further steps to bolster economic growth. In addition, gold's rising demand by central banks in emerging markets, and improvement in Chinese and Indian demand, have made us bullish regarding gold demand and prices in the future. Consequently, we recommend investing in gold ETF (GLD) for those investors who want to protect themselves from a spike in oil prices, if the current U.S.-Iran tensions intensify.
The most important issue, which is having an impact on risk assets (commodities, stocks etc.), is the escalation of tension between the U.S. and Iran, which has resulted in an increase in gold's price. Last year, during the Middle East crisis, gold and its ETF (GLD) experienced an upsurge of more than 40%, as it was increasingly being looked upon as a safe haven. During that period, gold prices moved in tandem with monetary supply expansion and plunging equity markets. Currently, due to the worsening Euro zone crisis and slow Chinese growth, central banks are expected to take further monetary easing measures. Plus, the geopolitical risk associated with the deteriorating Iran situation is expected to have a similar, though a comparatively less intensive, impact on both oil and gold prices.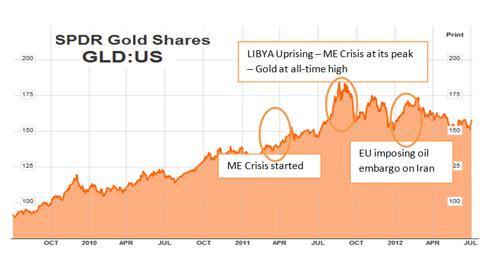 Source: Bloomberg
Recently, Britain, China, and the Euro zone have loosened their monetary policy, so as to spur economic growth. These potential measures of quantitative easing are expected to increase gold prices. This is because, during 2008-11, the Federal Reserve bought $2.3 trillion of debt in two-rounds of quantitative easing (QE), which resulted in gold prices to double.
Some other factors have made us bullish about global gold demand and prices:
Central banks in emerging markets are increasingly using gold in an attempt to diversify their holdings, especially Eastern European and Mexican banks, who have contributed to this upsurge in demand.
Investment and jewelry demand in China improved by 10% this year, relative to last year's levels. This is because China is a net importer of gold, despite being the world's largest gold miner. This demand from China is making us bullish on future gold prices.
The Indian government withdrew their tax on jewelry in May, which is expected to increase the country's demand for gold once again.
However, the demand for gold in general, and that of gold jewelry in particular, are exposed to seasonality. As is evident from the following graph, gold jewelry demand falls in the first quarter, but rebounds from the second quarter onwards. Based on these trends, we expect that gold demand will remain high in the second half of this year.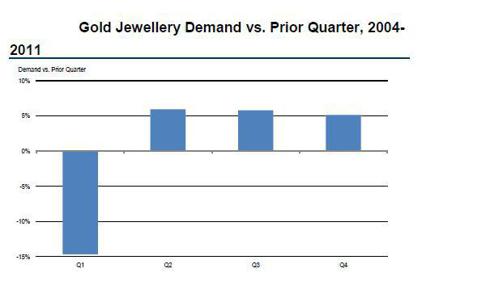 Source: World Gold Council
Silver
Silver ETF - iShares Silver Trust (SLV) - has recently bounced back from a 19-month low. The slight upsurge is attributable to essentially the same reasons that have led to an increase in gold prices. In fact, silver prices also followed similar patterns to gold prices, but have generally exhibited more volatile trends, which is why its demand as a safe haven is less than that of gold. However, its inexpensiveness, relative to gold, makes us recommend to our investors to take a long position in SLV, in an attempt to hedge against a potential oil price spike.
In the long-term, we are bullish on silver, as we expect its future demand to rise. In industrial applications, which constitute more than 55% of its demand, its usage will increase because its technical proficiency gives it an advantage over other alternatives. Its use as an industrial metal is also expected to improve, due to some new industrial applications like auto-catalysts, water purification, super capacitors, food packaging etc.
Source:LBMA Source:The Silver Institute
During the ME crisis, silver prices increased (like gold and oil) by almost $41, while SLV gained by 59% during January-August 2011. To reiterate, despite higher volatility of silver and SLV's prices, we recommend SLV, in addition to GLD, as a potential source of hedging against the geopolitical risk due to the Iran situation.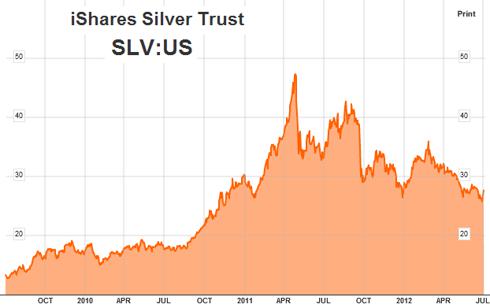 Source: Bloomberg
In Part 3 we will discuss the impact of the said sanctions on Retail stocks and ETFs.
Disclosure: I have no positions in any stocks mentioned, and no plans to initiate any positions within the next 72 hours.