The recent bankruptcy of Patriot Coal Corp (PCX) has further hit coal stocks, which were already impacted as a result of record-low natural gas prices, high coal inventories, and stringent environmental regulations. However, despite the fact that there is limited potential for thermal coal to rebound, we expect a possible recovery in metallurgical coal if its exports keep on rising, and there is an improvement in the macroeconomic outlook. Currently, metallurgical coal prices are declining due to falling construction demand in China and less production disruptions in Australia, as a result of a recent BHP Labor Accord. However, the recent increase in its demand from Europe is a positive trend in this regard. Furthermore, we expect construction activity to pick up pace once the ongoing summer season is over. So, we continue to remain bullish on those stocks that have a high met coal exposure.
Event
Yesterday, Patriot Coal Corp filed for bankruptcy, as coal (thermal) prices plummeted due to the continuation of the coal-to-gas switching trend and milder winters. Consequently, its share price suffered a significant drop of almost 72%. Even the stocks of its peers suffered major dips: Alpha Natural Resources (ANR), Arch Coal Inc. (ACI), and Walter Energy (NYSE:WLT) fell by almost 7.5%, 6.7%, and 4.3%. Peabody Energy (NYSE:BTU) and CONSOL Energy (NYSE:CNX) also dropped by 6.2% and 2.3% respectively. James River Coal Co. (JRCC) suffered the biggest drop of 19%, amidst possible bankruptcy fears and recent downgrades.
Reasons for Bankruptcy Filing
Coal producers have been undergoing a severe slump following decade-low natural gas prices, and more stringent regulations by the U.S. Environmental Protection Agency. PCX attributed lower thermal coal prices and cancellation of customer contracts, in addition to the industry-specific factors, for a reduction in its "liquidity and financial flexibility."
The liquidity concerns were pre-existent from May when PCX warned that one of its key customers may default on a sales contract. Subsequently, it had to seek a new loan contract of $625 million for debt re-financing.
According to its latest 10-K, PCX derives 76% of its revenues from thermal coal and 24% from metallurgical coal. Although the company reduced thermal coal production and tried to increase its exposure in met coal, thermal coal was still the main source of its revenue generation. What proved detrimental for PCX was a constant decline in thermal coal prices amidst escalating exports from Indonesia, and the decline in coal's share in electricity generation to its lowest level in almost 40 years.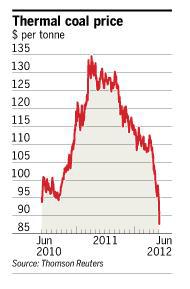 Recommendations for other Coal Stocks
Overall, we continue to remain bullish on coal stocks that are more exposed to metallurgical (MET) coal as compared to thermal coal, as we expect the market to rebound from its current depressed environment. Let us analyze each of these stocks in detail:
| | | | | |
| --- | --- | --- | --- | --- |
| | ANR | BTU | CNX | ACI |
| EV/EBITDA (TTM) | 4.70 | 5.48 | 6.62 | 5.85 |
| PEG ratio (5-year expected) | -1.54 | 0.87 | 1.27 | -2.28 |
| Forward P/E (1 year) | N/A | 6.78 | 13.19 | N/A |
| Stock price performance (YTD) | -60.74% | -29.60% | -17.32% | -54.03% |
Alpha Natural Resources (ANR)
ANR is still a buy because:
Its EV/EBITDA ratio of 4.7x is the lowest among its peers. Its stock price has also declined the most this year (61%).
It is the top met coal supplier after it acquired Massey Energy Co.
Arch Coal Inc. (ACI)
We reiterate our recommendation of taking a long position in ACI because:
It is expected to benefit the most from an increase in metallurgical coal demand in Europe.
It is the second-largest coking coal producer, and thus, its met coal exposure is relatively higher.
Its stock is cheap after its price declined by 54% this year.
Peabody Energy Corp. (BTU)
BTU's diversified asset base, due to operations in Australia, long-term growth potential, good liquidity position, and demand increase in its ultra-sulfur coal, makes it our favorite pick among coal stocks.
CONSOL Energy (CNX)
The fact that it produces both coal and gas is sufficient enough for us to claim that CNX is/will be the least affected of all the coal stocks. Although it is the most expensive stock among its peers, with its EV/EBITDA ratio of 6.6x and forward price-to-earnings ratio of 13x being the highest, its diversified product mix justifies its valuations. We recommend a long position in its stock.
Disclosure: I have no positions in any stocks mentioned, and no plans to initiate any positions within the next 72 hours.