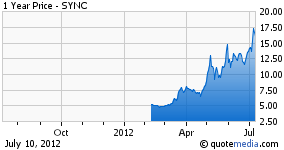 The stock of Synacor (SYNC) is currently experiencing strong short term performance in an otherwise weak market. While many investors and day traders are attracted to the relative strength, they should be warned that the stock appears to be currently in the late stages of a pump and dump operation led by Jonathan Lebed and the National Inflation Association. Lebed is a newsletter writer whose activities recently led to BroadVision (BVSN) appreciating from the mid $8 range to $50 per share, but as this article and this article presciently warned, this was merely the prelude to a near 80% stock price collapse.
The BroadVision promote was based on the false premise that BroadVision was a legitimate competitor to Jive and Yammer in the enterprise social networking space, although cursory research revealed that BVSN had virtually no traction with its ClearVale product and unlike a legitimate high growth enterprise had experienced multiple years of sales declines. The SYNC promote is based on the dubious premise that Synacor is a leader in the "TV Everywhere" market and the London Olympics will be a catalyst for the company's financial performance. In reality, the bulk of Synacor's business is providing search and display advertising on the home web pages that are set up by default when you sign up for high speed Internet services or purchase a new computer from one of their clients. As you might imagine, the usage of these home pages is arguably undergoing a secular decline as sophisticated Internet users set their default homepages to more useful sites and Internet users increasingly use tablets or smartphones (which do not automatically default to a service provider homepage) to access the Internet.
While Synacor is indeed providing authentication services for TV subscribers to access online video feeds for the London Olympics, this type of revenue is only a very small portion of Synacor's total. Such revenue is included in SYNC's "subscriber-based" revenue which was only $4.5M or 31% of sales in the March quarter) and it is even provided at a nominal or no additional charge to some customers. In short, I doubt the London Olympics will have a material impact on SYNC's revenue, and even if it did the recent gains in the stock far outpace any conceivable revenue benefit and no serious investor would place undue importance on what will be a fleeting event. At the end of the day, SYNC's business is driven by its acquisition of new service provider or computer homepage customers. Barring any major new customer additions (and contrary to recent assertions Dish has been a customer for a while), SYNC's revenue growth is projected to slow to the low teens rage by the end of the year. Indeed, in 2010 SYNC only grew by 8%.
So while this time Lebed and the NIA have chosen a somewhat more fundamentally sound company for their promotion activities, SYNC has a serious issue that BVSN did not, namely the huge amount of shares that may flood the market in less than a month. The classic newsletter pump and dump operation involves quietly accumulating a block of an illiquid stock, then making over-the-top bullish pronouncements to generate retail investor interest and trading volume. If the stock is liquid and the trading is dominated by institutions, the incremental interest is not enough to move the stock. SYNC is illiquid by virtue of the fact that it is a recent IPO with a relatively small float. At the time of Synacor's original IPO filing in November of 2011, the rumor was the company hoped to price the IPO at $8 to $10 per share. However, due to a lack of institutional interest in a company that essentially makes Internet service provider home pages that most sophisticated Internet users ignore, the underwriters were forced to lower the IPO range to $5 to $6. SYNC's IPO eventually priced at the $5.00 low end of the range.
Even at this lower price, insiders were willing to sell up to 2.0 million shares including the overallotment option out of a total offering of around 8M shares. However, there are 25.6M total shares outstanding after the offering, meaning that an additional 17.6M shares will be eligible for sale 180 days from February 10th, assuming SYNC's Q2 earnings have been released by then. I calculate the lock-up expiration as approximately August 8th.
Normally a stock that appreciated strongly subsequent to an IPO would be a candidate for a managed secondary offering by the investment banks that brought it public. However, this assumes that the appreciation resulted from genuine institutional investor interest or blow-out financial results, not appreciation generated by a retail stock newsletter. Since institutions were reluctant to participate at SYNC's IPO at $6.00 per share, I doubt they would participate at anything near the current $17.00 price, meaning that company insiders and previous investors will have to sell in the open market. Based on their willingness to sell stock at $5.00 per share just a few months ago, it is hard to imagine they are not eager to sell as rapidly as possible, which has the potential to rapidly deflate the share price as the supply/demand equation flips.
Compared to the 17.6M shares about to come off lock-up, the 500 thousand-ish shares that the NIA says it owns are a drop in the bucket. I believe it is no coincidence that the NIA's self-imposed holding period is expiring shortly before the insiders' lock-up and I doubt the NIA dumb enough to hold their shares into this veritable tsunami of new stock supply. In fact, while the NIA touts the potential for SYNC to exceed analyst estimates when they report financial results later on this month, I believe at the current inflated price it simply does not matter whether this happens or not. According to my calculations SYNC is trading at 42x EV/EBITDA based on 2012 results, and 27x based on my projections for 2013. These multiples are substantially greater than Internet industry leaders including Facebook (NASDAQ:FB) (about 21x 2013E EBITDA), let alone Google (NASDAQ:GOOG) (less than 7x). I think a fair price for SYNC is closer to $7.00, or 10x 2013E EBITDA. This would still be up 40% from the February IPO. Once momentum traders exit the stock and the float increases several times, the collapse could be greater, especially in a difficult market environment. Until then, day traders and retail investors can have fun passing the stock back and forth among themselves, hoping they wont' be the ones left holding the bag. I'm sure those that bought BVSN in the high teens, twenties, thirties and forties hoped the same thing.
Disclosure: I am short SYNC.