By G. C. Mays
With only 40% of this year's corn (NYSEARCA:CORN) crop rated good to excellent through July 8th, corn prices for delivery in December 2012 have surged almost 30% to a recent price of $7.30 a bushel since June 19th -- when I initially broached the subject of possible higher prices in my article "Despite Higher Corn Ending Stocks, Persistent Drought Could Send Prices Soaring." Since May 20th, the percentage of corn rated very poor to poor has swelled to 30%.
Click to enlarge all images.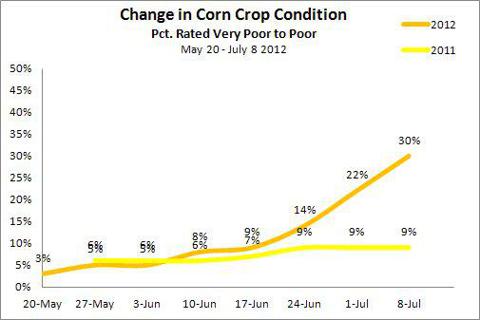 Source: The Mays Report.
Although the corn crop condition continues to deteriorate, there are a few bright spots. For example, in Ohio the percentage of the corn crop rated good to excellent is only 28%. However, when returning from a brief business trip on July 6th, I took a few pictures of the corn fields that dotted Interstate 75 for hundreds of miles and the corn a looked pretty good.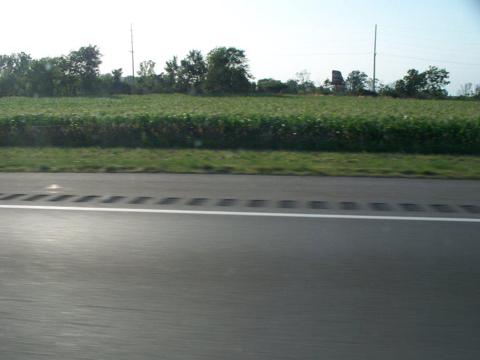 Source: The Mays Report.
This stretch of highway is only a small sample of the total acres planted throughout the entire state, but it surprised me to see how tall and green the crops looked. Perhaps these fields have irrigation systems.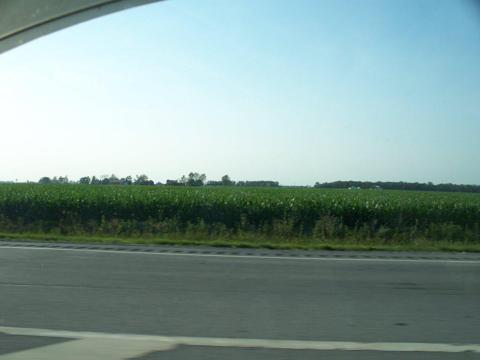 Source: The Mays Report.
This year's soybean (NYSEARCA:SOYB) crop, with only 44% of the crop rated good to excellent vs. 66% a year ago, has not fared better. However, there is still a glimmer of hope for soybeans as their key pollination period begins later than corn. Soybean prices have also moved higher; however, price gains have been a more modest 11.7% to a recent price of $15.47 per bushel.
This year's spring wheat (NYSEARCA:WEAT) crop has held up well with 66% of the crop rated good to excellent vs. 71% a week ago and 73% last year. Only 7% of the crop is rated very poor to poor.
While the rise is not based on fertilizer business fundamentals, fertilizer company stocks have risen alongside crop prices, with the companies that produce nitrogen-based fertilizers like Terra Nitrogen (NYSE:TNH), CF Industries (NYSE:CF), CVR Partners (NYSE:UAN), Rentek Nitrogen Partners LP (NYSE:RNF), and Rentek (NYSEMKT:RTK) faring very well since June 19th. The stocks of each of these companies have all risen between 14% and 21% since June 19th.

Source: Google Finance.
Potash and phosphate producers Mosaic (NYSE:MOS), Potash Corp. (POT), and Agrium (AGU) have risen a more modest 11.9%, 12.1%, and 13.7%, respectively, over the same period. Agrium and Potash have small nitrogen operations and have risen more than Mosaic, which does not run a nitrogen business.
Fertilizer stocks, as well as commodity futures, have provided some nice gains over the last few weeks and more gains are possible. If you do not want to lock those profits in just yet, in my opinion a prudent use of trailing stops or long-dated puts would be wise in this volatile market.
Disclosure: I have no positions in any stocks mentioned, and no plans to initiate any positions within the next 72 hours.