It's been just over a week since Research in Motion (RIMM) announced its fiscal first quarter earnings report. Expectations were extremely low going in, but the Blackberry maker found a way to disappoint. Not only did revenues and earnings completely miss estimates, but the company announced the delay of its Blackberry 10 product launch, which many were hoping for later this year. Now, calendar Q1 of 2013 is looking like the best case scenario. Just when many thought it couldn't get worse, Research in Motion found a way to make it possible. Now that we've had some time to digest the numbers and settle things down, it's time to take a serious look at the company. Today, I'll change my format a bit. I'll give you Research in Motion by the numbers, where I present a number and then describe it's importance. I'll first start with the bad, then focus on the good. So here is RIMM, by the numbers.
42.7 - Percentage decline in revenues:
Research in Motion's year over year revenues plunged by almost 43%. The $2.81 billion figure was well off the $4.91 figure from the prior year period, and also was well below the $3.1 billion analysts were expecting. The company posted an operating loss of $643 million, compared to an operating profit of $897 million in the prior year period. Overall, the company lost $518 million, or $0.99 per share, compared to a $1.33 profit ($695 million) in 2011. Adjusted for a goodwill impairment charge, the company lost $192 million, or $0.37 per share. At the moment, Apple's (AAPL) year over year increases in revenues are about the same as Research in Motion's year over year declines.
28.0 - Gross margin percentage:
Research in Motion saw it's gross margins fall 5.4% quarter over quarter, and 15.9% year over year. Yes, last year's gross margins were just under 44%. If the company's gross margins drop a few more points, it will have similar gross margins to Amazon (AMZN). A year ago, Research in Motion had higher gross margins than Apple. However, Research in Motion's gross margins have plunged, while Apple's are now rising. Apple's gross margins should come in around 45% for this quarter, up 3 to 4 full percentage points from last year.
1/3 - Estimated percentage of revenues from carrier fees:
Research in Motion is expected to have roughly 1/3 of its revenues from mobile phone companies this fiscal year. Why is that bad? Well, Bloomberg is reporting that RIMM is under pressure from the carriers to cut those fees, and rather significantly. Sameet Kanade, an analyst for Northern Securities, says those revenues could drop to $3.4 billion this year (17% decline from roughly $4.1 billion last year), and another 18% next year to $2.8 billion. RIMM is already losing market share and selling less products. Reduced revenues from carriers would only aggravate the struggles this company is dealing with.
9/27 - Date of next earnings release:
Research in Motion is scheduled to report their fiscal second quarter in late September. As the company continues to work on getting out the new phones, they are selling old models at reduced prices. We know that the next few quarters are going to be bad. Current analyst estimates call for a 39% decline in revenues from the prior year period, and remember, Research in Motion doesn't give guidance anymore. Analysts also predict a 41 cent loss per share after an 80 cent profit in the year ago period. Both revenue and earnings estimates have come down in the past 2 weeks after the company's terrible Q1 results.
9 - As in nine seat plane:
How bad is Research in Motion currently? Well, the company has reportedly put its 9 seat corporate jet up for sale. The company is expecting to fetch $6 million to $7 million in the sale. This seems to be part of their plan to save $1 billion in operating expenses, but they are holding onto their 14 seat plane. But I really must ask. If they are starting to liquidate assets, is that really a good sign? I don't see how a paltry $7 million is really going to make a difference to them.
73 - Percentage decline in RIMM stock over past year:
A year ago this name was trading near $30. It is now at $7.80, and that's only after rallying a little off the recent low. The fall over the past two years is even more dramatic, as the stock traded above $53 then, and was even close to $70 before the decline started, as seen in the following chart.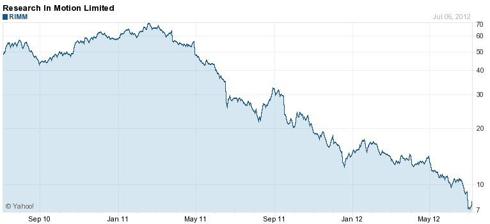 (Source: Yahoo! Finance)
Those are just five bad numbers. I probably could come up with several dozen more without much effort. That truly is how terrible things are at Research in Motion now. But there are some hopes for this name, so I should include a few positive numbers. Here they are.
3 - Potential numbers of suitors (minimum):
As the stock goes lower and lower, it only seems more likely that this company finally gives in and just sells itself. There are at least 3 main suitors that I believe could benefit from a RIMM buyout. Amazon, Google (GOOG), and Microsoft (MSFT) are the four most popular names discussed, and there probably are a couple of others out there that could as well (perhaps a private equity firm or two?). Microsoft and Google are looking to increase their strength in the mobile phone space, so it wouldn't be a shock for either of them to make a bid. With Research in Motion's market cap now at just $4 billion, it wouldn't be that large of a purchase for either. However, Google is in the process of swallowing Motorola Mobility at the moment, so Microsoft might be the better candidate of those two. Amazon makes sense because they seem to be willing to invest billions everywhere to increase revenues constantly. Amazon isn't too concerned with profits at the moment, so adding this business that might lose them some money initially doesn't seem to be too out of the question. I know some others will ask about Apple. I've said in the past that RIMM probably has a few pieces of technology (maybe some patents) that Apple would surely like to own, but I don't see Apple taking them out. If you were Research in Motion, would you sell yourself out to the company that is the largest reason behind your decline? Probably not, as their is some pride involved in this business.
6 - As in six day work week:
According to recent reports, RIMM is limiting summer vacations and mandating six day work weeks for staff in Ottawa. Ottawa is the main area for the BB10 development, so workers are being told to work extra hard to make sure bugs are fixed and assure quality control. RIMM is also trying to find extra developers to bring more apps to the Blackberry platform. Having workers work the extra day hopefully will assure the BB10 devices get out during calendar Q1 of 2013. Q4 of 2012 would be a big help, but any more delays would be deadly.
The longer work periods also come at a time where the company has announced a new round of layoffs. An expected cut of 5,000 employees will follow last year's round of 2,000. Currently, the company has about 16,000 employees worldwide. The company also looks to finish soon its 170,000 plus square foot Kanada complex.
2.247 - Billions in cash and investments:
If you ask anyone that is bullish on Research in Motion why they are positive on the name, many will talk about the nearly $2.25 billion in cash and investments on the balance sheet. That's up from the $2.111 billion in the prior quarter. The current cash pile equates to more than $4 per share, or about half of the company's current value.
The cash pile is important, because the company has said that they will begin using a lot of it in the next few quarters for the Blackberry launch as well as restructuring efforts. The company is not in a cash crunch, and probably has enough financial flexibility to get through the next two years. However, their financial position will get worse in the next two quarters. The BB10 launch will determine how much longer this company stays in existence. It's good to have that cash pile currently, but they will be seeing it decline going forward.
Conclusion - Short Until Good News Comes:
The pattern has been repeated for this stock over the last year. Short it on any pops. Bad earnings reports knock the stock down, then it gets a bit of a lift. We've seen that happen before, and it is happening now. The stock has bounced about off the recent low. We could even see the rally continue for another point or two.
Since there are more negatives than positives with this name, I will continue to recommend a short position on rallies until we can get some positive news. Unless they announce some strategic initiatives or they move up the BB10 launch soon, this name is going to go lower. If you are looking to own a smartphone and tablet maker, stick with Apple. Avoid Research in Motion.
Disclosure: I have no positions in any stocks mentioned, and no plans to initiate any positions within the next 72 hours.