Though it doesn't start in earnest until next week, Q2's earnings season technically kicks off this week beginning with Alcoa's (AA) results. It's not the only corporation that's going to establish the mood for earnings season though. There are five major names unveiling last quarter's numbers this week, and all of them will help set the tone. Marriott (MAR), Fastenal (FAST), JPMorgan Chase (JPM), Wells Fargo (WFC) are later this week.
Here's that calendar and per-share estimate, just so you're prepped.
Q2-2012 Earnings Calendar, July 9th - July 13th

As for what the experts think is in store for Q2 earnings season as a whole, the S&P 500 is expected to earn $25.18 per share. That's a little better than last quarter's $24.24, and better than Q2-2011's $24.86. In fact, it will be the second-best earnings figure ever for the S&P 500; only Q3-2011's $25.29 is stronger. Though the pace of growth may be slowing, it's still growth. And, stocks are still cheap from a P/E ratio standpoint, when looking back over some years.
S&P 500, with Earnings & Estimates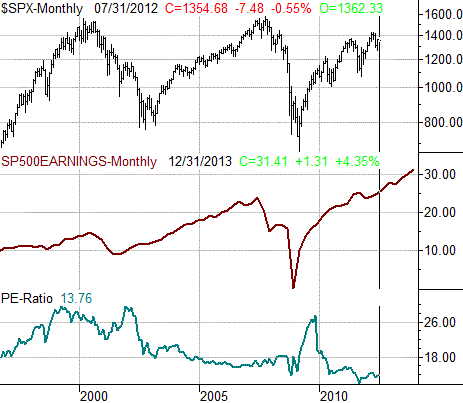 Disclosure:
I have no positions in any stocks mentioned, and no plans to initiate any positions within the next 72 hours.