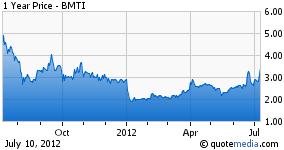 It hasn't been easy to stay bullish on BioMimetic Therapeutics (BMTI), as the stock has stagnated while the company worked to resubmit its PMA for its Augment bone graft product. What's more, news about under-reported side-effects and over-promised for Medtronic's (MDT) Infuse BMP-2 protein has not led doctors nor analysts to have especially warm and fuzzy feelings about the orthobiologics space. All of that said, there remains a real medical need for this product, and the efficacy data on Augment is such that I believe there is a legitimate bull case to be made on BioMimetic.
The Amended PMA Is In, More Or Less On Schedule
In the wake of January's announcement that the FDA had rejected BioMimetic's application for Augment, management had suggested that an amended filing would be ready around mid-year. Last night, almost six months to the day, BioMimetic announced that it had in fact filed its amended PMA with the FDA.
The filing was good news in its own right, but the incremental data provided by the company was also quite encouraging. The FDA had raised an almighty fuss about the company's decision to use CT scans to confirm efficacy (even though the FDA originally signed off on it years ago), and insisted that the company have all scans reread by both the original doctor and an additional radiologist.
While 85% concordance would arguably have been good enough to pacify the FDA, the company reported 87% concordance in the reviews conducted by the additional radiologist, and a very high correlation on both an intra-reviewer (99%) and inter-reviewer (95%) basis.
The second issue that the company had to address was the re-categorization of all second surgeries as product failures (even if the surgery had nothing to do the graft, as in the case of screw removals or fractures). Fortunately, even this more conservative outlook did not change the basic trial conclusion - Augment is/was non-inferior to autograft in achieving fusion.
Last and not least, the new antibody assay showed that 2.6% of Augment patients saw transient neutralizing antibodies. All patients showed a return to baseline on their next evaluation, but I won't be surprised if this leads to a little more wrangling with the FDA over labeling.
The Medtronic Mess
It's also important to acknowledge the significance of Medtronic's problems with Infuse. Although Infuse is a different protein entirely and has a different label, the risk is that BioMimetic suffers from "close enough is close enough" association. As a reminder, Medtronic has been accused of paying the doctors who ran clinical trials of Infuse, authoring journal articles for doctors, encouraging off-label use, and failing to report side-effects.
It should be noted, though, that the Department of Justice closed its criminal investigation without filing charges. That said, the dispute will live on -- both in repeated "have you been injured?" attorney ads on TV and in a more skeptical and conservative attitude from the FDA on orthobiologic products.
Still A Need, Still A Good Pipeline
There is still a very legitimate medical need for a product like Augment. While Augment does not heal fractures any faster than autografts, that was never the point or purpose of Augment. Rather, use of Augment allows the surgeon to forgo the autograft harvesting procedure (essentially digging in and shaving off/cutting out bone) and spares the patient the pain of that procedure and the risks (infection, bleeding, etc.) tied to the additional surgery.
While the company has retrenched around getting Augment approved and conserving resources, there is still a worthwhile pipeline to consider here. Assuming Augment can reach the market, look for the company to address markets like sports medicine where applications like tendonopathy could offer meaningful revenue in an under-served market.
Ample Risk Remains
While I believe the clinical data shows Augment to be safe and effective, investors should not think that this is a slam-dunk for FDA approval. The FDA's representative at the panel meeting seemed tenaciously opposed to the product (so much so that it seemed some panelists were chiding the representative), and the autograft harvesting procedure that Augment looks to replace is well-established and understood (even if it carries some risks like pain and infection).
BioMimetic will also have to figure out a go-to-market strategy. No product sells itself, and orthopedic surgeons can be conservative when it comes to new approaches (as seen at MAKO Surgical (MAKO)). I would expect that BioMimetic could generate some M&A interest from companies like Stryker (SYK), Johnson & Johnson (JNJ), or Zimmer (ZMH), but a deal would be unlikely before the market launch.
The Bottom Line
Although I believe the market opportunity for Augment could exceed $1 billion a year, I'm taking a more conservative outlook. That is due at least in part to the difficulties of being a new entrant in the orthobiologics market, as well as the fact that a $1 billion-plus revenue outlook includes off-label usage and that's a dicey proposition in orthopedics today.
In any case, I project $200 million in revenue in four years' time, a 5x revenue multiple (lower than historical averages), and a 35% discount rate (on the high end of biotechs, especially at this late stage). Those assumptions drive a target above $10.
These shares are still extremely risky, but I do still believe in the story and I think patience will ultimately pay off that risk.
Disclosure: I am long BMTI.