Recent News - The folks over at Raptor Pharmaceuticals (NASDAQ:RPTP) have been quite busy since my last article, and the increasing share price reflects Raptor's significant progress. Raptor Pharmaceuticals' NDA for RP103, which is reformulated cysteamine for the treatment of Cystinosis, was recently accepted by the FDA for review and assigned a PDUFA goal date of January 30, 2013. Their application was also validated in Europe, where approval may occur in 1H 2013. RP103 is designed for 12 hour dosing, while Cystagon, the currently approved treatment, requires strict 6 hour dosing (this means a middle of the night dose). It is important to note that Raptor did not receive priority review, which they hoped for, but is not surprising given that Cystagon is available for patients. Compliance and side effects are a huge issue, and this is Raptor's key motivation for developing the treatment. Also, Raptor recently filed a form 424b5 with the SEC, updating a previous one, detailing an at the market offering (ATM) with Cowen and Company to sell up to $40 MM worth of stock. Proceeds so far under the plan have totaled $530,000 and shares outstanding have increased by 99,500.
To briefly summarize the phase 3 trial results comprising the application, the pivotal phase 3 trial was run under an SPA with the FDA, and designed as a randomized crossover trial with Cystagon. The trial was designed to show non-inferiority in WBC (white blood cell) cystine levels, an established biomarker. Per the press release:
"Of 41 patients who completed the Phase 3 protocol, 38 were included in the evaluable data set, 3 not being fully compliant with the protocol. The age range of study participants was 6-26 years, with 87% of patients below 16 years old. On average, the peak WBC cystine level measured in patients treated with Cystagon(NYSE:R) was 0.54 +/- 0.05 nmol 1/2 cystine/mg protein, compared to an average peak value of 0.62 +/- 0.05 nmol 1/2 cystine/mg protein for patients treated with RP103. The mean difference was 0.08 nmol 1/2 cystine/mg protein, with a 95.8% confidence interval of 0.00-0.16 (one sided p=0.021). As stipulated in the Statistical Analysis Plan, the non-inferiority endpoint of the clinical trial would be achieved when the upper end of the confidence interval around the mean difference of WBC cystine levels did not exceed an absolute value of 0.3. The upper end of the confidence interval in the Phase 3 clinical trial was determined to be 0.16, thus achieving the non-inferiority endpoint."
While positive, it is likely important for Raptor's negotiations with payors to show that RP103 is superior to Cystagon by reducing side effects and improving outcomes. Demonstrating the improved tolerability of RP103, there was an 87% reduction in PPI (proton pump inhibitors) use. In addition, patients needed slightly less (18% less) of their cumulative dose of Cystagon, a nice positive as well. It should be noted that this trial enrolled those patients who were considered compliant (20% of the patient population) with the protocol in order to accurately assess if RP103 is truly equivalent (non-inferior). Importantly, 40 out of 41 patients elected to enroll in the extension trial, and 38 did so. At the time of the filing, 12 months of data was available for 32 patients. Expanded enrollment allowed an additional 18 patients to enroll who were not eligible for the phase 3 study (kidney transplant and age).
Raptor does not believe that there will be an FDA advisory committee meeting before the PDUFA date.
Raptor believes only a handful of sales reps and reimbursement managers will be required to market the drug, since the prescribing group of nephrologists is quite small. Also, this is a well-defined patient population, comprising ~500 patients in the US and ~ 800 in the EU. See the valuation section for a basic model and valuation.
Pipeline - Raptor currently has 2 additional trials of DR Cysteamine ongoing: RP104 in non-alcoholic Steatohepatitis (NASH), and RP103 in Huntington's disease. Both trials are expected to report data in 1H 2014, and the Huntington trial is currently funded by the French Government, while the NASH trial is being run with NIDDK, and will cost RPTP approximately $6 MM. The Huntington trial is particularly high risk in my opinion, due to the difficulty in treating this difficult disease. Although, the preclinical data is promising. If successful, the trial would likely provide enough data to bring the drug to market, and the potential market is lucrative given the lack of treatment options. On the other hand, RP104 has already demonstrated efficacy in a proof of concept 2a study in pediatric NASH announced in 2010. The improvement in relevant liver biomarkers was extremely positive and the safety profile looked clean. The phase 2b trial will seek to build evidence of treatment efficacy in a larger population, 160 pediatric patients. This is a heterogeneous patient population and is only recently garnering attention in the pediatric setting. In addition, Raptor has a partnership in Asia for Convivia, and I will not include this as part of the valuation (see below).
Risk Factors - Given the strong clinical profile, the major, long term risk at this point is centered on commercialization of DR Cysteamine and market penetration. Although the benefits of RP103 appear significant, cynics point out that this is simply a reformulation of an already approved drug, and patients already have a treatment option (Cystagon). In addition, as with any drug candidate in registration, a delay in the PDUFA date or an outright CRL due to CMC or other issues that are difficult to predict could be very damaging to the share price.
Financials and Valuation - Raptor's current financial position is average, with approximately $40 MM of cash and cash equivalents as of March 31, 2012 (10-q). According to RPTP's investor presentations, monthly cash burn is approximately $3.4 MM/month, giving Raptor about a year's runway. The ATM equity raise can be expected to raise additional funds as needed, and in my opinion there is a good chance Raptor will raise additional equity capital before the PDUFA date.
As of July 9, 2012, RPTP's market cap stands at $245 MM with 60 MM fully diluted shares. There are a significant amount of warrants outstanding at an average exercise price of ~$3.0/share. For a company such as RPTP, I believe a sum of the parts, modified DCF valuation is appropriate. The premise behind this model is to forecast probability adjusted peak sales, assuming it takes approximately 5 years to ramp up (I have modeled 3 years for cystinosis, since it is an ultra-orphan indication with a well-defined patient population), then multiply the approximate net profit margin of 20% (due to the small sales force, I have increased the profit margin to 30% for cystinosis) back to the present at a 15% discount rate. To obtain the final estimate of value, next I sum the NPV of the individual programs, then I divide by the number of shares outstanding, and ultimately multiply by a reasonable (25) P/E ratio. This is the number at the top of the first table, the NPV. I have also included a sensitivity analysis of sales of RP103. Due to the payments owed to UCSD, which are in the range of 1.75% to 5.5%, plus some relatively small milestone payments, I have discounted the net profit margin to 95%. To reflect my belief about the chances of Cysteamine (RP103 and RP104) in other indications, I have used conservative peak sales numbers and low probabilities of success. Even so, the company appears attractive by this crude model. The revenue stream from RP103 can be expected to pay for the company's additional trials and potential commercialization efforts.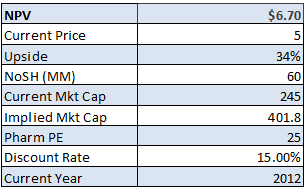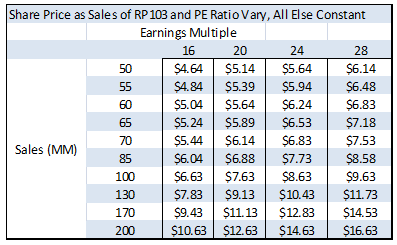 Conclusion and Future Directions - Raptor is in good position for a strong launch in 2013 with minimal infrastructure and a small, focused sales force. However, a central issue will be pricing and reimbursement. Working in Raptor's favor is the lack of patient compliance and the ultra orphan indication, and the significant reduction in PPI use, as well as being former BioMarin guys. Working against Raptor is the fact Cystagon is available. Raptor Pharmaceuticals does possess additional, valuable assets, and because of the low cash burn associated with these, may be thought of as call options. While I believe the Huntington's trial is a long shot, the data in NASH is very promising. Overall, the fact the company has respectable chances of becoming cash flow neutral in late 2013 is a possibility that should not be underestimated, and trades at a modest discount to fair value.
Disclosure: I have no positions in any stocks mentioned, and no plans to initiate any positions within the next 72 hours.