How to Play on the Possible Recovery in Chinese Construction Market?
Construction demand in China, which is the largest steel market, is undergoing a downturn due to weaker economic activity and the current summer season, with heavy rains and floods in some places and high temperatures elsewhere in the country. As a result, the demand for steel, iron ore, and metallurgical coal has been weak. However, while iron ore primarily derives its demand from steel, steel and coking coal have drivers other than construction, which have recently exhibited improving trends. So, one potential strategy to play on the possible recovery in the Chinese construction market (once this summer season is over) is long steel and coking coal and short iron ores stocks. The beauty of this strategy is that even if construction activity does not improve as expected, an investor is hedged against a possible downside risk.
Market Trends and Future Outlook
Steel has two major raw materials: iron ore and coking/metallurgical coal. The market forces that determine the industry dynamics of steel have a significant impact on each of its raw materials, and vice versa. Let us now analyze each of these industries separately:
Due to a macroeconomic slowdown, the steel market has been undergoing a dip for some time. Especially in construction market, the situation has not been good lately, as is evident from a decline in the Architecture Billings Index from 48.4 in April to 45.8 in May. However, the monetary stimulus measures (like interest-rate cuts) taken by the U.S., China, and Europe, are expected to uplift its demand in future. In addition, automotive demand is increasing because the seasonally-adjusted annual rate (SAAR) of sales has increased to 14.1 million in June from 13.9 million in May. Construction demand is also expected to rise once this summer season is over.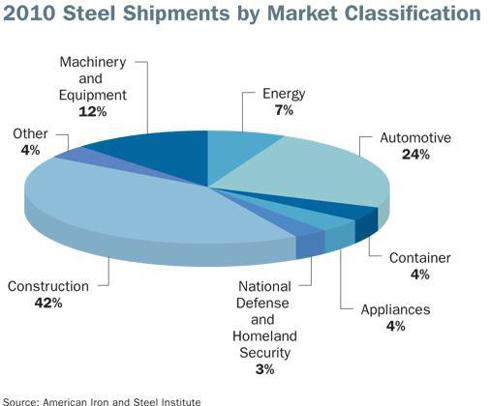 Source: AISI
Iron ore is highly dependent on steel, as the former's major use (98%) is in the latter's manufacturing. 59% (out of this 98%) is used for Chinese steel making, and as already mentioned, weak steel demand in China is having a detrimental impact on iron ore demand and prices.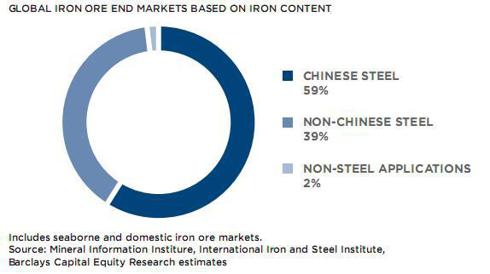 Source: ICE
Metallurgical/Coking Coal
Metallurgical coal prices have also been decreasing because of slower steel production in China and the economic slump in Europe. The rebounding of the Coal Industry is essentially dependent on one catalyst i.e. whether the U.S. metallurgical coal exports will continue their increasing trend. The recent trend of increasing coal exports to Europe due to high demand has been positive in this regard, which makes us bullish about this industry.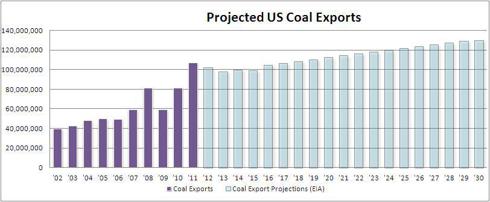 Source: Seeking Alpha
Trading Strategy
Once this summer season is over, construction activity is expected to pick up, which will benefit the demand for steel, and consequently, that for iron ore and metallurgical coal. However, one fact worth consideration is that steel's demand is not solely dependent on construction, but has several other end markets like automotive, machinery and equipment, which have recently shown signs of improvement (e.g. as evident from increase in SAAR). In addition, metallurgical coal is also not dependent on the construction sector alone, but also on exports, which have increased, especially to Europe.
Consequently, if an investor wants to play on the potential pick up of the construction market in China after this summer season, a possible strategy can be long steel and metallurgical coal and short iron ore. If the construction market indeed picks up, the demand for all three of these commodities will rise, but investors will still benefit. What makes this strategy so lucrative is that it protects an investor from losses, even if construction activity does not increase. In that case, the dip in steel and met coal demand will be less than the drop in iron ore's demand, and the investor would still be profitable.
The potential stocks to play within this strategy are:
Use Steel Dynamics (STLD) and Nucor (NUE) as stocks to take long positions in because of their lucrative growth potentials, good operating performance, and strategic acquisitions. Stay away from AK Steel (AKS) and U.S. Steel Corp. (X) because of their high beta and comparatively weaker operating performance. For a detailed analysis on each of these steel stocks, please read our previous article.
As part of this strategy only, potential short can be leading iron ore producer Vale S.A. (VALE) because of general weakness in the iron ore market amidst a global economic malaise. Otherwise, we reiterate our previous recommendation for iron ore stocks - staying neutral in short-term and buy in long-term if the macroeconomic environment improves. We avoid using Cliffs Natural Resources Inc. (CLF) in this strategy because of its comparatively high exposure to coal.
For this strategy, a long position is to be taken only in those coal stocks, which have a high met coal exposure. Alpha Natural Resources (ANR) and Arch Coal Inc. (ACI) are our favorites in this regard. Peabody Energy (BTU) and CONSOL Energy (CNX) can also be considered, but they have relatively less met coal exposure. Please click here for our recent update on coal stocks.
Disclosure: I have no positions in any stocks mentioned, and no plans to initiate any positions within the next 72 hours.