David Einhorn of Greenlight Capital began accumulating a position in Best Buy (BBY) during the first quarter of 2011, including amongst his reasoning for doing so a statement about the opposition that the "Bears believe that the internet puts BBY on a path to Blockbuster-video obsolescence." He stated Best Buy's troubles were being attributed to declining sales in video, laptops and television, but countered that he feels these sentiments are being overblown by what was simply a weak holiday season, which can easily be remedied by a change in product cycles or new fashions. The average purchase price was $33.33 at this stage. By the first quarter of 2012, he had accumulated near 8 million shares, which had a market value of 182.6 million dollars, and which comprised over 3% of his portfolio.
During his holding period the shares have found themselves in free-fall mode. Only recently were they buoyed after speculation ran amok about the possible future of Best Buy after news broke founder Richard Schulze was exploring potential options for the company.
Amazon (AMZN) on the other hand, is a company which Einhorn holds a far more bearish view of, or at least an ambivalent one. A concern of his is that while the company's sales are increasing at an exponential pace the operating income is only moving forward at a snail's pace. Based on this, he views its future as a "riddle".
It should be noted when examining this that it is a deliberate action taken by the company. By sacrificing profits in near term, the company seeks to take a truly long-term outlook on its business by concentrating spending on key areas in the present. Customer service is a major item which receives attention by the company, as thousands of people have been hired in recent quarters to staff their fulfillment centers. Anecdotally, my experiences with Amazon's customer service have been exceptional, and I find they have a very good reputation in this key area. On the other hand, if these hundreds of complaints about Best Buy and its customer service can be viewed as a microcosm, they are seriously deficient.
It is true that Amazon's share price is sky high, and with a price/earnings ratio of near 200, there certainly is a strong argument that now is not the time to purchase any shares. Be that as it may, as far as what the business is pulling in with revenues, the growth is amazing. And it is this key area which does not bode well for Best Buy's future, because that growth is coming at the expense of Best Buy.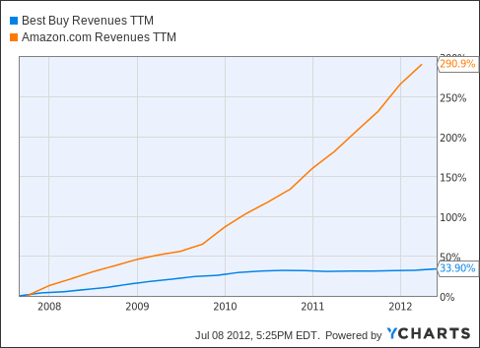 BBY Revenues TTM data by YCharts
Best Buy's problems are not seasonal in my opinion, they are fundamental. Amazon simply offers a much more convenient means of shopping, and people are constantly eschewing shopping at Best Buy in favor Amazon every year. On the surface Best Buy does seem to have one major advantage over Amazon, however. This is that products are not available to be tested at Amazon. Televisions, for example, are often not bought without being viewed by a consumer, even with Amazon's extensive reviews. People like to see for themselves if it fits with their subjective tastes. But the result of this is that consumers have begun to use Best Buy as a "showroom" of sorts, where they test these particular products out in store and then go to online retailers to purchase them at a discount. By spending billions on these bricks-and-mortar locations, the result is a substantial disadvantage for Best Buy versus its online competition which does not have to incur costs anywhere comparable to this.
It is a disadvantage that is afflicting other big retailers as well, such as Sears (SHLD). Steps such as web pickup locations and return centers are being implemented by these retailers in an attempt to keep pace, but the convenience and fluidity is simply not on par with Amazon's, who have it down to a science, and have the name recognition. Online retailing has been their modus operandi from the get-go.
Best Buy is also focusing on Best Buy mobile stores , which specialize in cellular phones and services. 103 of these stores were opened in fiscal 2011 in the United States, to bring their total number of such stores to 177. Current plans include the opening of 150 more mobile stores for 2013, in addition to the closure of 50 of their traditional big box format stores. All told Best Buy hopes to have 600 to 800 of these stores by fiscal 2016. These stores are having more success than their big box stores, but it remains to be seen whether or not that success can transcend their small amount of mobile stores. It is quite possible with the exponential amount of growth that they have planned that they end up overextending their self by expanding too much, too fast. While this mobile store idea may be a better bet than their traditional stores, it is hardly a novel idea, and the competition will be stiff here as well.
What is clear though is that Best Buy can't stay the course with its traditional stores, or it will die a slow death reminiscent of that which befell Circuit City a few years ago. Being partial to having a large margin of safety with any stock I even entertain investing with, it is clearly missing from Best Buy.
Disclosure: I have no positions in any stocks mentioned, and no plans to initiate any positions within the next 72 hours.