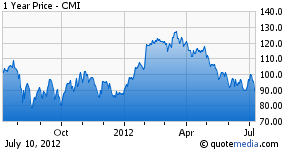 A strong second half is looking less and less likely for the industrial sector. Class 8 truck orders have been declining, Europe is not getting better, and emerging markets continue to weaken. Now we have Cummins (NYSE:CMI) warning that management no longer expects 2012 revenue to grow from 2011 levels.
While I have expressed some reservations in the past about Cummins' valuation and the risk of engine market share loss to internal programs, I have never questioned the quality of the business, or its status as a leader. So then, if Cummins is now of the opinion that there will be no revenue growth this year, where does that leave truck manufacturers and other heavy equipment producers?
A 10% Trim
Cummins is typically pretty tight-lipped about financial guidance, so like E.F. Hutton, when management talks, investors ought to listen. Cummins is now projecting no revenue growth in 2012 and second quarter revenue of about $4.5 billion. Both numbers represent 10% cuts from previous sell-side guesstimates.
Management did not discuss margins or earnings expectations, but Cummins does have a good record of squeezing out additional efficiencies. Nevertheless, I think Cummins will be hard-pressed to grow its free cash flow substantially from last year's levels (and recent free cash flow conversion has been running well ahead of the company's long-term trends).
Weakness Here, There, And Almost Everywhere
There are plenty of culprits in Cummins' reduced outlook, and likewise several other companies whose outlook is now going to be called into question.
With truck orders weakening, Navistar (NYSE:NAV) and PACCAR (NASDAQ:PCAR) are going to have a harder time meeting numbers, though here again I actually that Cummins may be losing some business to PACCAR's internally-developed engines. The OUS truck market is scarcely better; although Cummins customers Volvo (OTCPK:VOLVY) and Scania have reported better-than-expected order trends, the orders were still weak in the first quarter of this year. None of this is good news for part and component companies like Eaton (NYSE:ETN), Allison Transmission (NYSE:ALSN), Tenneco (NYSE:TEN), or BorgWarner (NYSE:BWA).
The emerging markets, an area of meaningful growth for Cummins in recent years, is likewise still soft. Construction and mining orders are softening, and numbers have been coming down for Caterpillar (NYSE:CAT), Joy Global (NYSE:JOY), and Komatsu (OTCPK:KMTUY). Likewise, the power gen market appears to be softening as customers like natural gas drillers are seeing less business.
Nothing Different For The Long Haul
For investors who can handle the short-term pain, the long-term outlook for Cummins really hasn't changed. Navistar has amply demonstrated that developing new engines is difficult, and this may discourage other manufacturers from taking more engine development in-house. Likewise, emissions control standards continue to increase and Cummins has a real long-term opportunity here. Provided that trucking fleet operators, construction companies, miners and so on haven't significantly over-bought (and/or the global economy doesn't go into another deep recession), this is just another cyclical lull in what has always been a cyclical company and industry.
If you believe that Cummins has structurally changed as a company and can maintain high single-digit free cash flow conversion rates, these shares could be worth about $120 even on lower revenue growth assumptions. That suggests these shares are pretty attractive today on a fundamental basis, but value hounds should be aware of the risks of buying into bad news - Wall Street is likely to put this one in the penalty box for a while and continue to rotate away, and that could mean the shares get even cheaper before rebounding.
Disclosure: I have no positions in any stocks mentioned, and no plans to initiate any positions within the next 72 hours.