Most people reading this article are probably somewhat familiar with Weight Watchers International. They may have seen advertisements for the company in magazines, on the internet or perhaps have seen the television commercials with Jennifer Hudson, Charles Barkley or other celebrities. Weight Watchers International (WTW)provides weight management services in North America, the United Kingdom, Continental Europe, Australia, and New Zealand. It offers various services and products that are built upon its weight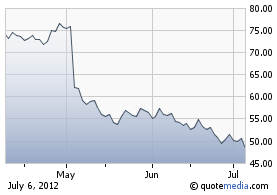 management plans, including nutritional, exercise, and behavioral tools and approaches. The company also sells a range of products, including nutritional bars, snacks, cookbooks, assorted food, and much more. The company offers Internet subscription products and services that offer online content, dietary resources, interactive Web based weight management plans and Weight Watchers eTools. The company also has apps for Apple (OTC:APPL) and Android based phones and tablets that provide subscribers with access to a suite of weight-loss and dietary management tools.
The stock has been in a steep decline since the first part of May for basically three reasons.
An earnings miss on May 2nd. The company reported revenues of $503.5 million vs expectations of $505.8 million and reported earnings per share of 74 cents a share vs expectations of 78 cents a share.
Fear by investors that future obesity drugs by Vivus, (VVUS) Arena Pharmaceuticals, (ARNA) and Orexigen Therapeutics (OREX) will gravely hurt Weight Watchers International revenues and profits.
The poor economies in Europe and the United States have also been a drag on the stock as those are the main geographical areas the company relies on for revenue and profits.
Here are 6 reasons to consider nibbling on Weight Watchers International shares at this level.
The 10 analysts covering the stock have earnings per share estimates of $4.61 for FY2012 and $5.43 FY2013.
The P/E Ratio for 2012 is 10.5 and for 2013 8.9. In addition it has a 5 Year PEG Ratio of .73.
The stock is at a 52 week low and appears to be oversold at this level.
The fears about the obesity drugs killing WTW are overblown. Patients taking Vivus Qnexa lost only about 10% of their weight after taking the drug for 108 weeks. Those taking Orexigen's Contrave only lost 5% of their weight over a 12 month trial period. Arena's patients taking Lorcserin experienced a 5% - 10% weight loss depending on the dosage.
The company's internet business is growing nicely. Internet revenues reported on May 2nd for the first quarter of 2012 showed revenue of $126.9 million, up 38.0% versus the prior year period, with online paid weeks up 35.4% and end of period active Online subscribers up 32.3% versus the prior year period.
The company pays a 1.4% dividend. Not a huge amount but better than you'll get at the bank these days.
Conclusion: In my opinion, Weight Watchers International is oversold at this point. The company still has a strong business that utilizes a balanced approach to lose weight and keep it off long term. In addition, it's growing it's internet business very nicely. The fears that the future obesity drugs are going to seriously hurt the company's outlook are overblown. Weight Watchers International appears to be a good long term buy at this level. However, you may want to wait and watch it for a better entry point as it still may retrace a bit.
Disclosure: I have no positions in any stocks mentioned, but may initiate a long position in WTW over the next 72 hours.