We started Tuesday on a more positive note as UK Factory Output surged 1.2% vs .1% expected. (Although, inside the numbers it was noted a holiday was moved from May to June. Remember, algos don't look too far under the hood.) Italy also posted better industrial output at .8% vs expected -.6%. (They must be forcing some to work now.) The Bank of Japan (BOJ) is increasing its asset purchases (QE) by another $200 billion from $680 billion. Not much the BOJ has done has brought much success to relieve its 20-year slump. Most aren't aware that debt to GDP in Japan is now approaching 200%.
Meanwhile, the world's problem child, the eurozone saw the German high court assert they won't have a decision on the constitutionality of the EMS bailout facility for three months as noted in Der Spiegel. This throws a serious monkey wrench into bailout timeliness. Perhaps the joke of the day came from Spain which vowed that bailout money would be used for a "deep clean-up" of the financial sector. Another story from Bloomberg suggested the Fed knew all about the LIBOR bid fixing in 2007. Elsewhere Bob Diamond of Barclays was accused of being a liar.
In other news, Futures Commission Merchant (FCM) Peregrine Financial is accused of another MF Global-like theft of customer funds to the tune of $200M. Oh, and about that MF Global deal: where's Corzine and the financial media on this story?
The 10-year U.S. Treasury bond (NYSEARCA:IEF) dropped to 1.49% Tuesday which indicates a "risk off" environment. Gold (NYSEARCA:GLD) fell sharply as the dollar (NYSEARCA:UUP) rallied once again. Commodities (NYSEARCA:DBC), (NYSEARCA:USO) and (NYSEARCA:JJC) overall were weak especially as the dollar rallied.
Earnings warnings are dominant now as Applied Materials (NASDAQ:AMAT) followed Advanced Micro Devices (NASDAQ:AMD) with bellwether Cummins (NYSE:CMI) and Mako Surgical (NASDAQ:MAKO) also warning. So the beat goes on and it's a wonder there is any buying whatsoever.
Stocks which began the day higher started to breakdown after the German court announcement and fell further on the accumulation of amazingly crummy news. Some bulls are anxiously awaiting Wednesday's release of Fed minutes which might contain a kernel of QE hints. But we've heard from the Fed already and the Bernank already had his news conference, so what's to know?
Volume picked-up some from Monday's weak effort and breadth per the WSJ was negative.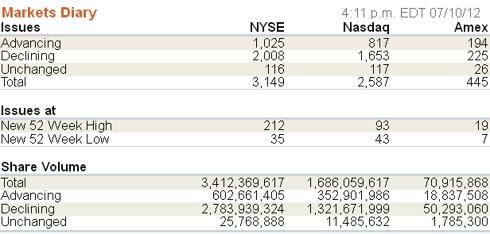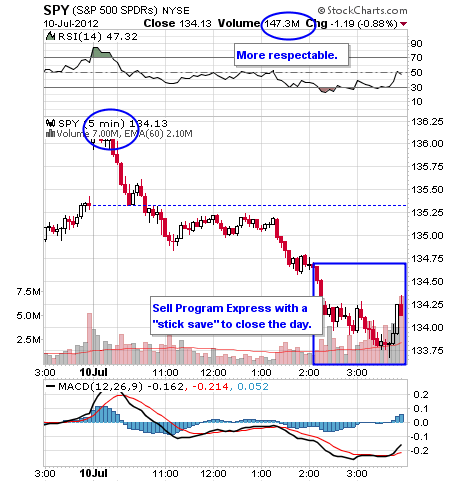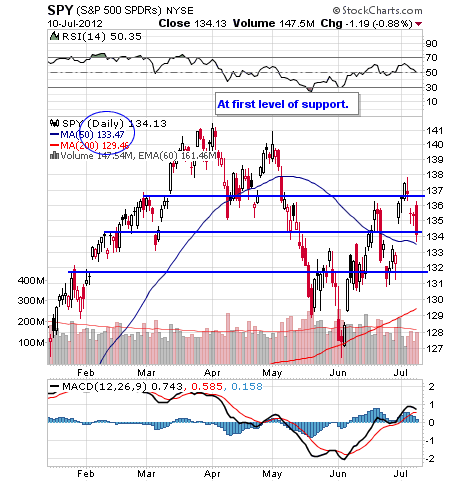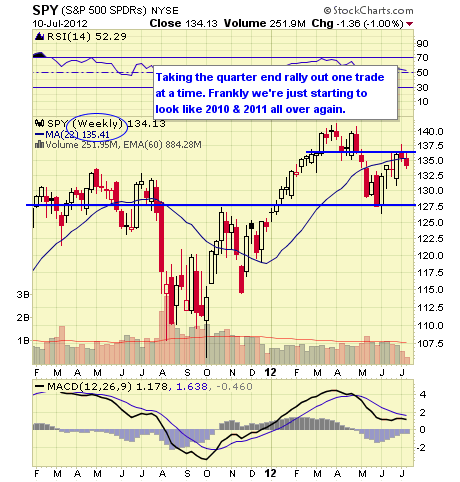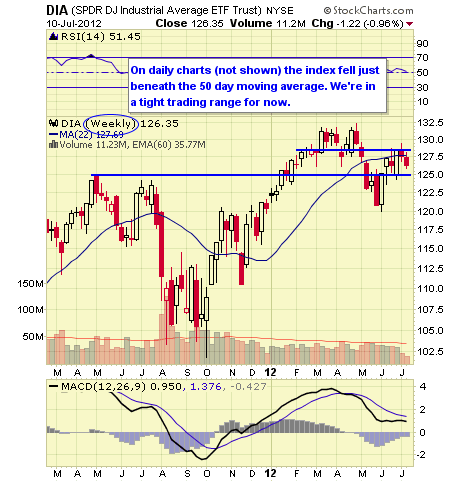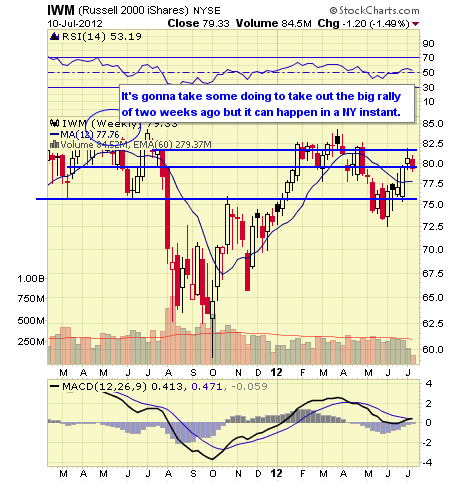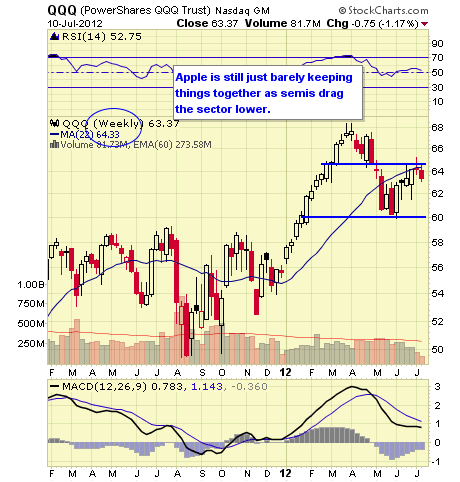 Continue to U.S. Sector, Stocks & Bond ETFs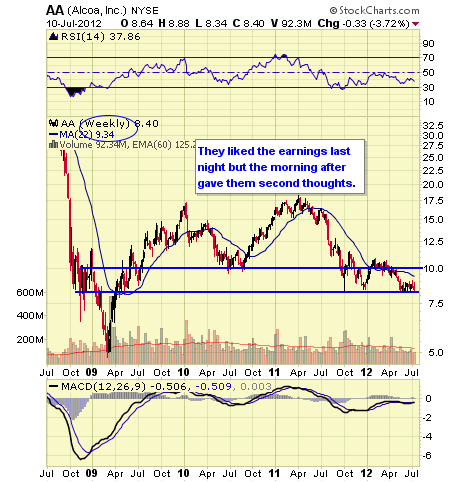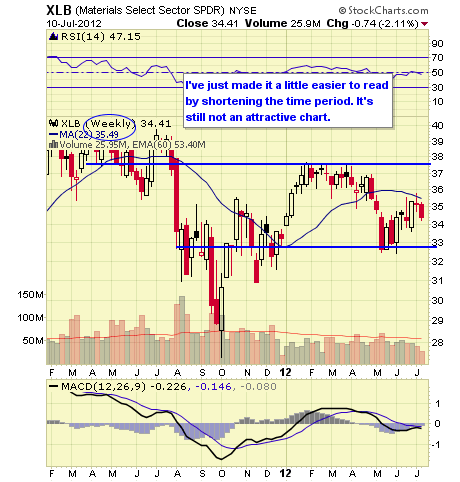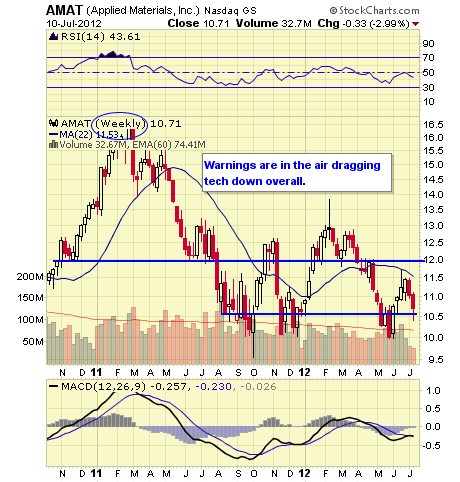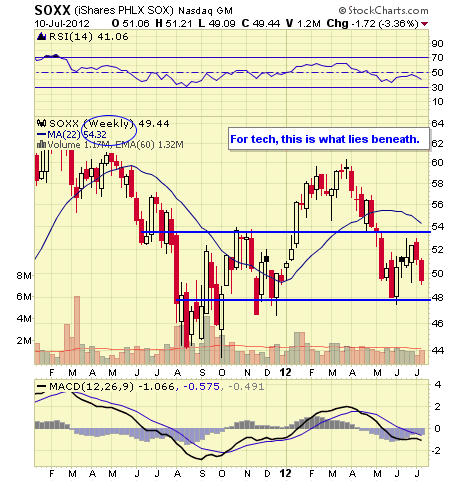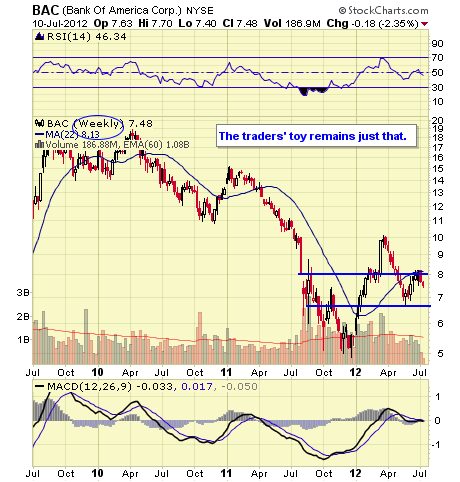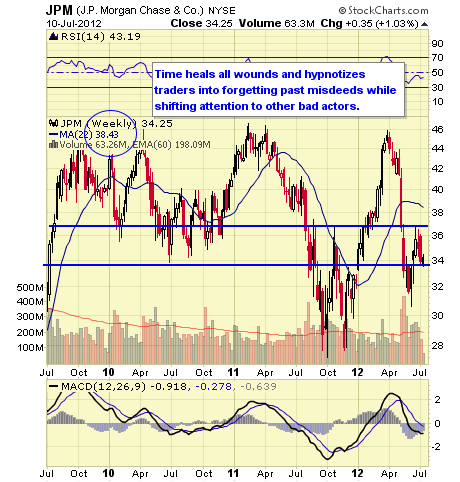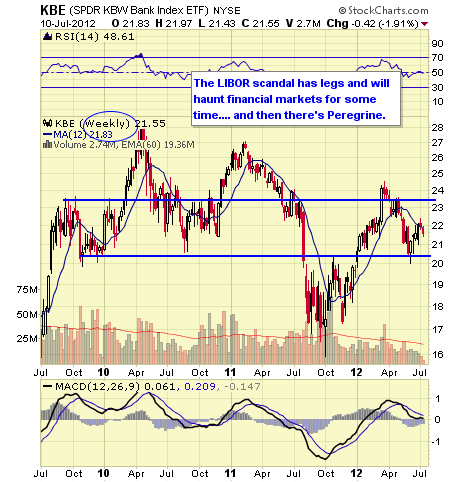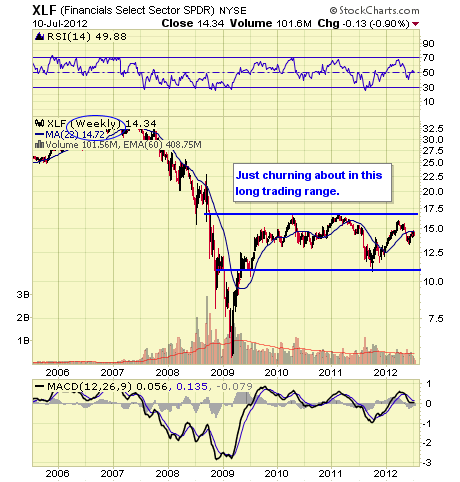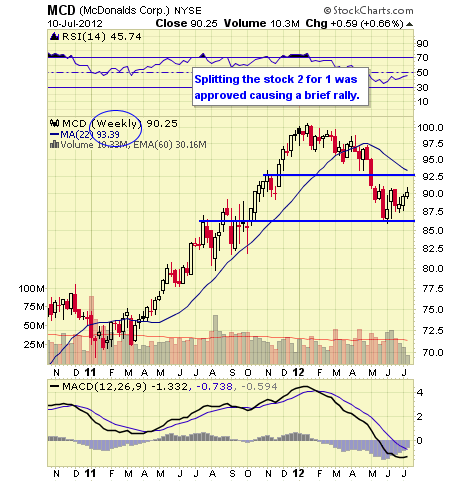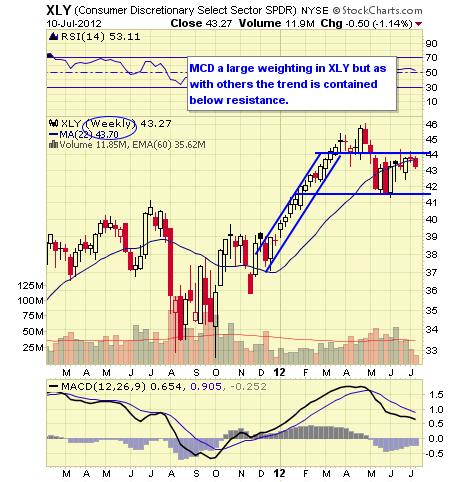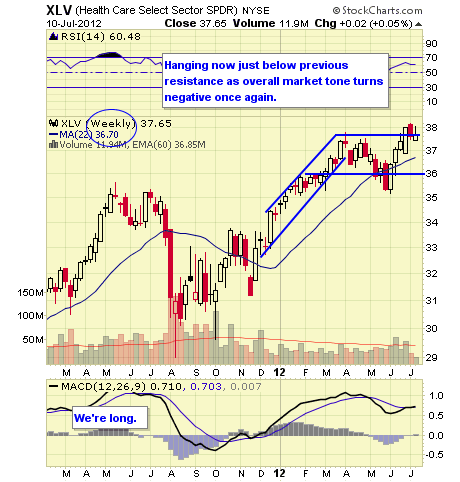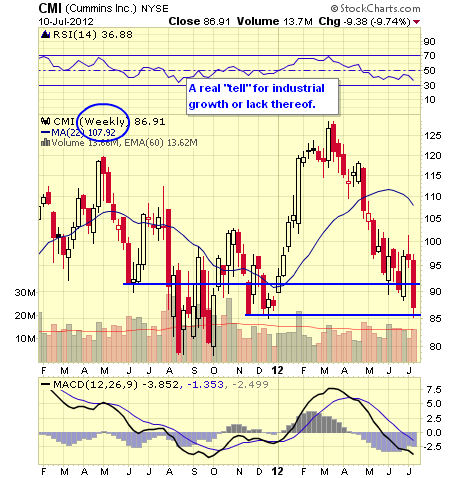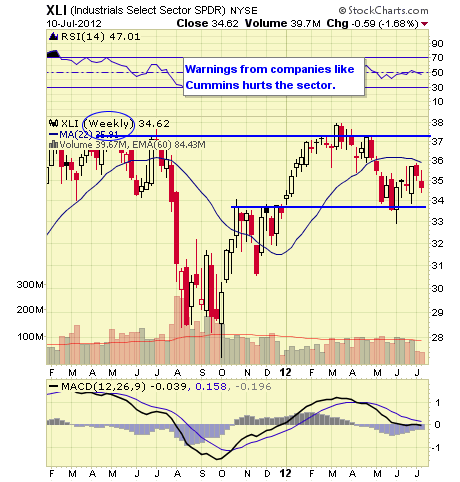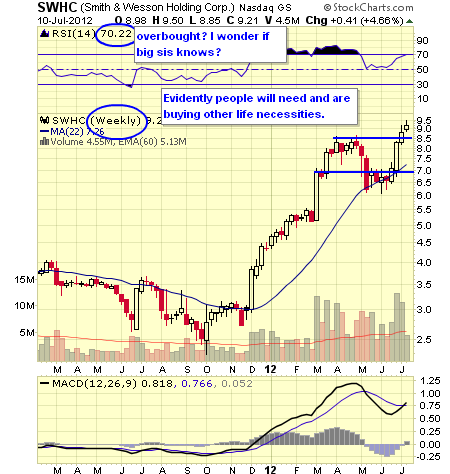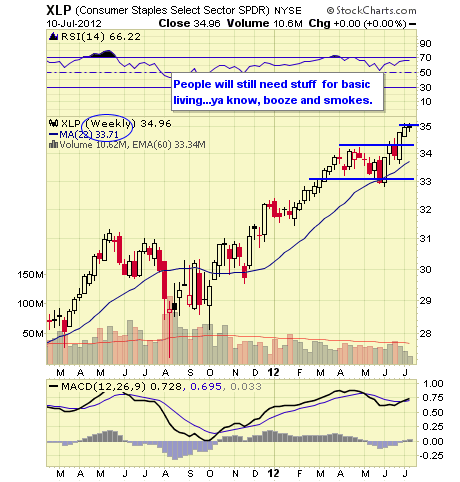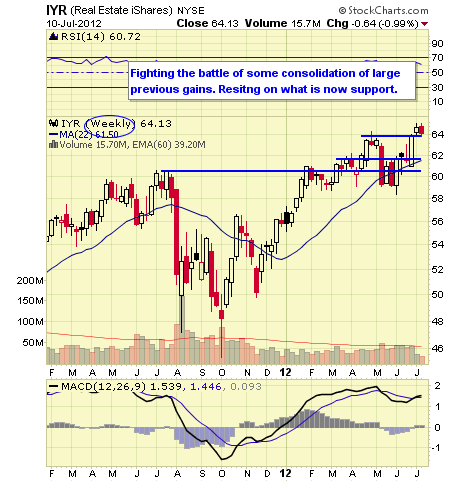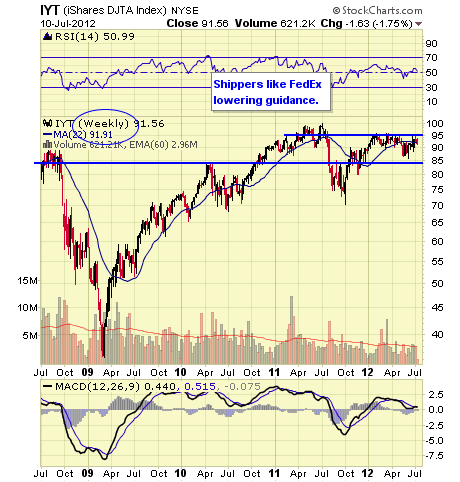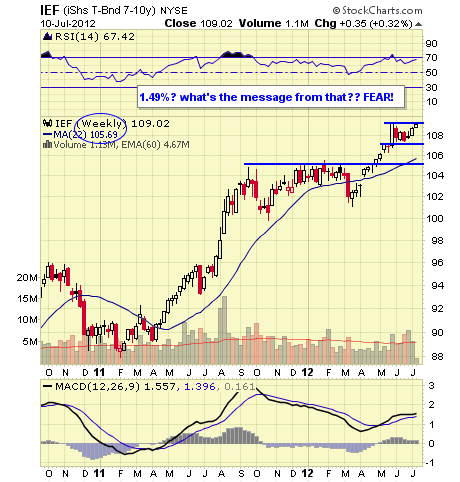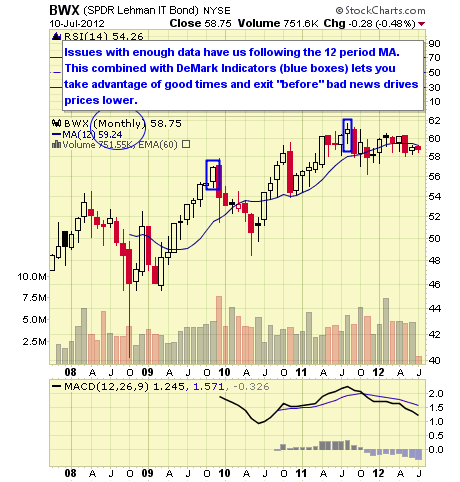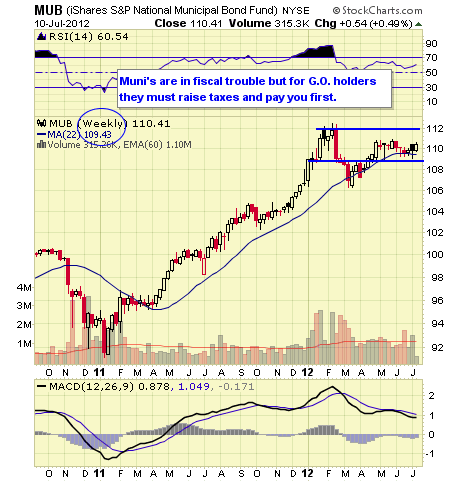 Continue to Currency and Commodity Market ETFs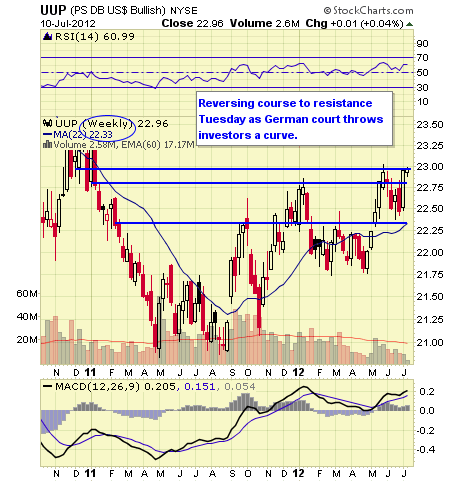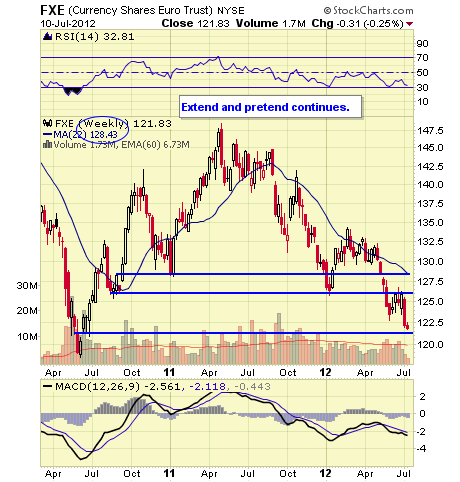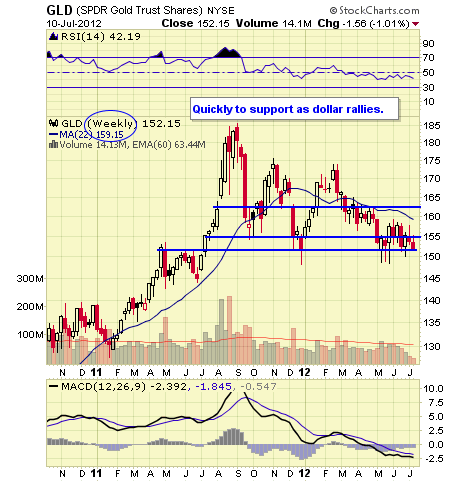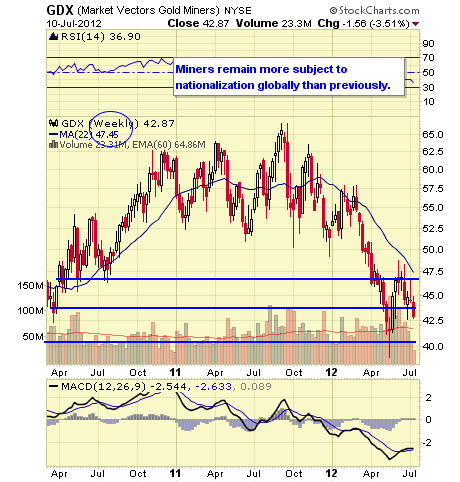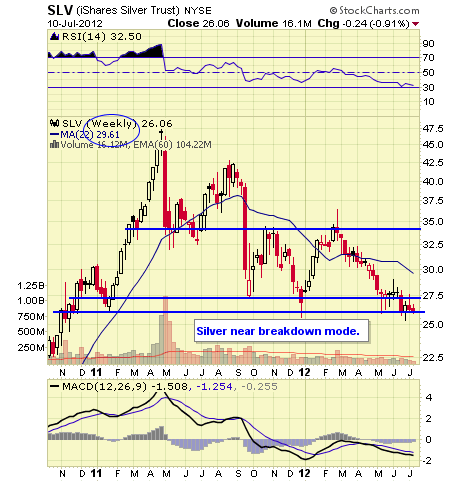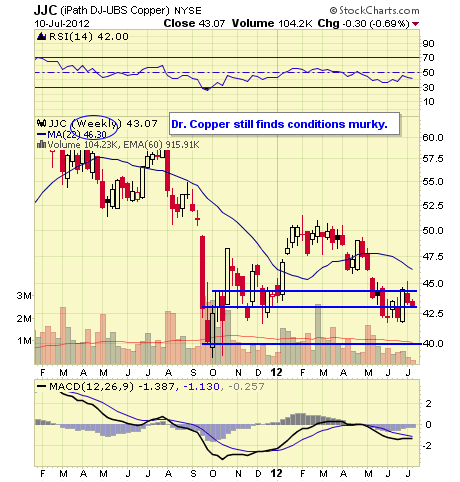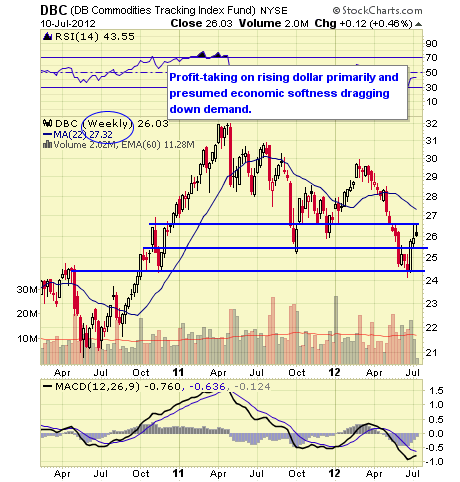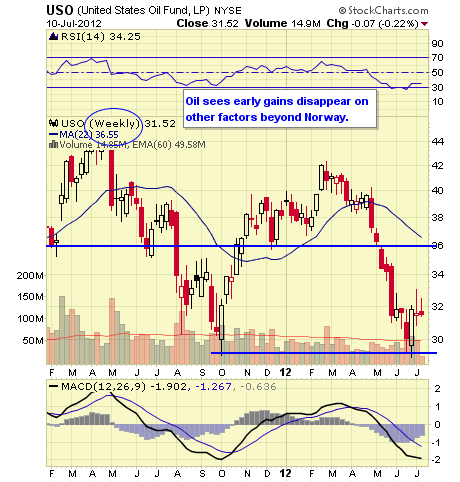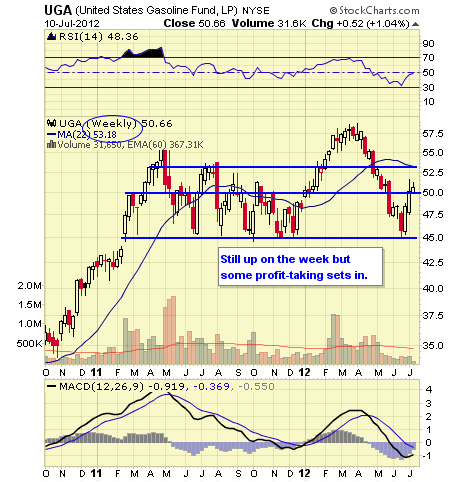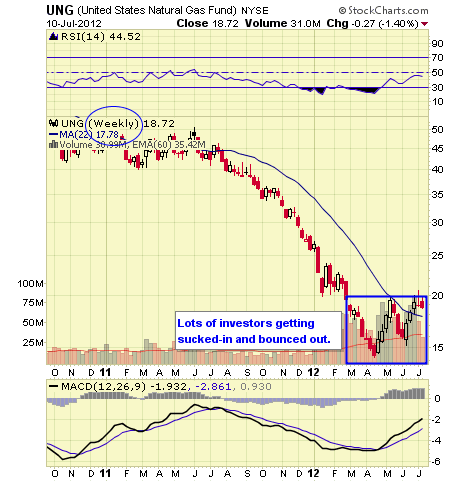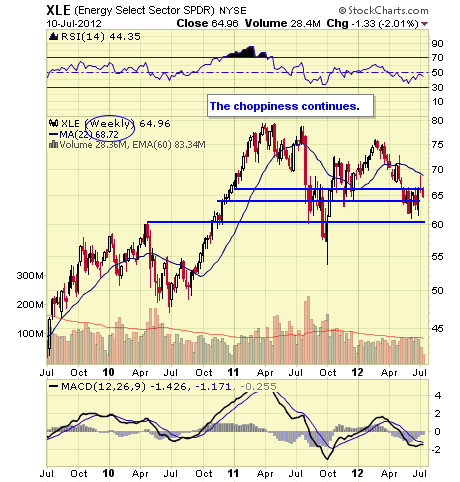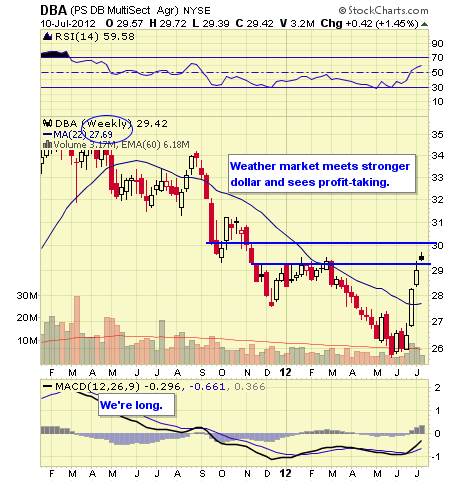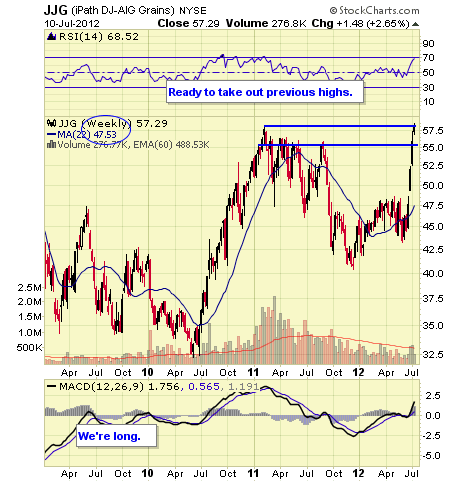 Continue to Overseas Sectors & ETFs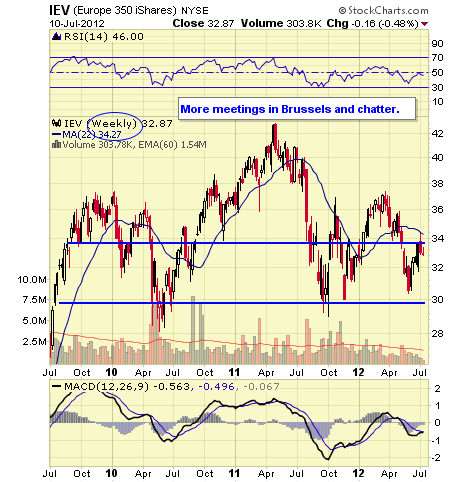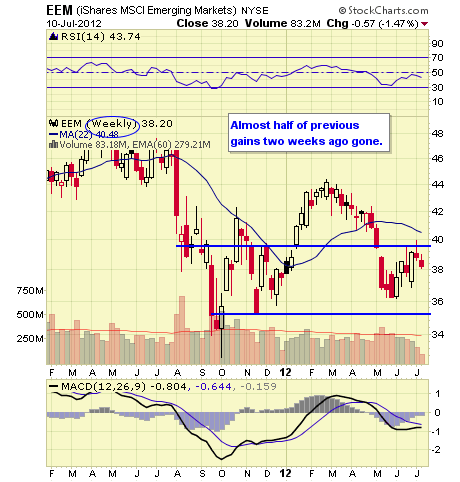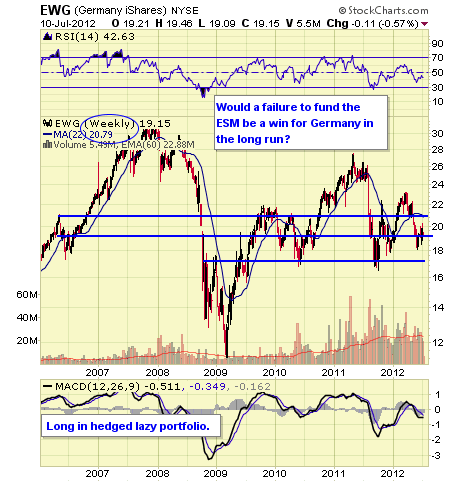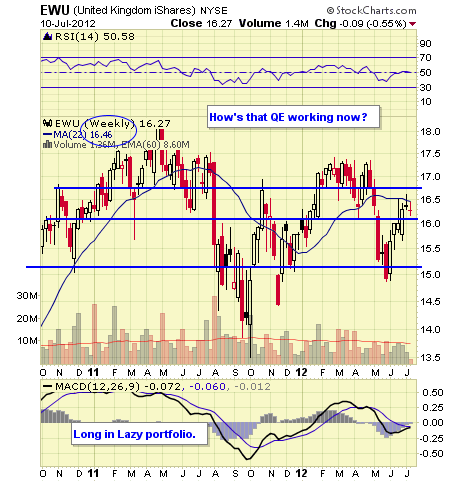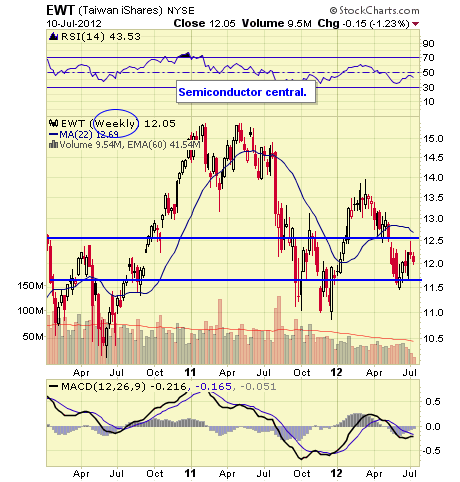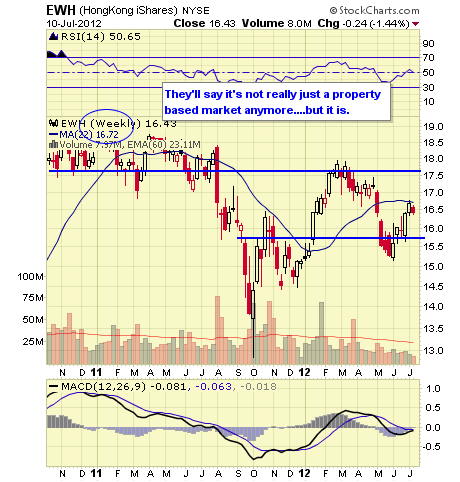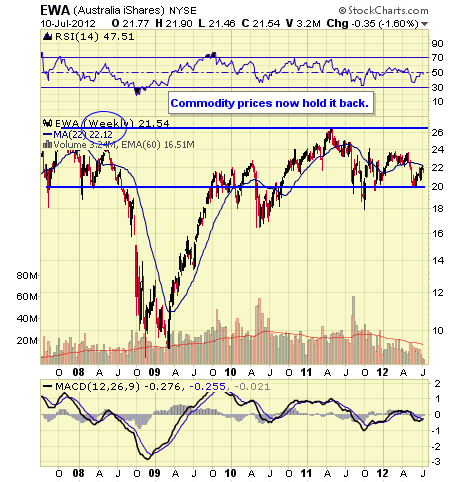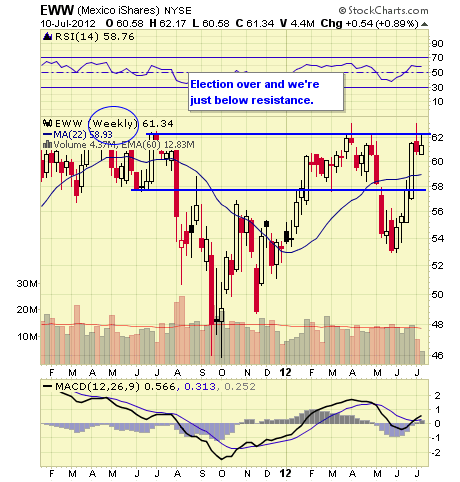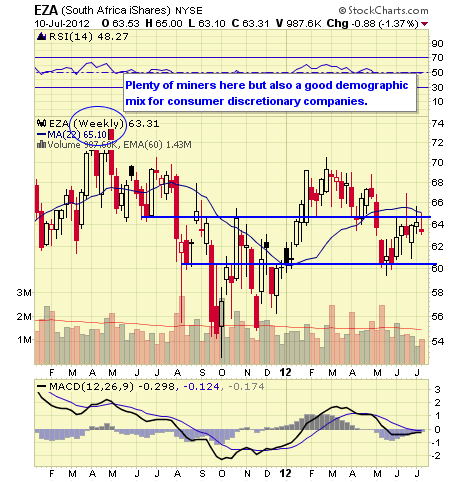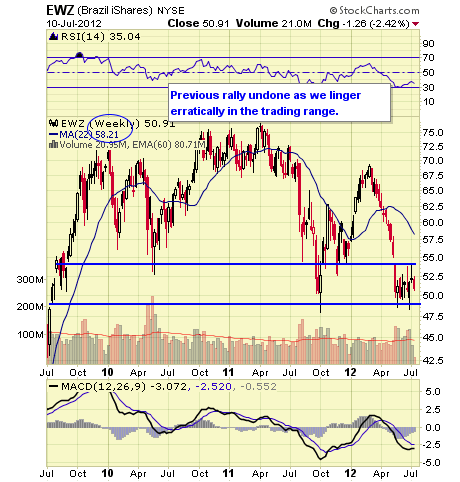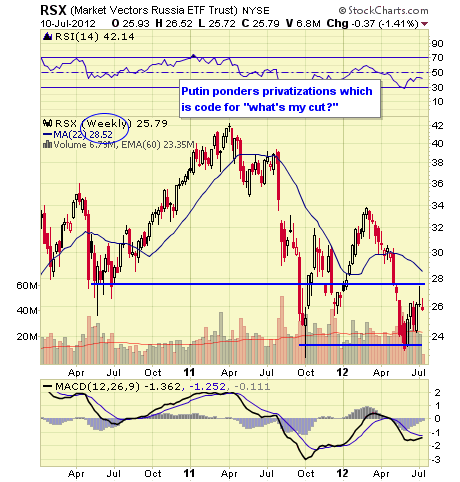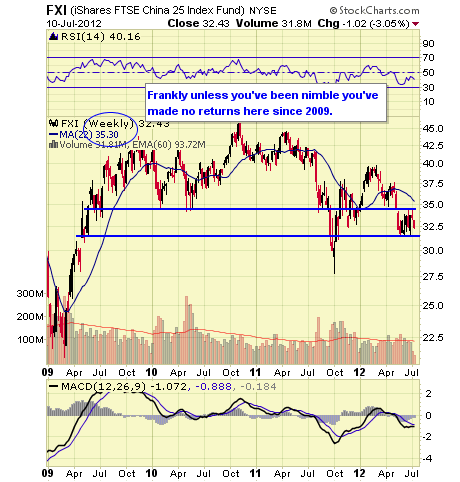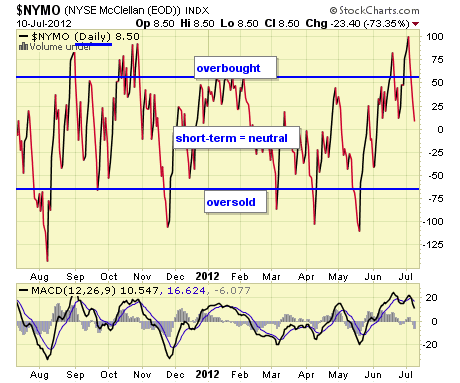 The NYMO is a market breadth indicator that is based on the difference between the number of advancing and declining issues on the NYSE. When readings are +60/-60 markets are extended short-term.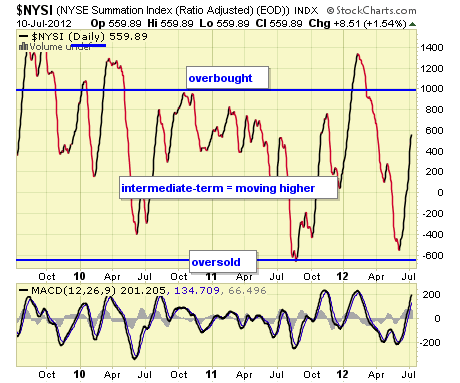 The McClellan Summation Index is a long-term version of the McClellan Oscillator. It is a market breadth indicator, and interpretation is similar to that of the McClellan Oscillator, except that it is more suited to major trends. I believe readings of +1000/-1000 reveal markets as much extended.
The VIX is a widely used measure of market risk and is often referred to as the "investor fear gauge." Our own interpretation is highlighted in the chart above. The VIX measures the level of put option activity over a 30-day period. Greater buying of put options (protection) causes the index to rise.
What we're seeing in the markets, and even though it's early, is a repeat of 2010 and 2011 markets. This means we could possibly expect more QE along to accompany the election which is an added wrinkle and can alter things.
Expect more earnings with some surprises, beats and more warnings.
Let's see what happens.
Disclaimer: The ETF Digest maintains active ETF trading portfolio and a wide selection of ETFs away from portfolios in an independent listing. Current "trading" positions in active portfolios if any are embedded within charts: Lazy & Hedged Lazy Portfolios maintain the follow positions: VT, MGV, BND, BSV, VGT, VWO, VNO, IAU, DJCI, DJP, VMBS, VIG, ILF, EWA, IEV, EWC, EWJ, EWG, & EWU.
The charts and comments are only the author's view of market activity and aren't recommendations to buy or sell any security. Market sectors and related ETFs are selected based on his opinion as to their importance in providing the viewer a comprehensive summary of market conditions for the featured period. Chart annotations aren't predictive of any future market action rather they only demonstrate the author's opinion as to a range of possibilities going forward. More detailed information, including actionable alerts, are available to subscribers at www.etfdigest.com.
Disclosure: I have no positions in any stocks mentioned, and no plans to initiate any positions within the next 72 hours.