As the world's biggest economy's growth slows, the global economy is also trending down. Inflation is peaking high in the fastest growing nations, such as India and China. Commodity prices are sky-high, denting consumer spending. The yield curve is pretty much flat in most of the global economies. US dollar depreciation against the Euro and other global currencies is slowing exports in Europe and China.
This year, investors may not get the above average returns from international markets as they have in the past few years. With the economy expected to grow at zero to negative growth this year in the US, it is prudent to preserve the capital invested and take advantage while the market is about to rebound. The disparity of investment returns from international markets to the US is converging. That brought my attention back to solid companies in the domestic US market.
A known devil is better than unknown angel: rather than searching for gems in nebulous international markets, it is wise to look for value stocks in the domestic market to preserve the capital from down sliding. Harley Davidson (NYSE:HOG) is one of these great companies with sound fundamentals and decent upside potential once the dark clouds of recession pass.
From the lakes of Minnesota to the plains of Texas, Harley Davidson is a proud American icon carrying an immense brand image. Harley Owners Group has more than a million members all over the world. The average Harley buyer is well educated and has a median income of $84,000, which is twice the median household income. Though the slowing economy impacts every part of society, the impact of financial troubles are less prone to higher income households.
Eighty percent of Harley's revenue comes from core bike sales and 20 percent of its revenue from parts and merchandise. International sales represent 27% of revenue and have a commanding 50% of US market share, while its nearest competitors, Honda and Suzuki, hold 14 and 13 percent of the market share respectively. Harley Davidson also represents 40 percent of the Canadian motorcycle market and 11 percent in the European Union. So far, the year of over year sales keep growing even in the recession periods, with an exception in 1995 and probably flat sales in 2008.
On average, over the four past four years, Harley Davidson maintained 34 percent return on equity and 26 percent return on capital. Its current ratio is at 1.8 and networking capital is 1.5 times the long term debt, so it is safe to assume that downside risk is limited.
images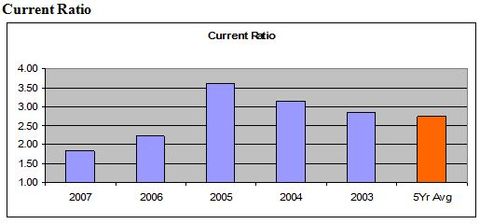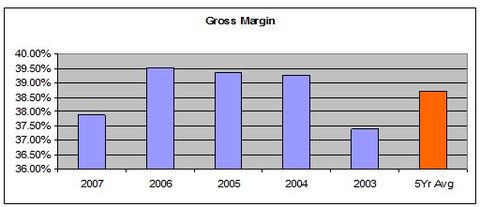 Is HOG Recession Proof?
I dare not to predict that. When I glanced through the cash flow (net income added to depreciation) and year over year change compared with year over year GDP data, cash flow was always trending up with the exception of last year. It will probably trend downwards next year, too. However, absolute cash flow has been positive every year.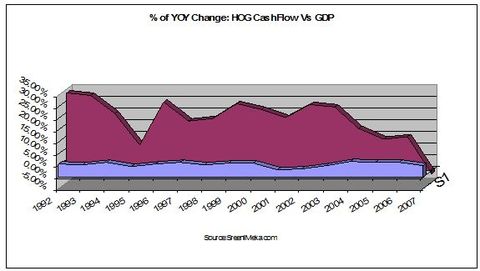 The current PE for Harley Davidson is 10.5, an historically low ratio, and with 3 times the book value it has tremendous upside potential when the economy start turning back. Harley Davidson has been consistently raising its dividend since it started in 1993. It is an equity that looks compelling to hold in the forthcoming uncertain economy.
Disclosure: I hold Harley Davidson in my personal portfolio and am still accumulating.