Solar stocks had another blowout week led by LDK Solar's (NYSE:LDK) 25% gain. First Solar (NASDAQ:FSLR), Sunpower (NASDAQ:SPWR) and Suntech Power (NYSE:STP), what I consider the first-tier solar companies, all had a gain close to or above 20% for the week.
Also, interesting to note is that First Solar is now the only Solar stock that has a positive gain in 2008. Sunpower (SPWR) and Suntech Power are still about 30% and 40% down in 2008 respectively.
Suntech Power (STP) has gone from about 30 to 50 in the last two weeks with Sunpower (SPWR) going from 60 to 90 in the same time frame. So do they get back to 2007 highs?
I mentioned in my article last week that I missed an opportunity to buy Suntech Power (STP) in the low 30's but now I even missed the opportunity to buy in the low 40's.
I think this is the case of 'a rising tide lifts all boats'. There are solar stocks out there that had no business going up but benefited by the overall solar rally. So what I am planning on doing now is to look at second-tier solar stocks that could be shorted (via PUTS) while staying away from from FSLR, STP and SPWR until I see an opportunity to go long.
What do you all think?
Solar Stocks Weekly and YTD Price Change - Week ending April 04, 2008: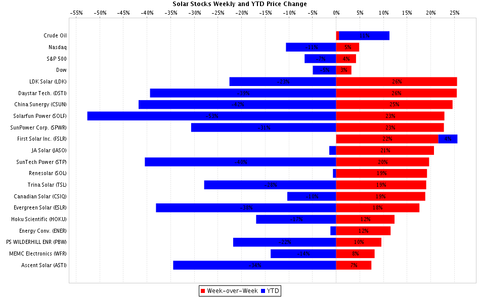 Disclosure: No holdings in any of the above mentioned stocks.