On Tuesday, Cummins (CMI) buttered investors with a 25% dividend increase and then slapped a reduced outlook for the remaining 2012.
There were two reactions to this announcement. First, the company's stock plunged 10% in a couple of hours, and then this announcement triggered a decline in the market. The following chart displays correlation of CMI with volatility in DJIA..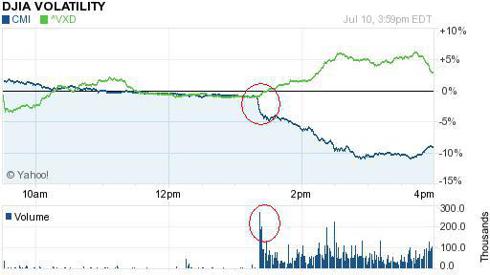 How Low Can Cummins Go - Part I
This previous article (dated June 25 when CMI closed at $89.82) discussed the company's growth prospects going into 2013, it's near term challenges, and finally various alternatives for investors.
With Tuesday's announcement, let us revisit this analysis.
Combination Of Factors
In their Tuesday's announcement, the company cited a combination of factors for losing all of their projected revenue growth for 2012, ending up in-line with 2011 numbers.
Strong Dollar

This should not have been surprising at all considering that the company operates in Brazil, India and China (total of 70 countries). We had cited foreign exchange volatility as a threat in our previous article as well.

Weaker orders in the U.S. and softened demand due to slowing economy

Cummins' chief executive stated this: "Order trends in the U.S. for trucks and power generation equipment have softened and demand in Brazil, China and India is not improving as we had previously expected".

Surely the slowing pace of economy is posing a big challenge for Cummins.
Take a look at the threats that were discussed in our article on June 25.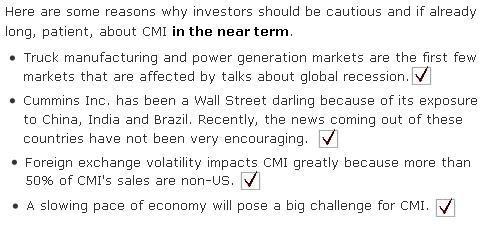 What has changed since June 25?
CMI was under accumulation then and climbed more than 10% in the next few days from $89.82 on June 25 to as high as $100.21 on July 3.
On Tuesday, CMI closed at $86.89; even though price wise, the stock has not significantly declined since our last analysis, the pullback might not be done yet especially if this entire earnings season reeks of similar disappointment.
EPS Revisions
CMI's actual quarterly results are not out yet, but assuming a 10% deduction in the 2012 estimated EPS, the estimated 2012 EPS should be $9.36 instead of previously estimated $10.40; this revised estimate is just little bit higher than CMI's 2011 actual EPS of $9.06.
The target price for 2012 should be around $112 considering 12 times earnings.
So what should investors really do? Here are some options:
I am reiterating the alternatives (and adding a new one) discussed in the previous article.
If you have a short position on CMI, hold for the near term but keep a watchful eye and be ready to cover. Now that the bad news are out, be careful about any positive comments coming on or after earnings day.
If you are long CMI, do not sell at a loss. Be patient, earn your modest $2.00 annual dividend yield in the meantime. Do not panic. If you are nervous, buy protective puts.
If you want to go long, wait for that pullback and then buy on dips. Then, be patient.

As said above, the pullback may not be done yet. One must be a bit nervous considering that starting this Friday, we will start seeing a load of earnings form this market's another battered sector - Financials. If you are still positive, maybe nibble a bit at this price, but do not bite.

If you want to short this stock, this may appear to be the right time, but be careful.
(New) If you are not losing money, you may decide to cut risk and sell CMI, and buy a less risky stock like Verizon (NYSE:VZ) that does not have much dependency on foreign exchange volatility. However, remember that a stock like CMI will be among the first few to fire it's cylinders when economic recovery is in sight.
Conclusion
In spite of the recessionary outlook in the next few months, with stocks like CMI, investing rather than trading will give better results.
Disclosure: I am long CMI.