When insiders buy shares on the open market, their companies are usually undervalued. Corporate insiders often have the inside track on their companies' prospects. Insiders probably wouldn't risk investing too much of their own money into their own companies unless they thought the stock might rise.
I screened for companies where at least one insider made an insider buy during the last three trading days. Here are three consumer goods stocks that I found:
1. Navistar International Corporation (NYSE:NAV) is a holding company whose subsidiaries and affiliates produce International brand commercial and military trucks, MaxxForce brand diesel engines, IC Bus brand school and commercial buses, Monaco RV brands of recreational vehicles, and Workhorse brand chassis for motor homes and step vans. The company is also a private-label designer and manufacturer of diesel engines for the pickup truck, van and SUV markets. While it also provides truck and diesel engine service parts, another affiliate offers financing services.
Click to enlarge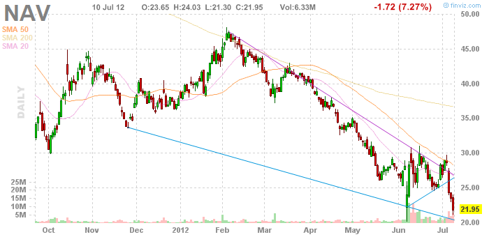 Insider buys
Dr. Mark H. Rachesky, M.D., purchased 914,163 shares through his funds on July 9 and currently controls more than 10% of the company. Dr. Rachesky co-founded MHR Fund Management in 1996 and serves as its President. He served at Icahn Holding Corp. from February 1, 1990, to June 11, 1996, as the Managing Director.
Franklin Resources Inc. (NYSE:BEN) filed an 18.8% ownership on July 10. Franklin Resources was a 12.4% owner as of May 10. Franklin Resources is a global investment management organization known as Franklin Templeton Investments. The company has an extensive global presence, including offices in over 30 countries and clients in more than 150.
According to a Form 4 SEC filing on June 8, Carl Icahn purchased 883,200 shares of Navistar through his funds. Icahn currently controls 8,134,626 shares of Navistar. The company has 68.7 million shares outstanding, which makes Carl Icahn an 11.8% owner of the company. As of March 2012, Carl Icahn's net worth is estimated to be $14 billion.
2. VeriFone Systems, Inc. (NYSE:PAY) is the global leader in secure electronic payment solutions. VeriFone provides expertise, solutions and services that add value to the point of sale with merchant-operated, consumer-facing and self-service payment systems for the financial, retail, hospitality, petroleum, government and healthcare vertical markets. VeriFone solutions are designed to meet the needs of merchants, processors and acquirers in developed and emerging economies worldwide.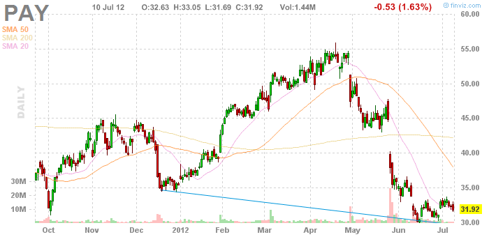 Insider buys
Douglas Bergeron purchased 155,000 shares on July 6 and currently controls 819,375 shares of the company. Douglas Bergeron has been THE CEO of VeriFone since July 2001, when he spearheaded the acquisition of the company from Hewlett-Packard Co. (NYSE:HPQ) in a transaction valued at $50 million.
3. Smithfield Foods Inc. (NYSE:SFD) is a $13 billion global food company and the world's largest pork processor and hog producer. In the United States, the company is also the leader in numerous packaged meats categories with popular brands including Farmland, Smithfield, Eckrich, Armour and John Morrell.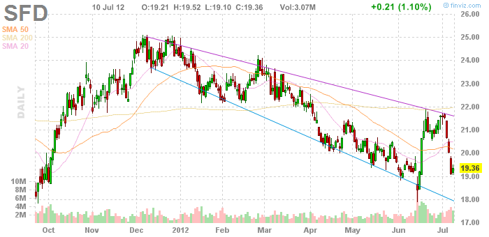 Insider buys
Dhamu Thamodaran purchased 5,000 shares on July 10 and currently holds 71,350 shares of the company. Mr. Thamodaran serves as Executive Vice President and Chief Commodity Hedging Officer of the company.
Conclusion
All three of these stocks are currently just $1 shy of their respective 52-week lows. I plan to take a long position in Navistar during the next 72 hours.
Disclosure: I have no positions in any stocks mentioned, but may initiate a long position in NAV over the next 72 hours.