SciClone Pharmaceuticals (NASDAQ:SCLN) is a self-described US-based, China-centric specialty pharmaceutical company with a product portfolio of novel therapies for oncology, infectious diseases and cardiovascular, urological, respiratory, and central nervous system disorders. SCLN's principal product and main source of revenues is Zadaxin® (thymalfasin, thymosin alpha 1), a thymic peptide which circulates in the blood naturally and is described by SCLN as instrumental in the immune response to certain cancers and viral infections. Zadaxin is approved for sale in China and 30 other, mostly third world countries. However, SCLN has not succeeded in achieving meaningful revenues for Zadaxin in any country other than China. Zadaxin is manufactured in and exported to China from Italy. In April 2011 SCLN acquired NovaMed, a pharmaceutical sales and marketing organization with all of its operations in China.
Our due diligence revealed that while Zadaxin promises much, reputable studies indicate it delivers little if any benefit to patients. In theory, Zadaxin should improve the effect of pegylated interferon alpha, Roche's leading drug for Hepatitis treatment, and is also touted as being effective when used in conjunction with other drugs to aid the healing process by boosting the immune system. Zadaxin is essentially considered a vaccine enhancer. In practice, Zadaxin has failed multiple Phase III FDA studies for various indications of effect. It should therefore come as no surprise that SCLN has not been able to win approval for sale of Zadaxin in the U.S. Furthermore, Zadaxin is not approved for sale in Europe. These circumstances exist despite a 10+ year marketing/distribution collaboration with and $3.7 million funding from Italian distributor Sigma-Tau.
We believe the risks presented in SCLN's recent history, from a regulatory and operational perspective, are enormous enough that the stock should trade between $2.65 and $3.80 in the near-term. We are not alone in our opinion. An analyst at BWS financial concludes that the recent strength in SCLN shares will soon dissipate due in part to many of the same risks we outline in this report.
Key Findings:
Chinese government regulations regarding health care cost controls are likely to impose price reductions and possible restrictions on imports that would adversely impact SCLN's business. The National Development and Reform Commission recently mandated the maximum retail prices for drugs in the treatment of the digestive system. The price for one of these digestive system drugs made by a foreign company decreased by more than 50%.
Securities & Exchange Commission ("SEC") and Department of Justice ("DOJ") investigations of possible violations of Foreign Corrupt Practices Act ("FCPA") might explain SCLN's ability to sell its products at premium prices in China despite competition from generic products that sell at a fraction of the prices charged for Zadaxin. Under a settlement circumstance we speculate that SCLN could be facing fines of at least $10 million and possibly as high as $30 million.
Zadaxin is a premium priced product that has steadily lost market share since 2006 to competitors offering less expensive, generic products that are equivalent to Zadaxin. Our research indicates Zadaxin is priced at 5 to 6 times the prices of competing products.
SCLN has not achieved its stated goals of global market and product diversification. Virtually all of SCLN's revenues are generated in China from the company's flagship product, Zadaxin. In Q1 2012, 98% of SCLN's revenues were generated in China and Zadaxin accounted for 95% of product revenues. With 95% of Zadaxin sales generated in China it is apparent the product is not selling well in the other 30 counties where it is available.
Attempts to gain FDA approval for the sale of Zadaxin in the U.S. have failed.
Dr. J H Yoon, Principle Investigator for the study done by Seoul National University College of Medicine, Seoul, Korea was quoted as stating, "Overall, the addition of thymosin was not beneficial in Hepatitis B patients". * Serum HBsAg levels during peginterferon alpha-2a treatment with or without thymosin alpha-1 in HBeAg-positive chronic hepatitis B patients.
SCLN's distribution agreement with Sigma-Tau that dates back to December 2001 expired in March 2012. Affiliates of Sigma-Tau sold 6.3 million (the maximum allowed) of 9.2 million SCLN shares held in a private transaction with institutions in April 2012. The Sigma-Tau affiliates will be able to sell another 1 million shares in the open market after July 31 with the remaining shares salable thereafter subject to certain conditions. Sigma-Tau's actions are not a vote of confidence for either Zadaxin or SCLN's business prospects.
Acquisition of sales and marketing company, NovaMed, is unlikely to be a game changer for SCLN - at least for the better. A legal dispute with NovaMed customer MEDA concerning the termination of their distribution agreement could adversely impact business.
China's tight credit conditions and slowing economy threaten SCLN's business prospects.
Violations of the Foreign Corrupt Practices Act ("FCPA"), including anti-bribery laws and regulations, could be the result of sales tactics that helped SCLN sell its product in China at premium prices
There might be a very good reason SCLN has been able to sell Zadaxin, a product that is indistinguishable from competing generic products, at prices that are 5 to 6 times its competitors' prices. The SEC and DOJ are conducting separate investigations regarding a range of matters including possible violations of the FCPA. In response to the investigations, the Board appointed a Special Committee of independent directors to oversee the company's response to the government inquiries. Among the matters being investigated are:
The company lacked appropriate internal controls to assure compliance with laws, including the FCPA, with respect to sales and marketing practices including payments for, or reimbursement of, third party gifts, travel and entertainment expenses, and sponsorships of certain conferences and symposia.
The company failed to adequately implement existing controls and policies including its policy that employees comply with all applicable laws.
There was a lack of transparency between the company's operations in China and its operations in the U.S. such that U.S. management did not have adequate and appropriate information about the company's activities in China.
SCLN reported the following in its March 31, 2012 Form 10-Q:
…During the investigation, the Special Committee instructed management to (i) evaluate and to expand the company's training of employees regarding understanding and compliance with laws including the FCPA and other anti-bribery laws and regulations, (ii) evaluate existing compliance and anti-bribery policies and guidelines and to prepare new, more detailed policies and guidelines for implementation after review by our Board and/or committees of the Board, (III) implement a pre-approval policy for certain expenses including payments for, or reimbursement of, travel and entertainment expenses, and sponsorships of certain third party events, and (iv) hire a Vice President of Compliance and Internal Audit to monitor and enforce compliance with our policies…

The Special Committee has substantially concluded its investigation and on May 4 and 5, 2011 reported its findings and recommendations to the Board of Directors. As part of its continuing cooperation with the ongoing investigation of the SEC and the DOJ, the Special Committee has also reported findings to the SEC and DOJ. The SEC's and DOJ's formal investigations are continuing. These continuing investigations could result in administrative orders against us, the imposition of significant penalties and/or fines against us, and/or the imposition of civil or criminal sanctions against us or certain of our officers, directors and/or employees. We cannot predict what the outcome of those investigations will be or the timing of any resolution…
The fact that SCLN is able to command premium prices for Zadaxin in China despite facing strong competition from generic products that sell at much lower prices might be explained by selling tactics, possibly including bribes, that allow the company to win and keep key customers. If indeed this scenario is supporting the sale of Zadaxin and the SEC and DOJ investigations lead to the suspension of such practices, SCLN will face the loss of key customers and be forced to reduce product prices to levels that allow them to compete with their peers on a level playing field. In addition to a possible loss of customers SCLN faces the very real possibility of significant fines that we believe could range from around $10 million to around $30 million.
Government Regulations Could Undermine Zadaxin's Pricing and Market Position
The Chinese government is increasing efforts to control health care costs, and price reductions are likely to be imposed in the future which would adversely impact Zadaxin's pricing, revenues and profitability. Furthermore, the government is closely monitoring the extent to which products are imported vs. those that are manufactured within China. Following the Chinese government's lead, individual provinces and hospitals in China have started to impose their own controls. SCLN reported the following in its Form 10-Q for the three months ended March 31, 2012:
…In November 2009, thymalfasin, the generic chemical name for our pharmaceutical product Zadaxin, was included as a Category B product in the National Reimbursed Drug List ("NRDL") and pricing for Zadaxin on the NRDL is still being reviewed by the authorities, and we do anticipate a price reduction will be imposed. The price for pharmaceutical products is regulated in China both at the national and at the provincial level. These regulations, as well as regulation of the importation of pharmaceutical products may reduce prices for Zadaxin to levels significantly below those that would prevail in an unregulated market, limit the volume of product which may be imported and sold or place high import duties on the product, any of which may limit the growth of our revenues or cause them to decline. The Chinese government is increasing its efforts to reduce overall health care costs, including pricing controls on pharmaceutical products. Individual provinces in China and, in some cases, individual hospitals can and have established pricing requirements for a product to be included on formulary lists. In some cases, these prices have been significantly lower than our distributors have been selling Zadaxin, in which case we have been removed from formulary lists, which consequently has reduced sales to certain hospitals and could adversely affect our future sales...
It is not uncommon in China for large price differences to exist between original branded drugs and competing generic products. The National Development and Reform Commission mandates the maximum retail price for selected drugs to create a more equitable pricing environment. The objective is to make the products affordable for more consumers by forcing price reductions of more expensive branded products.
The price reductions imposed on foreign manufacturers of branded drugs by government mandates can be dramatic. For example, on March 30, 2012, the National Development and Reform Commission issued the maximum retail prices for 53 drugs for the digestive system. The average retail price for the affected drugs decreased 17%. Some products were impacted more than others. The cap for the retail price of GlaxoSmithKline's drug Ondansetron (treats nausea) decreased more than 60% from RMB 415 to RMB 160. Even after that reduction the product is still priced at a rich premium compared to the RMB 55.6 price charged for a competing generic drug made by Qilu Pharmaceutical. In another case, the cap for the retail price of AstraZeneca's drug Omeprazole (treats reflux) decreased 15% from RMB 143 to RMB 122. The price of a competing domestic generic drug made by Zhejiang Orsay is over 40% less at RMB 70.5.
Zadaxin is priced at 5x the prices charged by its domestic competitors. We do not believe the regulatory trends in China at the national, provincial and institutional levels will allow SCLN to sustain its premium pricing strategy and the ASP of its products will ultimately be forced lower. Lower ASPs mean lower profits in China where SCLN generates almost all of its product revenues. We believe it is only a matter of time until governmental authorities substantially decrease the maximum retail price of Zadaxin, a drug that is not yet regulated. We can therefore conclude that SCLN's business as it exists today will be much less profitable in the future as ASP reductions forced by government mandates and/or completion put downward pressure on both revenues and profits. The following examples of recent price reductions forced on manufacturers of branded drugs in China are an indication of what might be in store for Zadaxin.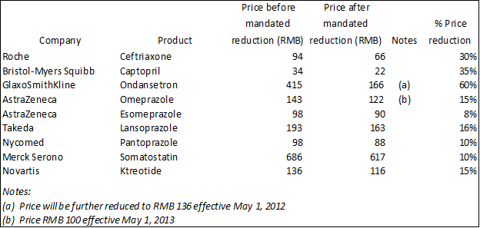 Sources: menet.com.cn, finance.qq.com, ndrc.gov.cn, health.suho.com, report.001919.com
Likely ASP Declines Will Disproportionately Impact EPS
If the ASP of SCLN's products is forced lower by government mandates and/or competition future EPS will be disproportionately impacted. For example, we estimate a 30% ASP decline would result in an 80% EPS reduction. The following chart shows the likely impact ASP declines of 7.5%, 15% and 30% would have on pro forma EPS. As you will see in the chart below a 30% ASP reduction combined with a conservative FCPA fine of $10 million would wipe out net income.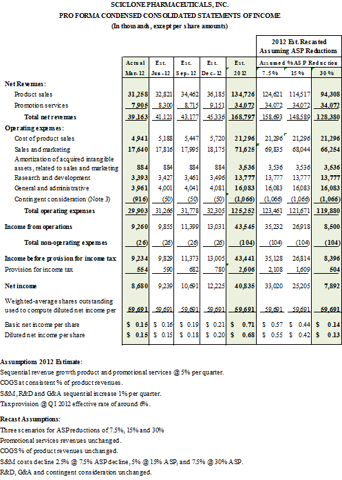 The Premium Prices SCLN Charges for Zadaxin are Not Sustainable - Increased Competition Within China
Zadaxin is primarily sold to large hospitals in tier 1 & 2 cities. The product has enjoyed premium pricing based on its brand identity and perhaps because it is manufactured in Italy which might sway some affluent buyers who are wary of locally manufactured products. There are not, however, nearly as many affluent buyers in the tier 3 cities where SCLN plans to expand sales of its products.
SCLN is also facing increased competition from pharmaceutical companies that are marketing competing products and there are indications Zadaxin may be used on an off-label basis. The company reported in its most recent Form 10-Q that several local companies are selling lower-priced, locally manufactured thymalfasin, which is a competitive product selling in substantial and increasing quantities. In fact, generic products outsell Zadaxin in China in both unit and revenue volumes. SCLN has been able to maintain premium pricing largely because of Zadaxin's imported, branded product identity. That advantage will likely dissipate.
To illustrate the point concerning product pricing we compared the prices of Zadaxin with its primary competitors in China: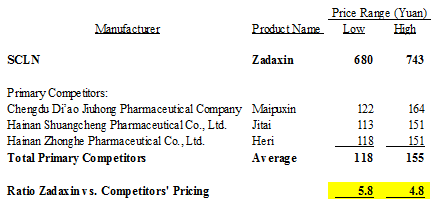 Source: Beijing Huaxia Zhongjing Pharmaceutical Information Consulting Co., Ltd., Digital Pharmaceutic Network (www.szyy.com.cn)
We question SCLN's ability to maintain premium pricing for Zadaxin that is 5 to 6 times the prices its competitors charge for products that are chemically the same product. To validate our assumption, we spoke to several hepatitis B doctors in different provinces across China (Shanghai, Fujian, Zhejiang and Jiangxi) and they all confirmed that based on medical science, there is no scientific and efficacy differences between Zadaxin and its competitors' products.
We believe that Zadaxin's ability to maintain premium pricing thus far is because the product is manufactured in Italy and therefore subject to stricter manufacturing standards than its competitors based in China. In fact, SCLN's most recent Form 10-K stated:
…Our competition for sales of Zadaxin in China is primarily from generic drug manufacturers located in China who sell their product at lower prices. We compete with them based upon our reputation as a provider of high quality products, including the fact that our products are produced at US and western European GMP facilities...
Another key factor allowing Zadaxin to command premium pricing is the well established relationships SCLN has with over 500 institutional hospitals in China's largest cities. Once institutional relationships are established, it is not easy for competitors to win those customers despite the comparative price advantage their generic products offer. Zadaxin's premium price and customer relationship advantages, however, are showing signs of erosion. As the following chart comparing sales of Zadaxin vs. its primary competitors clearly indicates, the trend is not SCLN's friend: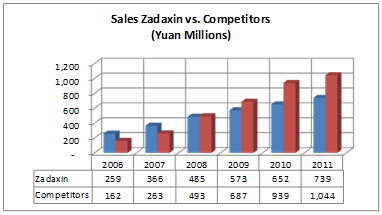 As one would expect, given the growth of Zadaxin's competitors, the product's market share has precipitously declined and we see nothing on the horizon that would reverse this trend:

Source: Beijing Huaxia Zhongjing Pharmaceutical Information Consulting Co., Ltd., Digital Pharmaceutic Network (www.szyy.com.cn)
Premium Product Pricing Limits SCLN's Ability to Compete in the Broader Chinese Market
SCLN's marketing strategy is focused on large hospitals in tier 1 and tier 2 cities. That's because Zadaxin is priced too high for patients in lower tier cities. The company described its marketing strategy and the risks of maintaining premium pricing in its most recent Form 10-K filing:
…To continue to grow Zadaxin sales to China, our sales force is focused on increasing sales to the country's largest hospitals (class 3 with over 500 beds) as well as midsize hospitals (class 2). These hospitals serve Tier 1 and Tier 2 cities located mostly in the eastern part of China which are the largest and generally have the most affluent populations. Zadaxin's list price in China is currently under review by regulatory authorities. We anticipate that a price reduction may occur, and if a substantial reduction in the list price occurs, our revenues and gross margins for Zadaxin would be substantially reduced. The timing and extent of a Zadaxin price reduction is unknown...
The company's marketing strategy has by necessity resulted in a concentration of the Zadaxin business in China's largest cities. Given that Zadaxin has been in those cities since at least 2006, the product may be approaching an eventual saturation point in the markets most receptive to imported, premium-priced products. This concentration of business risk makes SCLN vulnerable to possible cost control initiatives by the Chinese government, local provinces and hospitals. And, given that the tier 1 and tier 2 cities are receptive to higher pricing, Zadaxin's competitors will certainly target those markets and take market share in the future. Zadaxin sales show a great concentration risk with 56% of 2011 sales coming from just four cities listed in the below chart.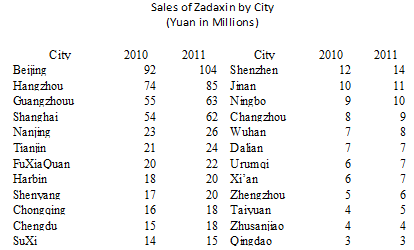 Source: Beijing Huaxia Zhongjing Pharmaceutical Information Consulting Co., Ltd., Digital Pharmaceutic Network (www.szyy.com.cn)
Efforts to Implement a Meaningful Global Strategy with Diversified Products have Not Been Successful
In its 1997 annual report SCLN touted itself as being an international biopharmaceutical company involved in the acquisition, development and commercialization of pharmaceuticals worldwide. The company stated:
SciClone's primary business objective is to strengthen its virtually integrated international biopharmaceutical business.
The Company is aggressively pursuing the commercialization of Zadaxin worldwide. The company has filed for approval to market Zadaxin for hepatitis B in international markets and has distribution agreements in place in more than twenty-five markets and is prepared to launch commercialization programs if regulatory approvals are secured.
The company launched Zadaxin in Singapore in 1993 and in the Philippines and China in 1997. Today, the company prides itself in having a presence in China and 30 other mostly third world countries. In over 10 years since stating its plans to "strengthen its virtually integrated international biopharmaceutical business", SCLN is still not generating meaningful revenues outside of China. Nearly 97% of SCLN revenues come from China in 2011 and have for the most part been generated from sales of just one product - Zadaxin. Perhaps in an effort to diversity from being a virtually one product company, SCLN acquired NovaMed, a sales and marketing company that generates all its revenues from China.
SCLN disclosed the following regarding sales in China in its 2011 Form 10-K:
Total revenues attributable to China were $130.0 million, $82.0 million and $69.7 million, or 97%, 96%, and 96% of sales for the years ended December 31, 2011, 2010, and 2009, respectively.
The concentration of business within China continued during the first three months of 2011. The following data were obtained from SCLN's March 31, 2012 Form 10-Q: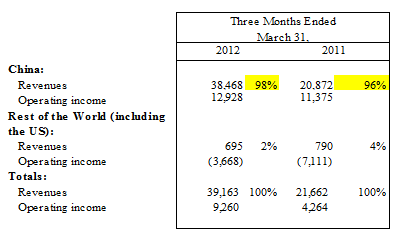 Not only does SCLN generate most of its product revenues in China but those revenues come almost entirely from the sale of Zadaxin. (Source: Form 10K for the year ended December 31, 2011 and Form 10Q for the three months ended March 31, 2012):

Why aren't SCLN's other "customers" in non-China markets buying Zadaxin in significant volumes? Why won't the regulatory authorities in the US and Europe approve Zadaxin for sale? Given the company's track record we are not optimistic that approvals to sell Zadaxin in the U.S. and Europe will ever be obtained.
On March 2, 2012, the company announced the results of its interim analysis of phase 2 SCV-07 oral mucositis trial. The release made it clear that the company decided to cease its international expansion efforts in the U.S. SCLN reported the discontinuation FDA trials for SCV-07 since it encountered challenges during phase 2b clinical trials:
"…results from a pre-planned interim analysis of the phase 2b trial of SCV-07 in patients with oral mucositis (OM) indicate that the trial would not meet the pre-specified efficacy endpoints. After conferring with the study's independent Data Monitoring Committee (DMC), the Company has decided to discontinue development of SCV-07 in this indication. SciClone is notifying the FDA and study investigators of the trial's discontinuation. No additional patients will be enrolled in the trial…"
SCLN has failed to meaningfully diversify its revenue base outside of China, and seems to have given up on that goal. In fact, management has conceded this point by stating that the Chinese market is its primary goal. We see great investment risk in this type of business model and don't think the stock deserves the P/E multiples that are more or even equal to its more diversified peers.
Attempts to Obtain FDA Approval for Sale of Zadaxin in the U.S. have Failed
SCLN reports that it has "not yet" obtained FDA approval to sell Zadaxin in the U.S. That could optimistically mean that the application and approval process is ongoing and that SCLN could ultimately win approval. But in our opinion, Zadaxin has more likely simply failed to meet FDA standards.
We found evidence that Zadaxin's performance does not measure up to the expectations that SCLN has touted for the drug. This evidence includes direct contact with Dr. JH Yoon who was the Principle Investigator conducting the study, "Serum HBsAg levels during peginterferon alpha-2a treatment with or without thymosin alpha-1 in HBeAg-positive chronic hepatitis B patients." Department of Laboratory Medicine, Seoul National University College of Medicine, Seoul, Korea.
Mr. Yoon responded to an inquiry regarding the status of a recent Thymalphasin study from GeoTeam member Dan David as follows:
From: yoonjh@snu.ac.kr
Sent: Saturday, June 16, 2012 5:37 PM
To: Dan David
Subject: Re: RE: Thymalphasin Study
Please refer to the following, and another paper [is] now in press. Overall, the addition of thymosin was not beneficial in Hepatitis B patients. Hope this may help you.
J-H Yoon
We also found other references that indicate Zadaxin is not living up to its hype including the following:
SciClone's Zadaxin Flunks Phase III trials
Thymosin alpha-1 with peginterferon alfa-2a/ribavirin for chronic hepatitis C not responsive to IFN/ribavirin: an adjuvant role?
…Abstract

This study was conducted to determine whether the adding thymosin alpha-1 to standard of care for re-treatment of nonresponding hepatitis C infections can improve sustained viral response (SVR) rates……. No significant difference was observed between treatment groups in the incidence of adverse events. The addition of thymosin alpha-1 to the standard of care did not increase the on-treatment HCV viral response. Thymosin alpha-1 seems to play no role in the primary therapy of the disease...

(Source: 2012 Blackwell Publishing Ltd.)
SciClone Pharmaceuticals announced that Zadaxin, a hepatitis C treatment, failed to meet its primary endpoint in the first of two Phase III trials. The study found that treatment with Zadaxin and pegylated interferon alpha did not demonstrate a statistically significant benefit compared to treatment with pegylated interferon alone in sustained viral response (SVR) or histologic improvement, the trial's co-primary endpoints. SciClone's shares dropped sharply upon the news.
More Studies:
SCLN Lost a Critical Distribution Agreement in Italy with Long Term Partner, Sigma-Tau
SCLN's Italian distribution agreement with Sigma-Tau Pharmaceuticals, Inc.expired in March 2012. Investors should take note that the agreement dates back to December 2001 when SCLN joined forces with Sigma-Tau to initiate a late-stage oncology clinical development program in Europe for Zadaxin. The initial agreement called for $3.7 million in payments from Sigma-Tau to SCLN to help fund the U.S. hepatitis C trials. Sigma-Tau was given exclusive rights for European Union clinical development, registration, marketing and sales of Zadaxin. SCLN was to receive revenues based on sales of finished form Zadaxin to Sigma-Tau for distribution in Europe. The fact that Zadaxin has failed to win approval for sales in the U.S. and Europe no doubt had a bearing on Sigma-Tau's decision to allow the agreement to expire. Sigma-Tau put an exclamation point on the decision to terminate the relationship with SCLN when affiliates of the company sold 6.3 million of the 9.2 million shares held in private transactions with institutions in April. We consider it likely the Sigma-Tau will sell the rest of their shares once certain lock-up and other conditions for future sales are met after July 31, 2012.
SCLN described the Sigma-Tau sale as follows:
FOSTER CITY, CA--(Marketwire - Apr 30, 2012) - SciClone Pharmaceuticals, Inc. today filed a prospectus supplement to a previously effective Form S-3 registration statement, pursuant to which approximately 9.2 million shares of SciClone Common Stock held by certain affiliates of Sigma-Tau were registered for resale under the Securities Act of 1933. SciClone has been advised that the Sigma-Tau affiliates sold approximately 6.3 million shares of the SciClone Common Stock to institutional investors on April 30, 2012 in a privately negotiated transaction. Affiliates of Sigma-Tau agreed not to sell any of the remaining shares included in the registration statement during the next 90 days without SciClone's consent. Thereafter, such affiliates may sell no more than 1 million shares during the subsequent 90 days in the open market without the company's written consent.
So what do the expiration of the Sigma-Tau distribution agreement and sale of SCLN's shares say about the prospects for SCLN and, more specifically, Zadaxin going forward? We can't imagine that the decision to allow the distribution agreement to expire and to sell such a large equity stake bodes well for SCLN. Our interpretation is that the clinical trials and prospects for SCLN to gain approval for the sale of Zadaxin in the U.S. and Europe are dead in the water. If the product had the potential touted by SCLN, Sigma-Tau certainly wouldn't have walked away from the agreement after eleven years and investing millions in the efforts to gain approvals from the FDA and European regulators.
Not only does the loss of the distribution agreement bring Zadaxin's market potential into question but it could also undermine SCLN's ability to maintain its licenses to manufacture and export Zadaxin from Italy. The following excerpt is from the company's most recent Form 10-Q reveal the following:
…Our licenses to manufacture and export Zadaxin from Italy are dependent upon our continuing compliance with regulations in Italy. Our business would be adversely affected if we are not able to maintain these approvals. In order to sell Zadaxin to the licensed importers in China, our manufacturers must 1) be approved by the Italian Ministry of Health ("AIFA") and 2) be accepted by the State Food and Drug Administration of China ("SFDA"), the Chinese equivalent to the FDA, and we must obtain an Imported Drug License from the SFDA permitting the importation of Zadaxin into China. Our product has been distributed in Italy through a subsidiary of Sigma-Tau Finanziaria, S.p.A. ("Sigma-Tau"). Our agreement with Sigma-Tau expired in March 2012, and we are in discussions to continue distribution of Zadaxin through a subsidiary of Sigma-Tau. However, if we are not able to continue this arrangement, we will need to establish our own distribution operations in Italy to ensure continuing compliance with regulations in Italy and maintain our Italian licenses.

If we change manufacturers, these changes must 1) be approved by the AIFA in Italy and 2) be accepted by the SFDA. When we change manufacturers we must obtain a new approval. The SFDA, the FDA, AIFA and other regulatory agencies may, and have, changed their internal administrative rules in ways that may delay or complicate the regulatory process. Those changes are not always disclosed or known to us and we may experience unexpected delays or additional costs as a result of such changes…
We don't know if discussions to continue the distribution arrangement with one of Sigma-Tau's subsidiaries will be successful or not. Either way, the nature or the relationship has changed and Sigma-Tau no longer has a vested interest in SCLN's success. We are not aware of any new agreement with the existing distributor or if a new distributor has been selected. Frankly, though we see little practical need for a European distributor given Zadaxin does not sell at any significant level in Europe or anywhere else outside of China.
Acquisition of NovaMed is Not a Game Changer - At Least for the Better
In April 2011, SCLN acquired NovaMed, a substantial sales organization with extensive pharmaceutical industry experience. The consideration paid for NovaMed included $24.7 million, 8.3 million common shares, and additional contingent consideration of up to $43 million. SCLN said the following about the transaction:
..NovaMed has built a sales organization of more than 450 individuals with extensive pharmaceutical industry experience in penetrating the rapidly expanding pharmaceutical market in China. Growing revenues more than 25% annually since inception, NovaMed generated revenues totaling $31.5 million (unaudited) in 2010...
SCLN reported $28.5 million in revenues for NovaMed during the 11+ months since the acquisition on April 19, 2011. NovaMed sells its products to different end users than SCLN. Thus, we presume it is possible that NovaMed could generate sales from Zadaxin. How much, if any, of the $31.5 million revenues NovaMed generated in 2010 were from the sale of Zadaxin and SCLN's other products is unknown. Going forward, though, any of NovaMed's revenues generated from the sale of SCLN's products should be eliminated in consolidation. With or without revenues related to Zadaxin, however, NovaMed's revenues appear to be flat to down from pre-acquisition levels. Following are NovaMed's quarterly revenues since acquisition: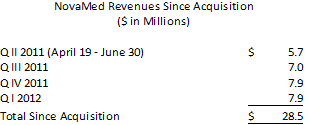 NovaMed's historic revenues may not be a good indication of future revenues. That's because any historic revenues from the sale of Zadaxin will be eliminated in consolidation. And, perhaps more importantly, shortly after the acquisition of NovaMed, the status of its relationship with a major customer, MEDA, came into question. The following circumstances reported under legal proceedings in the most recent Form 10Q makes one wonder about the timing of the sale by NovaMed and the level of due diligence performed by SCLN's management:
…NovaMed is a party to a Distribution and Supply Agreement with MEDA. Following our acquisition of NovaMed, NovaMed continued to perform this agreement; however, MEDA claimed it had a right to terminate the agreement under a change of control provision. NovaMed does not believe that MEDA had a right of termination under the agreement. NovaMed and MEDA were in negotiations since the acquisition regarding potential amendments to the agreement that would resolve the disagreement. However no resolution was reached. MEDA has notified NovaMed that the termination was effective as of May 2011, however as provided in the agreement, disputes, including disputes regarding termination must be resolved in binding arbitration. NovaMed continues to perform its obligations under the agreement pending resolution of the dispute, and has notified MEDA that the dispute has been submitted to arbitration. NovaMed and MEDA are negotiating certain procedural matters regarding the arbitration and NovaMed expects to file an application for binding arbitration with the China International Economic and Trade Arbitration Commission as soon as the parties have agreed on the procedural matters. We cannot predict the outcome of this matter at this time…
We researched MEDA to gain insight into that company's perspective regarding the distribution and supply agreement. The CEO's statement shown below makes it clear that the company is establishing its own marketing organizations in China and elsewhere:
Meda AB (publ) - Year-end report 2011
Meda CEO's Statement
…Demand for pharmaceuticals in emerging markets is growing rapidly, and Meda holds a very interesting product portfolio for these markets. In 2011, we took major strides toward establishing our own marketing organizations in countries such as Australia, Mexico, China, South Africa, and additional markets in Eastern Europe and the Middle East. Expansion on other major growth markets such as Russia and Turkey continues...
It seems unlikely that NovaMed will prevail in its efforts to compel MEDA to honor an agreement that no longer meets its business objectives. And, even if NovaMed somehow prevails, the relationship appears to be irreparably harmed and the value of the distribution agreement with MEDA has to be questioned. Furthermore, we are left to ponder two other points:
Will other NovaMed customers follow MEDA's lead and decide to establish their own sales and marketing organizations in China, eliminating the need for a middleman?
Will the high probability of increased regulation of imported drugs adversely impact NovaMed's business prospects?
China's Increased Economic Woes May Dampen Growth Prospects
China's economy is showing evidence of slowing, and once-liberal credit conditions have been tightened. This environment coupled with increased Chinese government attention on controlling health care costs poses a significant risk to Zadaxin's growth prospects in China. The company reported the following in its most recent Form 10-Q:
…Importers and distributors of Zadaxin borrow funds in China from banks to purchase, hold and distribute Zadaxin. Substantial increases in restrictions on fund availability and/or increases in borrowing costs could limit the ability of our importers and distributors to finance their import and distribution process…
Difficult economic conditions could also lead to forms of government-sanctioned protectionism designed to protect and give competitive advantages to local Chinese manufacturers. SCLN requires government approval to import and market Zadaxin in China. The company's license to import Zadaxin into China is up for renewal in 2013. The following excerpt is from SCLN's Form 10-Q:
…We have received regulatory approvals to import and market Zadaxin in China and to manufacture Zadaxin and export the product from Italy. In order to continue our sales to China, we need to maintain these approvals. Our license to import Zadaxin into China needs to be renewed every five years and the next renewal is required in 2013. Although we were successful in obtaining a renewal in 2008 and 2003, there is no assurance that we will receive renewals in the future when applied for or that the renewals will not be conditioned or limited in ways that limit our ability to sell Zadaxin to China…
Two Analysts with Different Views
On May 14, 2012 Rodman & Renshaw ("Rodman") analyst Reni Benjamin issued an earnings update for SCLN with a Market Outperform/Speculative Risk rating. While Mr. Benjamin points out many of the same risks we see such as the SEC/DOJ investigation, increased competition, and a likely price reduction for Zadaxin in China, for whatever reason, he maintains an optimistic outlook that appears to downplay the material risks that the company faces. He even put a positive spin on Sigma Tau's sale of 6.3 million shares as an opportunity for new investors to become shareholders without posing the question of why Sigma is selling its shares. While we can't speak to the resources Rodman has in China and the basis for their optimistic view regarding SCLN, we note Rodman's history of supporting China RTOs that blew up as well as the firm's recent exit from the China RTO space. What we can say, however, is that based on our on-the-ground due diligence, we strongly disagree with the optimism expressed in Mr. Benjamin's May 14 update.
One example of where our paths part with Mr. Benjamin is his 12 month price target of $10.00:
We are reiterating our Market Outperform / Speculative Risk rating and our 12-month target price of $10. Our target price is derived based on 2014 discounted revenues and earnings per share analysis.
In sharp contrast with Mr. Benjamin's rosy view of SCLN's prospects, BWS Financial analyst Hamed Khorsand was far less optimistic. We believe Mr. Khorsand's March 14, 2012 report better acknowledged the risks associated with an investment in SCLN and set a price target of $5 which is nearly 30% below recent levels. In his analysis, Mr. Khorsand opines that SCLN could be too optimistic in its assumptions that there will only be a 15% reduction in Zadaxin's ASP due to regulatory changes. Following are two excerpts from his report:
SCLN is forecasting a 15 percent price reduction for ZADAXIN (link) that could dwindle to 7.5 percent impact for SCLN. The Company is assuming it would be able to pass on some of the price absorption to its customers. We have difficulty in accepting the precognition customers would be willing to reduce their gross margin on the drug. ZADAXIN is a name brand of a generic, thymosin, and any change in profitability for the pharmacy or hospital could result in SCLN losing market share. This is a balancing act that we are not certain SCLN could be able to pass as simply as the assumptions made for 2012.

SCLN has been fortunate in the growth rate for ZADAXIN in recent years. The revenue increase is pacing ahead of the industry in China, and could see some slowdown in the next two years as the amount of market opportunity begins to slow. SCLN's stock is headed higher because of the headlines, but we feel the shares could come back in to prior levels in the $5 area after the exuberance from the headlines passes. The true catalyst for the shares would be the removal of the overhangs related to revenue and management. Once these are resolved, investors would have a better understanding of the earnings power and the stock could be priced accordingly.
Based on our own extensive on-the-ground due diligence, we concur with Mr. Khorsand's analysis. We question Rodman's view of SCLN since its analysis does not, in our opinion, adequately factor in the prominent risk factors that could and probably will have an adverse impact on the SCLN's future operations. Simply put, we believe there are too many uncertainties to embrace Rodman's view that bases SCLN's valuation on rosy 2014 revenue and earnings per share forecasts.
Conclusion
We have a number of concerns regarding SCLN and its current valuation:
SCLN faces an increasingly hostile regulatory environment: The Chinese government's focus on controlling health care costs and limiting the importation of drugs is trickling down to provincial governments and individual hospitals. That does not bode well for SCLN's ability to maintain a market price for Zadaxin, an imported brand name drug that is sold at 5 to 6 times the prices charged by competitors for equivalent, locally produced products. We believe Zadaxin will likely be reduced at a low end of 15% and a high end of 50%.
What's really behind the SEC and DOJ investigations of SCLN's alleged violations of the FCPA? We can only speculate about the specifics of the SEC and DOJ investigations of SCLN's compliance with the FCPA. The weaknesses cited by the Special Committee assembled by SCLN's Board to investigate the situation, however, included practices that raised questions concerning compliance with "the FCPA and other anti-bribery laws and regulations". This makes us wonder how SCLN manages to sell its products to major hospitals in tier 1 and 2 cities at prices that are 5 to 6 times what is charged by their competitors offering equivalent, generic products. The SEC and DOJ investigations are ongoing and represent a wildcard - the outcome of which could damage SCLN with fines levied or curtailed business practices, undermining sales of Zadaxin to long established customers. Estimating fines here is very difficult with a wide range in possible monetary penalties. We believe if SCLN were to settle with the SEC and DOJ that they would be facing a minimum fine of 10 million and a high end 50 million dollars.
Sigma-Tau apparently selling shares as soon as they cold does not inspire confidence: SCLN's press release concerning the expiration of its distribution agreement with Sigma-Tau notes they had been partners with and maintained good relations with that company for the past decade. Now that the distribution agreement has expired we learn that affiliates of Sigma-Tau have already unloaded 6.2 million of 9.3 million shares of SCLN held in private transactions with institutions and they apparently intend to sell the remainder of their shares as expeditiously as possible after they have met certain lockup and other conditions concerning future sales. That is not a vote of confidence for Zadaxin and SCLN's business prospects. We can't know why Sigma-Tau is selling, but if they are selling we're certainly not buying.
Loss of the distribution relationship with Sigma-Tau could undermine SCLN's ability to manufacture Zadaxin in Italy and export it from Italy to China: Strict compliance with regulations in Italy and China is necessary for SCLN to continue manufacturing and exporting Zadaxin from Italy to China. Those regulations require approval of the manufacturer used to produce Zadaxin in Italy by various governmental agencies in both Italy and China. SCLN has those approvals as long as the existing manufacturer produces the drug. If SCLN loses that relationship and an alternative means of manufacturing Zadaxin is not found all hope of distributing the product in Europe would probably be lost
It takes more than mere presence in 30 mostly third world countries to become a global player: SCLN touts itself as a global player based on its presence in China and 30 other, mostly third world countries. Given that 98% of SCLN's Q I 2012 revenues were generated in China the company's presence in the other countries did not generate meaningful revenues. Offering products globally is not the same as actually selling the products in other markets.
Unfavorable market trends: Our on-the-ground due diligence clearly indicates Zadaxin is losing traction and market share in the Chinese market. Revenues generated by much less expensive generic products that are equivalent to Zadaxin now exceed that product's revenues in China by a widening margin.
Valuation
At $6.87 SCLN is trading at a seven year high despite the increased challenges and risks the company faces. The company is selling at 13 times 2012 fully tax-adjusted consensus analyst EPS estimates of $0.53. We calculate that SCLN's fully taxed trailing non-GAAP EPS is $0.42, which equates to a trailing P/E of 16. We believe that SCLN's valuation metrics should disproportionately reflect the many uncertainties that threaten its growth prospects rather than the purely rosy growth assumptions spelled out by the company and some analysts. We find it difficult to believe that SCLN is trading at an elevated P/E given that it primarily does business in China and in light of the ongoing SEC and DOJ investigations regarding potential violations of the FCPA that could blow this story up.
Any investor familiar with the China hybrid space that includes dozens of halts and de-listings during the last two years would probably conclude that, based on SCLN's FCPA issues alone, the stock should sell at no more than 5 times its 2012 fully tax-adjusted* consensus EPS estimates $0.53, or a price of $2.65. For those investors that prefer to place a P/E of 5 on SCLN's raw consensus analyst 2012 EPS estimates of $0.76, a $3.80 valuation scenario would be derived. If any of the risks we highlighted materialize, we see the possibility that the forward 2012 P/E could drop to around 2.00. Even if several of the risks we highlighted do not materialize, one fact cannot be ignored; the company's flagship product, Zadaxin, is losing market share and is faced with the possibility that its premium pricing could soon disappear due to regulation.
Our on-the-ground due diligence revealed that the company's reported growth discussed in press releases masks the negative trend that is really taking place in Zadaxin's market share. The other reality is that investors who are relying on NovaMed to make up for a declining Zadaxin market share should consider the likely impact that Chinese government regulations on foreign drug imports would have on that company's business prospects. SCLN's lack of international diversification and inability to win FDA approvals magnifies the "Zadaxin risk."
*We adjusted 2012 EPS estimates to reflect SCLN paying a US tax rate of 36%, as the analysts we referenced in this report (BWS Financial, Cowen and Rodman & Renshaw) used 6%, 7% and 3% respectively.
Disclosure: I have no positions in any stocks mentioned, and no plans to initiate any positions within the next 72 hours.