This end of month installment summarizes a series of eight articles that compared relative strengths of stock sectors by (1) yield and (2) dividend vs. price gaps using projected annual dividends from $1000 invested in the ten highest yielding stocks in each sector for May and June. Results for the Dow index were included as a baseline standard.
Since December this series of articles has applied dog dividend methodology to each of eight major market sectors: basic materials, consumer goods, financial, healthcare, industrial goods, services, technology, and utilities.
A ninth sector, conglomerates, according to Yahoo Finance, contained just eight firms, five of which paid dividends. Thus the reporter declined to apply dog metrics to such a small group.
Comparative Methods Used
First, the entire list of companies for each sector was sorted by yield as of June 1 and July 2 using Ycharts.com to reveal the top thirty stocks for each month. Market performance of those thirty monthly selections was then reviewed using six months of historic projected annual dividend history from Yahoo Finance along with annual divided projections adjusted for market realities.
Thereafter, each article assessed the dividend dogs as of June 1 and July 2 opening prices vs. the Dogs of the Dow May 11 and June 14 stock lists. Annual dividends from $1000 invested in the ten highest yielding stocks in the sector and index were compared to the aggregate single share prices of the top ten stocks in each.
Finally, analyst mean target prices and estimated forward looking dividends as reported by Yahoo Finance were used to report estimated price and dividends as of June 2013.
The research was very much in keeping with Yale professor Robert Shiller's observation: "People still place too much confidence in the markets and have too strong a belief that paying attention to the gyrations in their investments will someday make them rich, and so they do not make conservative preparations for possible bad outcomes." Thus each article graphically depicted the gyrations.
Sector Synopses
Ten dogs for each sector displayed their annual dividends from $1000 invested in those highest yielding stocks in the sector and index compared to the aggregate single share prices of those top ten stocks in March to produce the summary graphs shown below:
Basic Materials Dividend Dogs
Top ten basic materials stocks paying the biggest dividends in May largely represented oil and/or gas industries: Enerplus (NYSE:ERF); Whiting (NYSE:WHX); Pengrowth Energy (NYSE:PGH); QR Energy (NYSE:QRE); Sandridge Permian Trust (NYSE:PER); MV Oil Trust (NYSE:MVO); Exterran Partners (EXLP). Only three of the top ten basic materials firms do not mention oil or gas in their industry description: Great Northern (NYSE:GNI); Oxford (OXF); Rhino (NYSE:RNO).
In June the top ten added four more oil industrials and cast Oxford out of the dog pound: Whiting USA Trust II (WHZ); Chesapeake Granite Wash Trust (NYSE:CHKR); Compressco Partners (GSJK); VOC Energy Trust (NYSE:VOC).
Consumer Goods Dividend Dogs
The top ten consumer goods stocks showing the biggest dividend yields in May and June represented six industries. Top stock, Pitney Bowes (NYSE:PBI) was the only equipment firm. Second dog Vector (NYSE:VGR) was from the cigarettes industry. Three of the top ten firms were in the same cigarettes industry group, Reynolds (NYSE:RAI), and Altria (NYSE:MO) were the other two. Two textiles - apparel clothing firms were, Cherokee (NASDAQ:CHKE), and Crown Crafts (NASDAQ:CRWS). There were also two personal products industry firms: CCA Industries (NYSEMKT:CAW), and Avon Products (NYSE:AVP). The balance of the top ten were: auto parts, Douglas Dynamics (NYSE:PLOW); home furnishings and fixtures, Leggett & Platt (NYSE:LEG).
Financial Dividend Dogs
Top ten financial sector dogs paying the biggest dividend yields in May represented five industries. Top financial sector stock Armour (NYSE:ARR) was one of six REITs in the top ten. Five, American Capital (NASDAQ:AGNC), Armour , Two Harbors (NYSE:TWO), New York Mortgage Trust (NASDAQ:NYMT), and CYS Investments (NYSE:CYS), were residential REITs; Resource (NYSE:RSO) was a retail REIT. The remaining four industries were represented by Arlington Asset Investment (NYSE:AI), an investment brokerage, Invesco (NYSE:IVR) doing investment management, Life Partners (NASDAQ:LPHI) in life insurance, and Banco Santander (NYSE:SAN) a foreign money center bank.
In June Life Partners was replaced by Apollo Residential Mortgage (NYSE:AMTG) which grew the REITS to seven and the residential REITS to six. Also Banco Santander was replaced by American Capital Mortgage (NASDAQ:MTGE) which grew the June REITS to eight and added a diversified REIT to the mix.
Healthcare Dividend Dogs
Ten healthcare sector stocks paying the biggest dividends in May and June represented six industries. Top healthcare sector stock PDL BioPharma (NASDAQ:PDLI) was the only biotechnology firm in the top ten. Five drug manufacturers - major firms appeared as top ten dogs: AstraZeneca Group (NYSE:AZN); GlaxoSmithKline (NYSE:GSK); Eli Lilly (NYSE:LLY); Sanofi (NYSE:SNY); Novartis (NYSE:NVS). Psychemedics (NASDAQ:PMD) appeared as a medical laboratories and research firm. PetMed Express (NASDAQ:PETS), represented drug delivery firms. Daxor (NYSEMKT:DXR) represented medical instruments and supplies. Nordion (NYSE:NDZ) completed the May and June dog lists offering specialized health services.
Industrial Goods Dividend Dogs
Ten industrial goods sector stocks paying the biggest dividends in May and June represented seven industries. Top industrial goods sector stock Veolia Environment (VE) was one of three waste management firms in the top ten. The others were Waste Management (NYSE:WM), and Ecology and Environment (NASDAQ:EEI). The ten also included two aerospace & defense products & services firms: TAT Technologies (NASDAQ:TATT), and Lockheed Martin (NYSE:LMT). Highway Holdings (NASDAQ:HIHO), was the lone metal fabrication outfit. The remaining four in the top ten also represented one industry each: CRH public limited company (NYSE:CRH), cement; KSW Inc. (NASDAQ:KSW), general contractors; Hillenbrand (NYSE:HI), diversified machinery; ABB Ltd. (NYSE:ABB), industrial electrical equipment.
Services Dividend Dogs
The top ten services sector stocks showing the biggest dividend yields in May and June represented four industries. Top sector stock RadioShack Corporation (NYSE:RSH), was the lone representative of electronic stores. Second dog Navios Maritime Partners (NYSE:NMM) was one of seven representing the shipping industry. The other six shippers were: Tsakos Energy Navigation (NYSE:TNP); Capital Product Partners (NASDAQ:CPLP); Teekay Tankers (NYSE:TNK); Knightsbridge (VLCCF); Diana Containerships (NASDAQ:DCIX); Globus Maritime (NASDAQ:GLBS). The remaining two sector representatives were both from separate industries: Educational Development Corporation (NASDAQ:EDUC), wholesale, other; Compass Diversified Holdings (NYSE:CODI), staffing & outsourcing services.
Technology Dividend Dogs
Top ten technology sector stocks showing the biggest dividend yields in May and June represented four industries. Top technology sector stock in May Portugal Telecom SGPS (NYSE:PT) was one of three telecom services - foreign firms in the top ten. The other foreign telecoms were France Telecom (FTE) which took over the top rank in June, and Telefonica (NYSE:TEF). The remaining three industries and their representative firms were: telecom services - domestic, Consolidated (NASDAQ:CNSL), Frontier Communications Company (NYSE:FTR), Windstream Corporation (NASDAQ:WIN), and Alaska Communications (NASDAQ:ALSK); wireless communications, Cellcom Israel (NYSE:CEL), and NTELOS (NASDAQ:NTLS); communication equipment, Nokia (NYSE:NOK).
Utilities Dividend Dogs
The top ten utilities sector stocks showing the biggest dividend yields in May represented four industries: gas; electric; diversified; foreign. Six gas firms scattered from top to bottom of the list were: Niska Gas Storage (NYSE:NKA); Suburban Propane (NYSE:SPH); Amerigas Partners (NYSE:APU); Inergy, L.P. (NRGY); National Grid (NYSE:NGG). Two electric Utilities were listed: Atlantic Power Corporation (NYSE:AT); Pepco Holdings, Inc. (NYSE:POM). One diversified utility made the list: TransAlta Corporation (NYSE:TAC). One foreign utility was listed: CPFL Energia (NYSE:CPL).
In June American Midstream Partners (NYSE:AMID) replaced Pepco Holdings and PAA Natural Gas Storage (NYSE:PNG) replaced Gas Natural. The total Gas utilities represented in June thus rose to seven of the top ten as one electric utility was replaced.
Dow Industrial Dividend Dogs
Two technology firms throwing the biggest dividend yields on the Dow as of May 11 were: (1) AT&T (NYSE:T); (2) Verizon (NYSE:VZ). The rest of the Dow ten included three healthcare dogs: (3) Merck (NYSE:MRK); (4) Pfizer (NYSE:PFE); (6)[5] Johnson & Johnson (NYSE:JNJ). One industrial made the dog list: (5)[6] General Electric (NYSE:GE). One consumer goods firm was included: (7)[9] Procter & Gamble (NYSE:PG). One financial equity joined: (9)[8] JPMorgan Chase (NYSE:JPM). Two basic materials firms completed the ten Dow dogs: (8)[7] Chevron (NYSE:CVX); (10) DuPont (NYSE:DD).
Come June the same top ten dogs reordered themselves according to the bracketed [5][6][7][8][9] numbers.
All Together Now
Each graph below shows monthly points of comparison between annual projected dividends resulting from $10,000 invested as $1,000 each in the top ten high yield stocks (blue points) versus the total prices of one share of each of the ten stocks (green points) by index. Grouped together the graphs display six months of comparative gyrations of eight sectors and the Dow index.
Sector Dogs Dividend Gyrations
The following graph shows annual dividends projected from $1000 invested in each of ten stocks with the top yields in eight sectors compared to those of the Dow. The chart plots projected yields as of a specific purchase date each month since January. Projected yields increased in the sectors when average stock prices fell. When prices escalated yields dropped.
Relative yield strengths differentiated the sectors. The Dow shows the lowest yield with few gyrations near the $400 mark for the six month period. Healthcare declined from the $560 level to about $525; industrial goods fell from $660 to near $625 since January; technology gyrated wildly while dropping from near $1400 to $1000; financial yields dropped from almost $1700 to $1500; services sector also slumped from $1950 to $1200 since January; consumer goods gyrated between $650 and $750 for the period and utilities dropped from $850 to $800. In the other direction basic materials popped from $1100 to nearly $1400.
Annual Dividends Forecast from $1k Invested in each of 10 Top Yielding Stocks in 8 Sectors & the Dow
Projected dividend yield amounts from eight sectors over the past six months showed fundamental variations in stock performance. These eight representative market indices displayed their relative strengths by dividend yield above.
Relative Risk in Dogs by Sector Gauged for June
A reader request to "add relative financial data on the companies selected" for a previous article comparing indices by annual yield projections has inspired a simple tool to gauge investment risk. The tool is best applied prior to the purchase of any 5 or 10 Dogs of the Index stocks at any point during the year. This information will continue to be reviewed monthly as one step toward Robert Shiller's admonishment to "make conservative preparations for possible bad outcomes."
Conclusion: Dog Dividend Divergence Determined
The chart below, based upon dividends projected from $1k invested in each of the top ten stocks diverging from their aggregate single share prices ranked the sectors in the following order for June: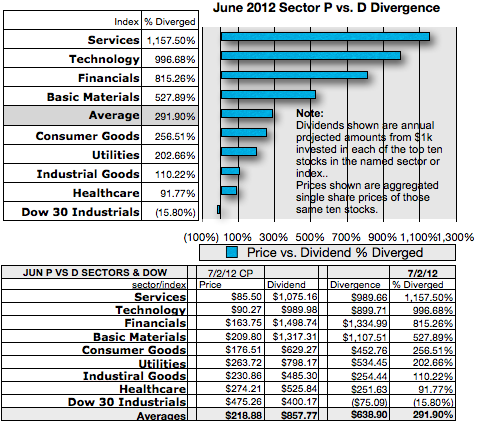 These eight sectors and their component stocks have ongoing stories to tell. This graph and sector ranking list of companies will be updated again for publication each month.
Conclusion Too: Analysts Forecast Future Returns
Top ten dogs for each sector were graphed in the preceding articles to show relative strengths by dividend and price as of June 1, 2012 and also projected to June 1, 2013. Projections were based on estimated increases in dividend amounts from $1000 invested in the ten highest yielding stocks and aggregate one year analyst mean target prices as reported by Yahoo Finance to determine the following rankings by percentage of annual gain.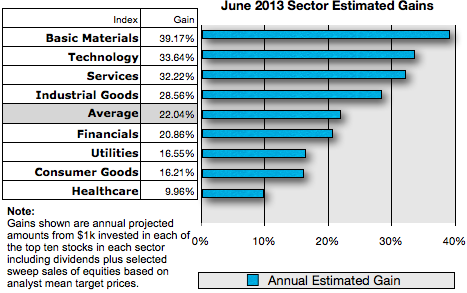 This series of articles will be repeated monthly showing comparative results of yield and price for all eight sectors reported: basic materials, consumer goods, financial, healthcare, industrial goods, services, technology, and utilities. Stay tuned also for semi-annual updates on how well or whether the projected gains for 2013 hold.
Disclosure: I am long T, VZ, JNJ, CVX.
Disclaimer: This article is for informational and educational purposes only and should not be construed to constitute investment advice. Nothing contained herein shall constitute a solicitation, recommendation or endorsement to buy or sell any security. Prices and returns on equities in this article are listed without consideration of fees, commissions, taxes, penalties, or interest payable due to purchasing, holding, or selling same.