Through the past ten months or so, I have held the belief that the economy would fare better than expected. While my optimism proved partially correct in the sense that equities have moved meaningfully higher, it proved partially wrong in the sense that job figures have been sluggish.
In general, I have become pessimistic over the last fourth months, but I still maintain the belief that fears of a double dip have irrationally discounted equities across sectors as diverse as consumer goods and oil & gas. In my view, now is a critical time to back the latter segment as the economy gears towards a full recovery inflection point.
Marathon Oil (NYSE:MRO), Occidental Petroleum (NYSE:OXY), and Suncor Energy (NYSE:SU) are all undervalued based on growth expectations.
Marathon Oil
Marathon trades at just a respective 10.6x and 6.4x past and forward earnings are near a local low point. The company is expected to realize 2013 EPS of $3.91 and then grow 10.6% annually thereafter in the near term. This means 2016 EPS of $5.28, which, at a 14x multiple, translates to a future stock value of $73.92. Discounting backwards by 10% yields a price target of $45.90 - implying that the stock has nearly a 100% margin of safety for an expected tripling in value. Based on current growth expectations, the market is factoring in an absurdly high discount rate of 25%. This kind of rate is only seen in high-risk ventures that have little track record.
Unfortunately, Marathon has had a poor track record. The last three quarters have all been misses, but past performance is no indication of future performance. A 25% discount rate suggests that the company will underperform expectations by more than 63% in 2016. Simply too much risk is being factored into the stock price. Accordingly, all the recent price targets (see below) find substantial room for appreciation.
Click to enlarge

Source: FINVIZ.com.
Occidental Petroleum
Occidental trades at similar multiples under similar growth expectations. It offers a 2.5% dividend yield and has been an excellent outperformer over the last few years. Analysts currently rate the stock a "buy" with a $116.94 price target according to FINVIZ.com. Moreover, performance has generally been better than consensus over the past 5 months, which the market has apparently ignored, given that the stock is down 19.8% over the last 12 months.
What's more? Occidental is a consistent long-term grower and, in my view, is a mini Exxon Mobil (NYSE:XOM) in terms of safety. Below is a chart plotting EPS over the past decade.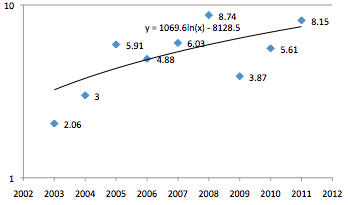 Source: Internal research.
If you take a logarithmic regression of EPS over the past decade, Occidental should realize 2016 EPS of $9.95, which, at a 14x multiple, translates to a future stock value of $139.30. A discount rate of 8% puts the price target at $94.81. Again, Occidental is a perfect investment for safe oil & gas investors attracted to upside.
Suncor Energy
Suncor is attractive more as a value play. It trades at a respective 9.8x and 7.8x past and forward past and forward earnings. Analysts expect 2013 EPS to be $3.69 and then grow 7.2% in the near-term. This means 2016 EPS of around $4.54, which, at a 14x multiple, translates to a $63.56. A 10% discount rate would place the price target at $39.47. That is nearly a 40% margin of safety that the stock will more than double in value.
Accordingly, analysts rate Suncor near a "strong buy" and place the target price at $43.49, according to FINVIZ.com. Liquidity is also strong, given that the debt-to-equity ratio stands at 0.27 and how operating cash flow keeps improving. In fact, the latter has grown from $2.6B in FY2009 to $5.5B in FY2010 and $10B in FY2011 - basically doubling each year. Investors should thus supplement Suncor to their Occidental and Marathon holdings.
Disclosure: I have no positions in any stocks mentioned, and no plans to initiate any positions within the next 72 hours.
Additional disclosure: We seek IR business from all of the firms in our coverage, but research covered in this note is independent and for prospective clients. The distributor of this research report, Gould Partners, manages Takeover Analyst and is not a licensed investment adviser or broker dealer. Investors are cautioned to perform their own due diligence.