Unifirst Corporation (NYSE:UNF) posted impressive fiscal third-quarter 2012 results, which helped shares of this uniforms supplier to a 52-week high of $67.51 on July 9, before closing at $67.05. Overall, this Zacks #1 Rank (Strong Buy) company has been on an upsurge since October 4, 2011, gaining a solid 53% with the strength of consistent earnings beats over the last four years.
Solid 3Q, Guidance Raised
Unifirst reported robust fiscal third-quarter earnings per share on June 27 of $1.16, beating the Zacks Consensus Estimate of 99 cents by 17.2%. Earnings also surged 24.7% from 93 cents in the year-ago quarter.
Total revenue of $320.9 million increased 10.1% from year-ago revenue of $291.6 million and surpassed the Zacks Consensus Estimate of $312 million. Strong revenue reflected robust growth at the company's Core Laundry Operations segment (up 11.5%) and First Aid segment (up 17.7%), offset by a decline in the Specialty Garments segment (down 4.3%).
Solid revenue and lower SG&A expenses helped operating income surge 46.7% year over year to $42.7 million. Operating margin for the period expanded 350 basis points to 13.3%.
Bolstered by the solid results so far this fiscal year, the company raised its sales and earnings projections for fiscal 2012. The company now sees sales between $1.252 and $1.257 billion with earnings per share of $4.60 to $4.70. UNF had previously projected sales of $1.24 billion to $1.25 billion and earnings per share between $4.10 and $4.25.
Estimates Rise
The Zacks Consensus Estimate for fiscal 2012 has grown about 6.2% to $4.45 per share in the last 30 days, reflecting year over year growth of 15.5%. The Zacks Consensus Estimate for fiscal 2013 is up 4.4% to $4.76 per share in the same period, representing a 7.0% year-over-year jump.
Valuation Attractive
Unifirst currently trades at a forward P/E of 15.08x, reflecting a 1.3% discount to the peer group average of 15.28x. The trailing 12-month ROE is 10.4% compared with 8.6% for the peer group average, indicating that the company reinvests its earnings more efficiently than its peer group.
However, on a price-to-book basis, shares are trading at 1.54x, a 13.2% premium to the peer group average of 1.36x. Nevertheless, the company's compelling fundamentals are well supported by its long-term estimated EPS growth rate of 11.5%.
Chart on Rising Trend
Shares of Unifirst have been trading in the $57-$62 range since December 2011. Shares broke out of this range on June 27, rising sharply on robust fiscal third-quarter results. Unifirst has consistently traded above the 200-day moving average since November last year. Volume is fairly strong, averaging roughly 72K daily.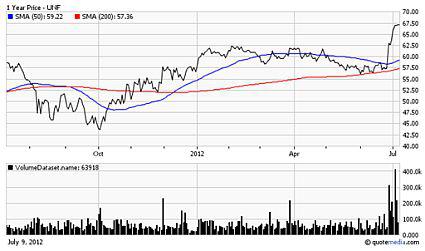 Founded in 1936 and based in Wilmington, Massachusetts, Unifirst Corporation is a leading supplier of uniforms, workwear and protective clothing to businesses throughout the U.S. and Canada. The company provides a wide range of apparel from traditional uniforms, industrial wear, specialty and protective clothing to corporate casual and executive attire. The company also offers floor care and restroom services products, including a range of mats, mops, soaps, air fresheners, and paper items. Unifirst primarily competes with Cintas Corporation (NASDAQ:CTAS) and G&K Services Inc. (GKSR).