In this article I take a look at Wendy's (NYSE:WEN) a restaurant that may offer investors upside potential that outweighs the risks. We'll use the management effectiveness ratios, book value-share, price-sales, price-book value, and more to evaluate Wendy's.
Additionally, macro-economic indicators are provided at the end of the article. As part of investment analysis, analysts should consider both the company fundamentals and the macro-economic landscape. The macro-economic picture in the U.S. is deteriorating. In Europe, the economy is contracting.
European officials are working towards recapitalizing the banks in Spain. Also, European officials are investigating pro-economic growth policies that would reduce the sovereign risks the region is facing. Until pro-growth policies are implemented, and Spain's banks are recapitalized, sovereign risks remain.
Further, there is a chance that housing prices in the United Kingdom and France will decline. Unlike U.S. housing prices, home prices in the UK and France did not decline substantially during the Great Recession. Income may not have grown enough to sustain the current level of housing prices. Therefore, it is possible that the global financial system could face risks stemming from a decline in home values in two of the world's largest economies.
Rating System
Buy - Long
Neutral - No position
Sell - Short
(The ratings, research and analysis in this article should be considered as starting point for further research.)
Wendy's -- Sell
Investors should distribute shares of Wendy's on valuation and the macro-economic outlook. The macro-economic risks from potential fiscal consolidation in the US and European Union could cause valuations to decline further. Additionally, the U.S. economy is forecasted to be in a recession in 2013 or 2014. Some investors may want to protect long positions by buying put or selling call options.
Revenue-share increased over the last few quarters. Management isn't currently effective based on the management effectiveness ratios, but management should improve performance in the coming quarters.
Wendy's Company Performance
According to the firm's financial statements, current assets decreased 4.4 percent in the first quarter of this year compared to the fourth quarter of 2011. Additionally, current assets are greater than current liabilities; the firm is liquid. The financial leverage ratio is roughly 2.
Total revenue in the first quarter, compared to the year-ago quarter, increased 1.8 percent. Operating profit was 4.8 percent of revenue in the year-ago first quarter. In the first quarter of 2012 operating profit was 3.5 of revenue. Interest expense was more than operating profit in both quarters.
In the first quarter of 2012, earnings weren't high quality. Additionally, cash from operations wasn't enough to cover cash used in investing and financing. Further, the firm used $15.1M in operations during the first quarter of 2012, and cash decreased $56.8M during the quarter.
Performance at Wendy's Restaurants, LLC and subsidiaries differs marginally from Wendy's Company performance. Wendy's is not in the best financial condition; the company would be wise to suspend dividend payments.
As of April 1, 2012 the Companies have roughly $8.2M of outstanding commitments for capital expenditures expected to be paid in the second quarter of 2012.
Wendy's is seeking to extinguish its current senior debt obligations. Further, it seems as though the company is seeking amendments to senior debt restrictive covenants. The proposed amendments would allow Wendy's to discontinue filing financial statements with the SEC.
Wendy's plans to continue to develop its brand in North America. The firm plans to remodel restaurants, increase traffic, and grow breakfast sales. While these are good ideas, the firm should increase focus on cutting expenses such as interest payments, cost of sales and dividend payments.
Company v. Industry
Return on Assets: 0.73 v. 9.60
Return on Investment: 0.80 v. 13.59
Return on Equity: 1.46 v. 18.13
Price Forecast
| | | | |
| --- | --- | --- | --- |
| | Baseline | Alternative Baseline | Adverse |
| 2012 | $3.60 | $3.40 | $5.40 |
| 2013 | $2.90 | $2.70 | $4.80 |
| 2014 | $3.25 | $3.00 | $4.20 |
In the baseline scenario, the holding period's rate of return is roughly 37 percent over the next year-and-a-half. In the alternative baseline scenario, the hold period's rate of return is roughly 41 percent over the next year-and-a-half. The adverse scenario suggests a holding period's rate of return of roughly 8.7 percent, but the return occurs in 2014. The current priced used for estimates is $4.60.
Valuation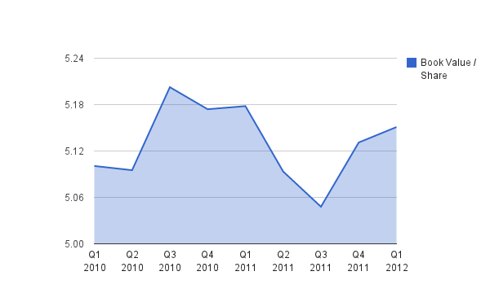 Book value-share has been relatively flat. Recently the ratio has increased.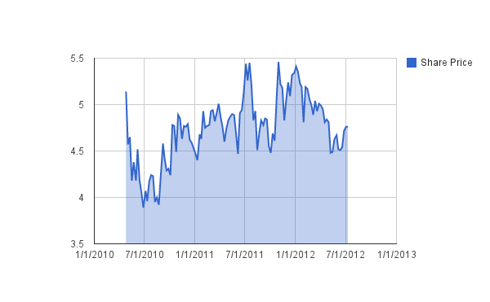 Shares of Wendy's are trending downward as the 50-day simple moving average is negatively sloped.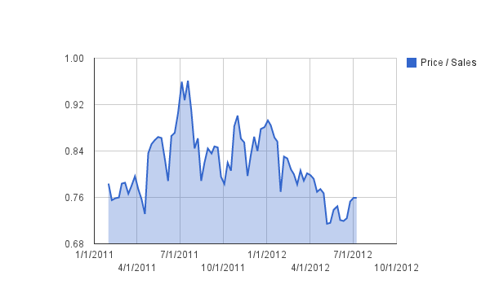 Price-sales is nearing a previous low; the current level of price-sales makes Wendy's an attractive investment. However, investors may want to wait out the coming economic storm before buying shares of Wendy's.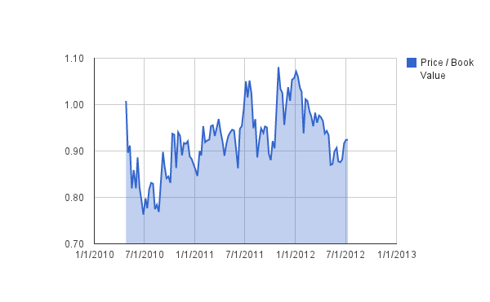 Price-book value is well off of its 2011 high; the decline in price-book value means the downside to valuation may be limited. Although, one of the business risks Wendy's faces is macro-economic headwinds. Should those risks materialize, the share price would decline.
Macro Environment
U.S. GDP Forecast
| | | | |
| --- | --- | --- | --- |
| | Baseline | Alternative Baseline | Adverse |
| 2012 | +2.3 | +1.8 | +1.8 |
| 2013 | -0.5 | -1.5 | +1.5 |
| 2014 | +2.4 | +1.6 | -0.5 |
In the baseline scenario, I see economic growth continuing through 2012 with a recession in 2013 and economic growth resuming in 2014. Under the alternative baseline scenario, economic growth this year is slower than the baseline scenario and the recession in 2013 is deeper. In the adverse scenario, the recession occurs in 2014. Under the baseline and alternative baseline scenarios, US equities are in a bear market during 2012 and/or 2013.
The economic growth model assumes fiscal consolidation occurs in the U.S. and/or the recession in Europe is deeper than currently forecasted. Also, we could see a spike in the price of oil on Iran risks.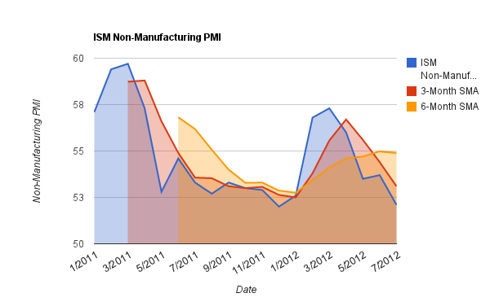 ISM non-manufacturing PMI is declining; the index is expected to continue to decline in the coming months.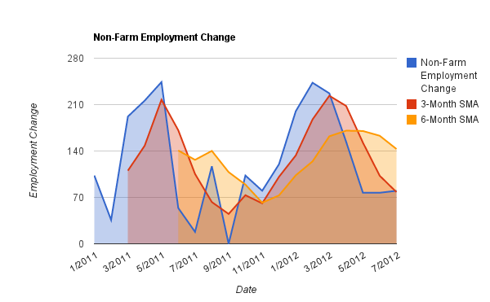 Non-farm employment change is declining; the pace of job growth is expected to continue to slow.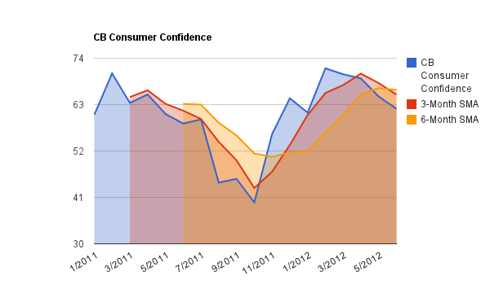 CB consumer confidence is starting to decline; the index is expected to decline in the coming months.
Disclaimer: This article is not meant to establish or continue an investment advisory relationship. Before investing, readers should consult their financial advisor. Christopher Grosvenor does not know your financial situation and ability to bare risk and thus his opinions may not be suitable for all investors.
Disclosure: I have no positions in any stocks mentioned, and no plans to initiate any positions within the next 72 hours.