Shares of China based Origin Agritech Ltd (SEED) surged higher on Tuesday following positive news about its seed development business.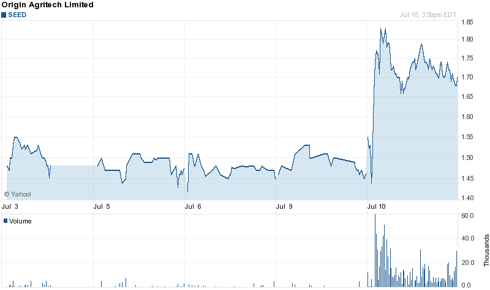 (yahoo)
Seed Pipeline
A total of 64 hybrids are under various stages of the registration process. Among the 64 hybrids, 33 are at Pre-Registration stage; 18 at Registration Trial 1 stage; 5 at Registration Trial 2 stage; 5 at Field Demo stage; and 3 at Registration Trial 2 + Field Demo stage.
3 corn hybrids have been approved so far in 2012.
Earnings
In its 2Q earnings release, SEED lost money. This is a bit concerning, but SEED is hardly priced for perfection.
Cash
SEED has $25.9 million in cash and just $6.43 million in debt. SEED's strong cash position is important as it will keep the company going despite the recent loses.
My Take
For a speculative trade, I am a buyer of SEED. In my opinion, the company has great potential and limited risk at the moment. Given the net cash position, bankruptcy is not likely in the short-term. If SEED continues to get more seeds approved, the stock has potential to move much higher. However, because of the speculative nature of small Chinese companies, investors should only use speculative funds to bet on SEED.
Disclosure: I have no positions in any stocks mentioned, and no plans to initiate any positions within the next 72 hours.