Albert Einstein once declared that compound interest was "the most powerful force in the universe." This quote, along with the common sense behind it, has inspired many long-term investors to rely on income generating investments such as dividend stocks, letting reinvested dividends continue to compound instead of relying solely on capital gains. As dividends continue to accumulate, both on the original shares as well as on the shares acquired from previously reinvested dividends, a snowball effect starts to occur, leading to quickly increasing streams of income.
However, dividend growth stocks add yet another level of compounding, as those investing in these stocks benefit from both reinvested dividends and dividend growth. As dividends can be reinvested to purchase new shares, both the original shares and the newly purchased ones all benefit from the higher dividend, leading to a form of "double compounding."
The following numerical example shows just how powerful this double compounding of dividend growth stocks can be relative to normal compounding. In this example, we start with an investment of $10,000, which we put into a dividend growth stock that yields 4% and grows its dividend by 7% per year for the next 30 years [a reasonable assumption given the historical experience of such dividend stalwarts as Johnson and Johnson (NYSE:JNJ).]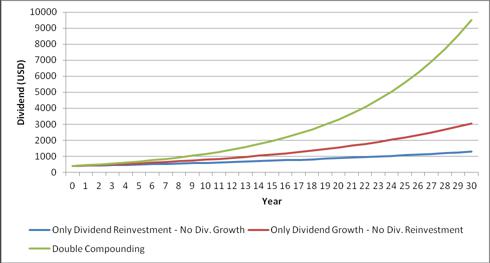 As one can see, the combined presence of both dividend reinvestment and dividend growth produces a much, much higher dividend at the end of 30 years ($9498) than either the 7% dividend growth with no dividend reinvestment ($3045) or simple reinvestment of the 4% dividend without any dividend growth ($1297) in isolation. In fact, with these realistic assumptions dividend growth is even more powerful than compounding from dividend reinvestment. But should this be expected, since after all, the dividend is growing at 7%, but the dividend re-investments are only based on a lower 4% dividend yield?
In order to explore further the relationship of dividend growth to the simple compounding that occurs from reinvestment of dividends, now let's assume that the dividend yield and the dividend growth rate are both 4%. The following graph shows the growth of the dividend under the same scenarios as above: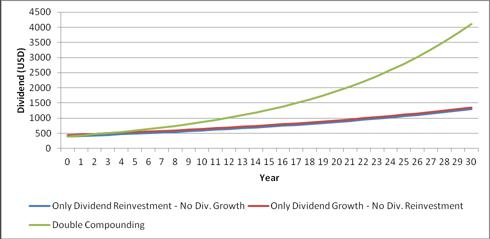 From this graph, one can see that the dividend after 30 years in the case with both 4% dividend growth and reinvested dividends at a yield of 4% is again the highest by far ($4114). The lines with only reinvestment of the 4% dividend and only 4% dividend growth end up exactly the same ($1297). This graph highlights the simple yet profound idea that dividend growth is exactly the same as the compounding that would occur from reinvesting the same size dividend. One can think of dividend growth as a type of compounding that occurs internally inside the company, while reinvested dividends are a type of compounding that occurs externally outside the company. Having a stock that grows its dividend by 4% (internal compounding) produces the exact same result in terms of future income as receiving a 4% dividend and reinvesting it in more shares of a stock without a growing dividend (external compounding). Since dividend growth stocks benefit from both forms of compounding, they are especially effective investments for achieving a constantly growing stream of income.
Below are a few possible stocks that currently yield near 4% with 7% dividend growth or better over the past 5 years. I believe that all of these stocks warrant further due diligence as possible core positions for any dividend growth portfolio. All data cited is freely available at Morningstar:
Altria Group Inc. (NYSE:MO) - This is the leading cigarette manufacturer in the U.S., after having divested itself of Philip Morris International (NYSE:PM) in 2008 and Kraft Foods Inc. (KFT) in 2007. Its Marlboro brand is the leading cigarette brand in the U.S., and the company also owns a sizable minority stake in brewer SABMiller. Its current dividend yield is 4.7% and its 5 year dividend growth rate is 15.0%.
Johnson and Johnson - This is the world's leading and most diverse health-care company. It is diversified into three divisions: pharmaceutical, medical devices and consumer products. Its current dividend yield is 3.6% and its 5 year dividend growth rate is 9.1%.
Procter and Gamble Co (NYSE:PG) - This company is the world's largest consumer products manufacturer, owning such brands as Tide laundry detergent, Charmin toilet paper, and Pantene shampoo. Its current dividend yield is 3.7% and its 5 year dividend growth rate is 11.2%.
Sysco Corporation (NYSE:SYY) - This is the largest food service distributor in North America. It serves over 400,000 customers, including restaurants, healthcare facilities, educational facilities and lodging establishments. Its current dividend yield is 3.7%, and its 5 year dividend growth rate is 8.9%.
Disclosure: I am long (JNJ), (PG), (PM). Also "long" (SYY), since I am short January 2013 SYY puts.