American Water Works Company (AWK)
The Use of Water in Hydraulic Fracturing
Water is by far the largest component of fracturing fluids, which is comprised of about 98-99.5% water and sand, while chemicals account for about 0.5%. Hydraulic fracturing uses between 1.2-3.5 million U.S. gallons of fluids per well, while larger projects may use up to 5 million U.S. gallons per well.
The Shale Boom in the U.S. and its Impact on Water Utilities
Since 2005, there has been a rapid increase in unconventional production in the U.S, after the introduction of horizontal drilling and hydraulic fracturing made extraction of shale oil and gas economical. This led to the boom of shale production in the U.S. in the last few years, and it is expected to continue to do so in the future.
A byproduct of the shale production is the wastewater, which is contaminated and must be treated to remove waste materials, to avoid environmental damage.
Unconventional production is expected to increase going forward due to the booming demand in the U.S. going forward. This continued shale boom is expected to increase the demand for water and wastewater services, which will benefit water utilities companies such as AWK.
Industry
The Water and Wastewater Industry has two business segments, namely Utilities and General Services. The Utilities segment is involved in the supply of water and wastewater services to customers, while the General Services segment is involved in providing water and wastewater related services to utilities and other customers on a contractual basis.
According to estimates of the Environmental Protection Agency (EPA), utilities ownership by municipal systems (owned by local government or government subdivisions) account for 84% of all community water and wastewater utilities in the U.S., and about 98% of all community wastewater services in the U.S. The investor-owned water and wastewater account for the remainder of the water and wastewater systems in the U.S.

Source: Company June Presentation
The Utility Sector has high barriers to entry, due to the capital intensive nature of the industry.
The water and wastewater utilities business is a highly regulated industry, and privately held (non-government) utilities are subject to economic regulation by the relevant Public Utilities Commission (PUC), while the Federal and State governments also regulate water quality, environmental, safety and health matters for both government and privately owned utilities.
Water and Wastewater Rates
Privately-held utilities generate revenue from customers, based on the rate set by the State PUCs, through a rate setting process that requires public and evidence hearings, and submission, by the utility, of testimony and evidence in support of the requested rates.
Company Overview
American Water Works Company, Inc. is the largest public-owned water and wastewater utility company, based on revenue and customer base, in the U.S. AWK's primary business is to provide water and wastewater services to residential, industrial and commercial customers through the ownership of its utilities business (regulated business). The utilities business has a presence in 16 states and provides services to approximately 3.1 million customers.
Another segment of the company is Market-Based Operations, through which the company provides services that are not subject to economic regulations by State PCUs.
Financial Performance
2011's total operating revenue of $2.7 billion witnessed an increase of 3.9% compared to total operating revenue of $2.6 billion in 2010. The regulated business generated operating revenues of $2.4 billion (88.8% of consolidated operating revenue) in 2011, as compared to $2.3 billion (89.5% of the consolidated revenue) in 2010. The 3.6% increase in operating revenues in 2011 was due to the rate increase, which offset the declining sales volume for all customer classes.
Market-Based Operations reported operating revenue of $328 million in 2011, which was an increase of 11.2% compared to the operating revenues of $295 million in 2010.
Diluted EPS from continuing operations were $1.73 in 2011, which was an increase of 18.5% as compared to $1.46 for 2010.
Following is a breakup of revenue generation by region and customer base

Source: Company June Presentation
Cash flow from operations of $808 million in 2011 witnessed an increase of 4.3% as compared to $775 million in 2010. The CAPEX for 2011 was $925 million as compared to a CAPEX of $766 million in 2010. The company is expected to undertake a CAPEX in the range of $900 million-$1 billion in 2012.
Following is a breakup of the projected Capital Expenditure by asset type and purpose for 2012.

Source: Company June Presentation
Operation and Maintenance Ratio
The operations and maintenance (O&M) ratio has shown an improvement over the years, and has dropped from 47.7% to 43.2% YTD. The company intends to bring this ratio below 40% by 2015.
Water Sales
As can be seen below, the total water sale has witnessed a decline over the past few years, and this trend has been witnessed in all customer categories. The reason for the decline in water sale has been more economical usage of water due to an improvement in technology and weather conditions.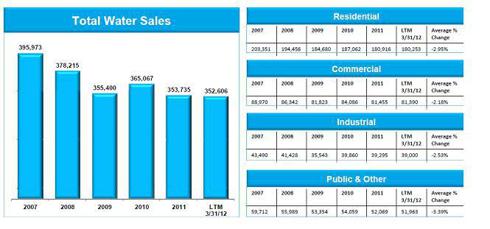 Source: Company June Presentation
Marcellus Shale
The Marcellus shale formation covers approximately two-thirds of Pennsylvania, and it is estimated that 363 trillion cubic feet of natural gas will be captured in the shale formation. AWK serves 390 communities in the region, and many others in the area where drilling is taking place. AWK is currently selling water to gas drillers at 34 distribution points in Pennsylvania, and sold about 250 million gallons of water in 2011, generating revenues of $1.6 million.
Competitors
Some of AWK's competitors include Aqua America Inc. (WTR) and American States Water Company (AWR).
Outlook
Utilities are a stable, slow growth and capital intensive business, with low volatility in revenues and profitability, and offer a high dividend yield.
We are of the opinion that there is potential for growth for the company due to the boom in shale production in the U.S., and it is placed well to take advantage of the Marcellus shale formation in Pennsylvania.
AWK is trading at a P/E and P/B ratio of 16.7x and 1.4x, and offers a dividend yield of 2.90%. Given the aforementioned factors and the lucrative valuation, we have a positive outlook on the stock.
| | | | |
| --- | --- | --- | --- |
|   | AWK | WTR | AWR |
| P/E | 16.67 | 22.16 | 16.99 |
| P/B | 1.44 | 2.83 | 1.86 |
| P/S | 2.28 | 5.02 | 1.79 |
| Dividend yield | 2.90% | 2.60% | 2.80% |
| Net Margin | 12.10% | 20.96% | 11.21% |
| 3 Month stock performance | 3.97% | 18.08% | 14.58% |
| YTD stock performance | 9.32% | 17.60% | 19.22% |
| 12 month stock performance | 15.48% | 15.30% | 15.68% |
Disclosure: I have no positions in any stocks mentioned, and no plans to initiate any positions within the next 72 hours.