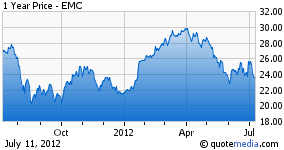 Recent news has been very good for EMC (EMC) shareholders, especially regarding its place in the cloud industry. It is continuing to grow stronger and gain new deals that will greatly benefit the company. As a result, I believe EMC stock will be on the rise in the coming quarters, and the company should remain a fairly solid investment for the long-term as well.
EMC reached its 52 week high of $30 in April of this year. This was on the back of new excitement about its cloud breakthroughs. The excitement has subsided a bit, as news comes in a little more slowly than many may have liked. The stock is back down around $24, but I think it will reach $30 by the end of the third quarter and continue to stay above that mark.
Analysts agree - 26 of 28 analyst give the stock a "buy" rating right now. EMC's high price target for the year is around $38, and even the low is $28. No one doubts that the company is going up. I think it will go up more than that low estimate, and then stay there for the long-term. Let me explain why.
At the recent EMC Forum 2012 event, EMC highlighted the importance of China when it comes to the cloud computing industry. There has been rapid cloud adoption in the country, and the government is urging for even faster progress. EMC will benefit from this because it has been working on its presence in China. It has undertaken five major projects with regional Chinese governments, and it has roughly 3,000 workers employed in China. The country is receiving praise for its great research and development, so the 3,000 workers in China should help EMC continue innovating even faster. While I do not think this will have a very immediate impact on EMC, it does highlight the good position it is currently in. As time moves on, this should benefit the company, and investors should become more confident in EMC's profitability.
EMC recognizes the importance of strong partners in the tech industry today, and it has signed a deal to collaborate with Verizon (VZ). Specifically, it will work with Verizon-Terremark to provide private cloud computing platforms to companies interested in cloud-based computing environments. This adds to its similar partnerships with AT&T (T) and Singapore Telecommunications. EMC is working to strengthen its place in the market and become an even more important cloud provider. While Verizon, Singapore Telecommunications, and AT&T will remain even with each other, this will have a great impact on EMC. This should provide a spout of stability for EMC stock to rest on. The rest of the news will show why it's poised to rise.
This is not the only way that EMC is benefiting from other companies at the moment. Zebra Technologies (ZBRA) has chosen EMC VMAX 10K enterprise storage to transform Oracle's (ORCL) enterprise resource planning infrastructure. This will help Zebra attain better performance, improved reliability, and reduced costs. EMC remains a strong company, and this event will show that its services are quite impressive. In addition, this is another source of revenue for the company, so it should definitely have a positive effect on EMC stock. Zebra and Oracle stock should also be rising in price as a result of this event.
In addition to looking strong with these recent developments, EMC has been receiving great press due to the continued demand for its "storage, security, virtualization, and information management products and services." It also has a "modest financial risk profile." These many strengths are improving the outlook for the company even more, and it has led the Standard & Poor Ratings Services to upgrade it from an "A-" to an "A." This should increase investor confidence even further, and it should draw in new investors, helping the EMC stock price go up.
When looking at the industry as a whole, EMC continues to be a strong competitor for several other companies. EMC has been improving this year, but its competitor NetApp (NTAP) has been struggling. Regardless, NetApp recently defended itself at the analysts' meeting, claiming it is in a good position and has not suffered as a result of the competition. Even if EMC is not responsible for NetApp's losses, however, it certainly looks like a better option by comparison, which is not good news for NetApp.
Investors must not have been impressed by the company's defense, as the NetApp stock price dropped after the analysts' meeting. While the company is looking to take away market share from EMC, it has to prove itself a little more before anyone will pay much attention to it. This is not a company that looks ready to quickly become a dominant force in the industry.
A recent market analysis report also demonstrates that EMC dominates the industry in another way as well. It has around 65% share of the disc-based backup appliance market, and IBM (IBM) is the only other competitor doing reasonably well in this market. While IBM only has roughly 15% share, the next highest share for a company drops down to almost 4%. As investors notice the stronghold IBM has on this industry, it should increase investor confidence and have beneficial effects on the company and the stock.
Like IBM, EMC will be benefiting from its recent plans for collaboration and growth. It is in a good position with the growing market in China, and it is forming partnerships that will strengthen its cloud business. Its storage products are only one of many EMC products that are high in demand and gaining praise. Some other competitors struggle to keep up with the company, and EMC is not suffering from bad news events. Based on recent developments, analyses, and upgrades, I think EMC is a strong stock, and people should seriously consider this as a potential investment. A price level of $30 would be a 20% rise from the current price, but I still see it as a possibility for the end of the 3rd quarter. If it can't get there by then, then I do think it will happen by 2013. Either way, the evidence shows that EMC should be solid for some time to come, so its growth will be sustained and profitable.
Disclosure: I have no positions in any stocks mentioned, and no plans to initiate any positions within the next 72 hours.