Digital video content provider Netflix (NFLX) appears to be firing on all cylinders with having exceeded 1 billion hours of viewing for the first time in June. And, the company hopes to best that record following the debut of political drama "House of Cards" in late 2012 and "Arrested Development" scheduled for early 2013.
A Netflix application designed specifically for Windows 8 was also mentioned in Microsoft's (MSFT) recent presentation related to its new Surface tablet device. The Netflix application operating on Windows 8 enables viewing in wide screen with no banding or letter boxing, as is the case with traditional platforms.
Netflix's stock price plummeted after the company's misstep related to product/pricing changes in early of July of 2011, but has since put in a double bottom with support in the $65 range, and is currently trading around $80 as shown below: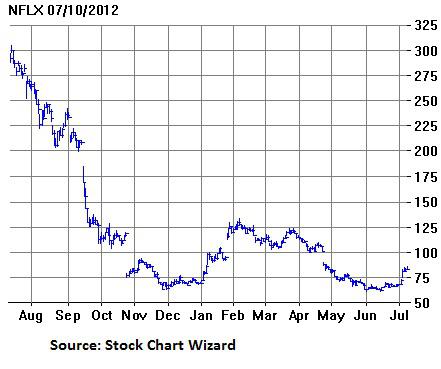 A protected covered call or collar search performed using PowerOptions tools, seeking to find the highest returning position for profitable companies with a maximum potential loss of 8% and a stock price in an uptrend produced Netflix as shown below:
Netflix took up the two highest potential protected covered positions and was followed by Internet security company VernetX Holding (VHC) discussed in this article, pharmaceutical company Warner Chilcott (WCRX), cyber security company Sourcefire (FIRE) and application delivery networking company F5 Networks (FFIV) discussed here.
A protected covered call may be entered by selling a call option against a purchased or existing stock and using some of the proceeds from selling the call option to purchase a protective put option. The highest returning potential covered call for Netflix has a potential return of 5.4% (51% annualized) and a maximum potential loss of 7.8%, so even if Netflix's stock price drops to zero, the maximum loss which can be experienced is 7.8% (at expiration).
The highest returning positions as shown above were found by selecting to search and sort by the highest returning positions. Stock price for companies in an uptrend were found by selecting to include companies with a 100-day moving average greater than the 200-day moving average. The 8% maximum loss parameter was selected, as a loss of 8% or less can typically be recovered fairly quickly using income generating investment methods.
A high returning protected covered call was discussed in a previous article for Netflix, and the position is currently profitable and appears to be on its way to realizing the full return of 4.2% (33% annualized).
Netflix is scheduled to release its quarterly earnings results on Tuesday, July 24, 2012, which is probably why the company popped up as one of the highest returning protected covered call positions. The premiums for a company's stock options often become inflated near an earnings event.
An investor seeking to capitalize on Netflix's high returning protected covered call can enter the position by selling the 2012 Aug 80 call option at $7.55 and purchasing the 2012 Aug 70 put option at $3.35.
Trade
NFLX stock (existing or purchased)
Sell 2012 Aug 80 Call at $7.55
Buy 2012 Aug 70 Put at $3.35
A profit/loss graph for one contract of the Netflix protected covered call position is shown below: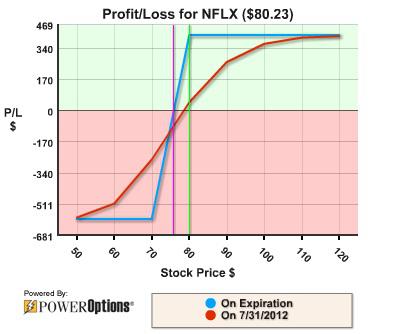 For a stock price below the $70 strike price of the put option, the value of the protected covered call remains unchanged (at expiration). If the price of the stock increases to around $90, the position can most likely be rolled in order to realize additional potential return.
Disclosure: I have no positions in any stocks mentioned, and no plans to initiate any positions within the next 72 hours.