Trading at 66x 2013 EPS and 8.0x revenue, Salesforce.com (NYSE:CRM) is one of the most expensive stocks in the world. Although we think the business model is great and the company is exposed to favorable long-term trends, we are only willing to pay 50x forward earnings. We get to this metric by using a 1.5x PEG ratio (35% EPS growth * 1.5 = 50x P/E). Under this framework, Salesforce.com should trade at $100, implying 23% downside.
Below is our summary financial model. It shows that the company needs to sustain massive revenue and earnings growth over the next five years to justify the valuation. If the company can achieve these growth rates, then the stock is valued at 21x 2017 EPS. This is still not cheap as the S&P 500 is normally trading at 15x.

Based on our valuation framework, we think there is 23% downside to $100 over the next few quarters. Below our process for getting to our price target: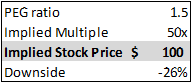 We are comfortable paying 50x for high-growth companies, and own Rackspace (RAX) and Red Hat (RHT) on this premise. But 68x forward P/E is excessive and places the odds of a sharp sell-off too high for out investment style.
Another minor concern we have is the highly-acquisitive nature of Salesforce.com lately. Does this suggest the organic growth is slowing more than expected? Recently the company has acquired Buddy Media ($689M), Thinkfuse, Stypi, Radian6 ($326M), Rypple, and ChoicePass. Even yesterday they did an acquisition. This time they bought GoInstant for $70M. That is A LOT of empire building over the past year. Who does Mark Benioff think he is, Larry Ellison? Perhaps internal innovation has dried up and they need to look for outside help. That is not a great signal.
Competition: Salesforce.com is locked into a fierce battle with Oracle (ORCL), Microsoft (MSFT), Red Hat and SAP (SAP). The company has competed very successfully for a while, but any missteps will be costly.
Risks to our Thesis: We think that Salesforce.com has a compelling business model and a unique service offering with their core products. So we expect continued growth in revenue and EPS over the next several years. The trend towards Software-as-a-Service (SaaS) is unstoppable and CRM will be a beneficiary. Unless the business experiences some softness in fundamentals, a pull back in valuation may not be warranted.
Bottom Line: At 68x 2013 EPS, the risk/reward for Salesforce is not favorable. We would look to get more constructive on the stock at or under $100.
Disclosure: I have no positions in any stocks mentioned, and no plans to initiate any positions within the next 72 hours.