Dividend growth investing involves buying the stocks of established companies that consistently pay and grow their dividends, then reinvesting those dividends to produce long-term compounding of the dividend income stream. Well-known companies that are favored by dividend growth investors such as myself include Abbott Laboratories (ABT), Chevron (CVX), Coca-Cola (KO), Philip Morris International (PM), AT&T (T), and United Technologies (UTX).
In a recent article, I illustrated how the compounding of dividend income is influenced by six factors: dividend reinvestment, dividend growth, capital appreciation, new capital investment, taxes, and time. I showed that it is possible to build an impressive dividend income stream under conditions of full dividend reinvestment, moderate dividend growth, low capital appreciation, modest new capital investment, and low taxes over a time period of 30 years.
A limitation of the dividend income projections shown in that article, as noted by some astute commentators, was the absence of variability over time. For example, my baseline scenario assumed a constant capital appreciation rate of 5%: stock prices increased exactly 5% in every year of the 30-year projections. In reality, stock prices can be highly variable and capital appreciation is not guaranteed in the short run. Indeed, major market declines in recent years have made this fact all too evident. Such volatility in the broader market and in the portfolios of individual investors can be unsettling, but is it necessarily bad? More specifically, are there scenarios in which stock price variability can benefit dividend growth investors?
The goal of this article is to answer those questions by investigating how stock price variability affects the growth of a dividend income stream. I will present long-term dividend income projections based on the same assumptions I used in my previous article, but with a twist: The overall capital appreciation rate over a 30-year time period will still be constrained to equal 5%, but the change in stock prices from year to year will be variable. This will be accomplished by simulating a random walk process for stock prices.
A Random Walk Down Wall Street
A random walk is a stochastic (noisy) process that has been used to model fluctuations in a wide variety of contexts, including the dispersal of liquid or gas molecules, neural activity during decision making, and changes in stock prices. To understand how a random walk works, imagine that you flip a coin a number of times in succession and keep track of the outcomes with a counter. Starting the counter at zero, you add one to it each time the coin comes up heads and you subtract one from it each time the coin comes up tails. The blue line in Figure 1 shows a sample run of 30 flips for an unbiased (fair) coin.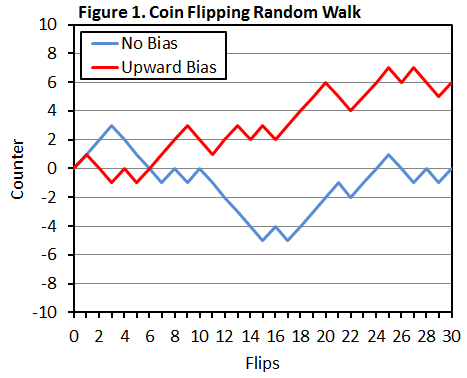 In the long run, heads and tails came up equally often, resulting in a final counter value of zero. However, the counter took a noisy path (i.e., a random walk) to get there, marked by a trough at the midway point where tails outnumbered heads.
The red line in Figure 1 shows a sample run for a coin that is biased toward coming up heads. In this case there is a noisy but generally upward trend such that the counter finishes with a value above zero. It has been argued that stock price variability reflects a biased random walk that produces a noisy, positive rise in market value over time. This argument was made famous by Burton Malkiel in his 1973 book A Random Walk Down Wall Street and is consistent with other academic ideas such as the Efficient Market Hypothesis.
For the present analysis, I generated random walks by randomly sampling annual percent changes in stock prices. Figure 2 shows the sampling distributions I used.
Each line in Figure 2 indicates the proportion of random samples in which a specific percent change would occur. I assumed normal distributions, each with a mean percent change of 5%, which produces a positive bias in the random walk. To explore different degrees of variability, I manipulated the standard deviation (abbreviated SD) of the sampling distribution, which refers to how much the distribution is "spread out." Higher standard deviations represent greater variability and they increase the probability of sampling extreme values. For example, the red line in Figure 2 (SD = 4) is a relatively compact distribution that will almost never produce a percent change of -10% or worse. In contrast, the orange line (SD = 20) is a much broader distribution that will occasionally produce percent changes in excess of ­-10%.
I simulated random walks of stock prices with each of the sampling distributions in Figure 2. I assumed a price of $100 at the start of Year 1, then the percent change in price for each year was sampled from the relevant distribution until I had simulated 30 years of annual price changes. In some years the price went up and in some years it went down, reflecting the noise inherent in the random walk process. To calculate the dividend income results shown later, I used the same assumptions as in the baseline scenario of my previous article: an initial investment of $10,000, an initial dividend yield of 3.5%, an overall capital appreciation rate of 5%, and a dividend growth rate of 5%. At the start of each year, all dividends accumulated during the previous year were reinvested and $1,000 in new capital was invested at the current stock price. The portfolio was assumed to be held in a Roth IRA, so dividends were not taxed.
Due to noise in the random walk process, many simulation runs did not result in an overall capital appreciation rate of 5% over the 30-year time period. Given that I was interested in situations where the capital appreciation rate and the dividend growth rate were both equal to 5%, I constrained the results in the following way: I selected the subset of simulation runs in which the final stock price was within 2% of $432.19, which is the value that reflects an overall capital appreciation rate of 5% over 30 years. I then adjusted the final step of the random walk (i.e., the price change in Year 30) so that it finished at exactly $432.19. Consequently, for the results presented below, all simulation runs had the same starting and ending price points ($100 and $432.19, respectively), reflecting a capital appreciation rate of 5%. The only differences between simulation runs were the random paths taken from start to end, which reflected noise and the degree of variability of the sampling distribution.
Results
The main result of interest is the annual dividend income at Year 30, which is the end-product of 30 years of compounded growth. This result is provided in Table 1, which shows averages over 10,000 simulation runs for levels of variability ranging from SD = 4 to 20 in increments of 4. The table also includes the number of down years (i.e., years with negative percent changes in stock price) and the worst and the best annual percent changes observed.
The first row in the table is the special case of no variability (SD = 0), where the stock price increases by exactly 5% every year for 30 years. This is the constant capital appreciation that was assumed in my previous article. The remaining rows indicate what happens as variability increases. It may surprise some readers to see that the average annual dividend income increases with greater stock price variability, going from $7,703 with SD = 0 to $9,517 with SD = 20. I will return to this point in a moment.
It is likely less surprising that the number of down years increases with greater variability, such that there are negative annual percent changes in stock prices about one-third of the time with standard deviations of 12 and higher. These down years reflect samples from the negative portions of the distributions shown in Figure 2. The extent of the variability in price changes can be seen in the last two columns of Table 1, which show the average annual percent price changes in the worst and the best years. For standard deviations of 8 and higher, double-digit negative and positive percent changes are observed in some years. They become more frequent in the more variable conditions.
Returning to the observation that average annual dividend income increases with stock price variability, the reason for the increase can be seen in Figure 3, which shows the proportion of simulation runs that result in various amounts of annual dividend income at Year 30.
The figure shows that as stock price variability increases, the dividend income distribution also becomes more variable, but in an asymmetric manner. More specifically, the dividend income distribution becomes positively skewed, such that above-average values are more extreme than below-average values. This aspect of the results is also reflected in the range information provided in Table 1. For example, even though the average annual dividend income is $9,517 with SD = 20, the range across simulation runs was $2,859 to an incredible $135,467. What this means is that greater stock price variability increases the probability of attaining phenomenal dividend income growth, although it also increases the probability of attaining sub-par results.
Why did some simulation runs produce above-average dividend income growth while others produced below-average growth? To answer this question, it helps to look at individual examples of runs. The results of four simulation runs with SD = 12 are summarized in Table 2.
As can be seen, the average annual dividend income at Year 30 ranges considerably, from an above-average value of $12,312 for Run A to a below-average value of $5,176 for Run D. Figure 4A shows how stock prices changed over the 30-year time period for these runs. (I have included SD = 0 for comparison purposes.) As mentioned earlier, all simulation runs started and ended at the same prices, so the only differences are the random paths taken from start to end.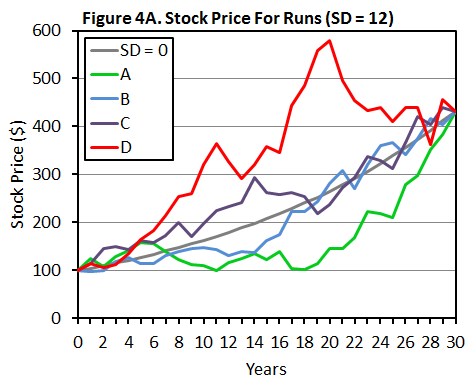 The most obvious feature of Figure 4A is the variability in stock prices over time. There are periods where stock prices increase at a rate greater than 5% and periods where they decrease. The most vivid example is Run D, where a 20-year bull run of predominantly above-average increases is followed by a multi-year decline. There are also stretches of relatively flat stock price performance, such as the first 18 years of Run A.
Figure 4B shows the growth in dividend income for the runs.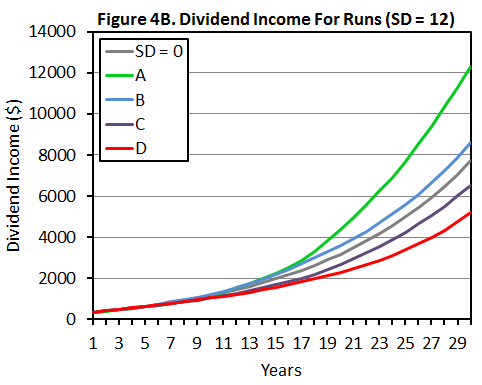 Why did Run A produce the best dividend growth and Run D the worst? The answer lies in the stock price changes shown in Figure 4A. Run A benefited from flat performance in the early years, which allowed the low-cost accumulation of more shares from dividend reinvestment and new capital investment. In contrast, Run D was hurt by the bull run in the early years, which allowed for fewer shares to be accumulated as prices went higher. Runs B and C provide an interesting intermediate comparison. Stock price changes were roughly similar and tracked the gray 5% growth line in the final 15 years, but Run B produced more dividend income growth than did Run C because the former exhibited less capital appreciation in the early years than did the latter. (Notice that the blue line for Run B is below the gray line early on, whereas the purple line for Run C is above it.) Thus, even though these four runs started and ended at the same points, how they each got there had substantial effects on dividend growth, as shown in Figure 4B. Run A resulted in more than double the final annual dividend income compared with Run D, despite all factors being equivalent between them (e.g., same overall capital appreciation rate, same dividend growth rate, etc.).
Conclusions
What are the implications of this random walk into the world of stock price variability for dividend growth investors? I think the results permit the following two conclusions:
Stock price variability is not necessarily bad for dividend growth investors. There are many cases in which some variability produces better results (i.e., higher long-term dividend income growth) compared with no variability.
Mediocre performance of stock prices (e.g., a flat or a bear market) in the early years of investing is beneficial for dividend growth investors (see Runs A and B in Figures 4A and 4B). For this reason, the recent "lost decade" represented a great opportunity for investors interested in building long-term dividend income streams.
Thus, while the ups and downs of the stock market and the portfolio values of individual investors can be unsettling at times, stock price variability need not be viewed as a problem. In fact, it should be viewed as an opportunity, with broad market declines allowing an investor to "buy on dips" and benefit from other persons' mistakes. Instead of fearing market volatility, take advantage of it!