As much of an effect as the European crisis is having on the United States, the impact on China may be far worse. That's because China's economy is structured around exports which account for about 30% of its GDP. Most of those exports go to the US and Europe.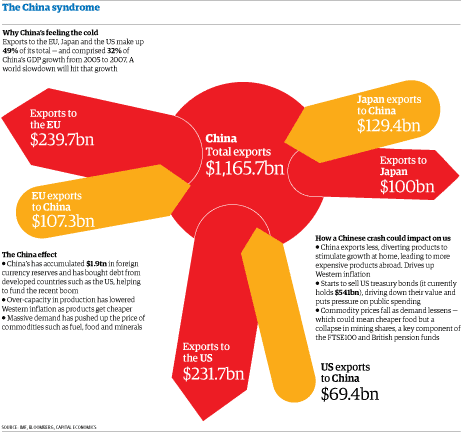 In addition to pressure on their exports from the slowdown in Europe, China appears to be in the midst of a massive housing bubble. According to Nicholas Lardy, an economist at The Peterson Institute, residential construction accounted for 9% of China's GDP last year. It was 6% in the US at the peak of the housing bubble in 2006.
20% of Beijing residents own two or more apartments in the city. One wonders how good an investment these will turn out to be given the massive oversupply which has left many of them vacant and unsold. Developers in Beijing and Shanghai hang curtains over their new luxury high rises to hide the fact. Outside of the leading cities things are even worse. An internet search turns up haunting pictures of "ghost towns" like Ordos, China, built for a population of a million but housing only a few thousand. (Time Magazine put together a revealing photo gallery: "Ordos, China: A Modern Ghost Town").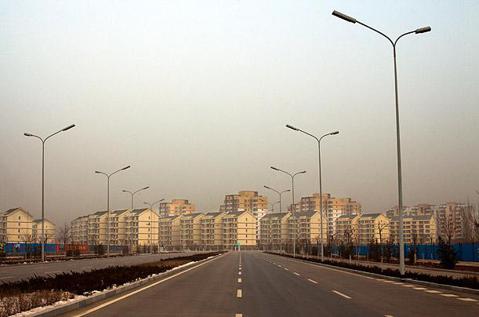 More and more, government spending on expensive infrastructure projects is driving GDP. However, it is not clear that these projects are an efficient use of resources. For example, a recently completed bullet train is state of the art but fares don't cover operating costs.*
* Material from the previous three paragraphs relies heavily on the Barron's cover story "Falling Star," Jonathan Laing, June 30.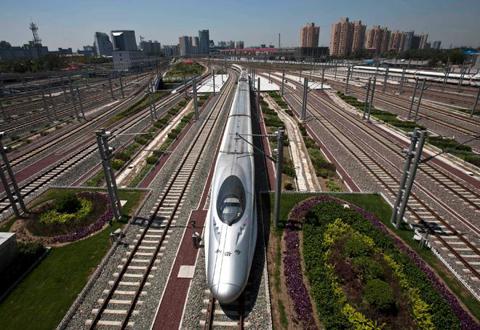 Nike's (NKE) earnings report last week supported the idea of a slowdown in China. Reported future orders from China, scheduled for delivery between June and November of this year, increased only 2% compared to the year ago period. That is down from 20%, 27% and 22% in the previous three quarters. Sterne, Agee & Leach led off their report downgrading Nike from Buy to Neutral last Friday writing: "China gets the blues." The stock was crushed two Fridays ago, down 9% on volume more than twice any other day in the last year.
Given the structure of the global economy, a slowdown in China has ripple effects further down the structure of production. As China has become the world's manufacturing center, countries like Australia and Brazil have benefited by supplying raw materials. The bloom appears to be off a commodity boom that has infused both countries' economies in the last decade. Australian mining behemoths Rio Tinto (RIO) and BHP Billiton (BHP) as well as Brazil's Vale (VALE) are off 30% to 50% from their highs early last year dragging each countries' major index down almost 20% over the same period.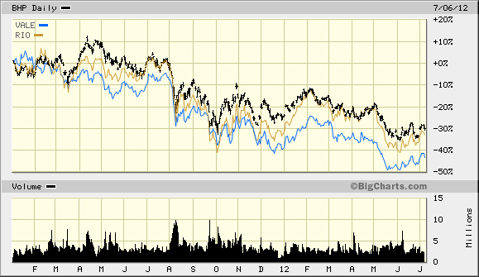 Combined with the crisis in Europe, the slowdown in China is another important piece suggesting that the global economy is sputtering. It won't be long before it stalls - and the US stock market along with it.
Disclosure: I have no positions in any stocks mentioned, and no plans to initiate any positions within the next 72 hours.