Each earnings season, we spend time researching the top growth and value combinations of reporting companies to find what companies might see the best price increases during the quarter. Today, we have provided you with some of our top picks and trading ideas for this earnings season. Check out last quarter's picks!
We select these stocks based on hours of researching the companies that are offering the best combination of growth and value in the upcoming earnings season. We are looking for companies that are growing sales and earnings heavily along with still offering good value in the marketplace.
Here are our top selections:
Ashland (ASH) -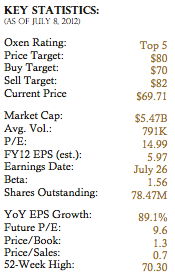 Ashland is one of our favorite companies in the chemical industry, and we have coverage on the company with a Hold rating and $76 price target, and we believe this earnings season should take us to our long-term Sell target of $80. The company is going to see another impressive growth quarter with almost 90% growth in earnings and 32% revenue growth.
We like ASH to continue higher from here. The company should be seeing a move of about 0.82 in EPS, which will bring EPS to 5.47. 5.47 x 15 = 82. We believe pre-earnings we should see a move to the 76-78 area and 80-82 post-earnings.
The company has beat earnings for six straight quarters and continues to see solid growth despite issues in Europe. We see the company as having some solid earnings and revenue growth due to a lack of cyclicality in their oil business with Valvoline and specialty chemicals that have good economic moats.
The company has amazing value. They are sitting at a sub-10 future PE and sub-1 price-to-sales ratio. Value is not as great as it was last quarter when ASH was our top pick as well, but its still very strong.
We like ASH to hold onto the 65-66 area during any weakness in the market and start to trend higher as we get closer to earnings in late July. The company combines great value with great growth and eventually the market will recognize this even further than they have already.
Delta Airlines (DAL)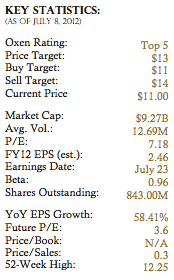 We rarely recommend airline companies, and we are a bit skeptical of DAL as well. Yet, the company is looking at great YoY growth in earnings as oil prices dropped and created good margins. As well as other cost-saving efforts the company has taken on over the past couple years.
EPS should pop up 0.25 in the coming quarter, bringing EPS to 1.78 for the TTM. That number multiplied by a measly 7.2 PE shows us that the stock should increase to at least 12.80 by the earnings report or soon after. That would be a more than 10% gain.
Not only are we seeing good growth, but also DAL is vastly undervalued. The price-to-sales is 0.3 and future PE is below 4. The company has been on a solid uptrend since the company reported solid June numbers, and things are looking good for a strong second half of the year for DAL.
The company had an awesome passenger count for the industry and great profit margin improvement from negative to nearing on 5% for the first half of the year.
With oil prices most likely staying down for the near-term, we continue to like DAL as a nice way to play weakness in oil along with earnings strength ad look for them to push towards 12 over the next couple of weeks into their earnings report.
DIRECTV (DTV) -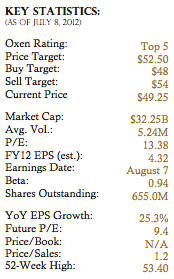 One area of business that seems to continue to grow despite all the tough market conditions is television, and DTV is at the center of that explosion. We like this company because it has consistent, solid growth couple with nice value as well as good amount of upside potential moving into this report in August.
The company is looking solid with EPS improving from TTM 3.68 to 3.91, which takes share prices from their current level to an estimated 3.91 x 13.38 = 52.30. We believe that there is nice potential that is doable and safe in DTV's earnings, which are also backed in nearly 10% growth in revenue as well.
The company does not have a ton of downside risk as well a their earnings are fairly consistent and beta is low, so that is a good complement to other earnings picks. Further, the company has tons of opportunity in emerging markets like Brazil and Mexico to really develop their organic growth.
One issue brewing is the cost of programming and contracts. Dish Network (DISH) has taken a stand dropping various channels and DTV has said they would join with them in blacking out programming as well. That stand taken together will allow both companies to negotiate better and allow them to keep their margins up where they want them.
Overall, we think DTV is very solid and should be part of an earnings portfolio.
VeriSign (VRSN) -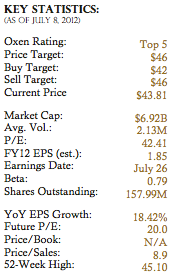 VeriSign is our reach pick, as the company does not possess the same layout as our other picks with extraordinary growth coupled with mazing value. The company is having good growth with a bit of overvaluation. For one, P/S ratio is almost at 9 and the future P/E is at 20. Yet, the company is also very exciting as they carry nearly 20% growth in earnings and 14% revenue growth.
What we are most excited about for VeriSign, however, is the fact that the company recently got approved by ICANN to continue their regulating of the dot com registry, and that we believe will allow them to guide well and continue to see strong growth for several years, which ca thus justify a bit higher valuation.
We believe the stock is at a nice buy point right now for earnings as our usual math is based in value and does not work here, and we think a test of $50 after earnings is not out of the question. We cannot imagine a slowdown in the business as of all the things for businesses to attack right now for growth…the online image remains one of the important ways to market, connect, and grow business at a low cost way.
Overall, we like VRSN's fundamental core business right now and believe they will see solid growth into and out of earnings with another strong round of growth couple with fundamental catalyst from ICANN's decision.
Our top picks for the large-cap sector are DAL and DTV as well as Ensco (ESV), Lorillard (LO), and Seagate Tech (STX). Our top picks for mid-cap sector are ASH and VRSN as well as Western Digital (WDC), Superior Energy (SPN), and AGCO (AGCO). Our top picks for small-cap are Susquehanna Bancshares (SUSQ), JetBlue (JBLU), Crown Holdings (CCK), CapitalSource (CSE), and Trinity Industries (TRN).
Good Investing!
Disclosure: I am long PNRA.