The recent shift toward off-price retailers, following worries related to the uncertain economic situation in the U.S. and the world, has hurt mid-tier retailers, especially Kohl's Corporation (NYSE:KSS). As purchases from luxury brands and retail stores like Saks (NYSE:SKS) continue (same-store sales for Saks were up 6% for the month of June) the lower or middle income population is left to be more discrete in their spending. Instead of going to places like Kohl's, they have started purchasing more at discount stores like TJX Companies' (NYSE:TJX) T.J. Maxx and Marshalls stores.
Kohl's Corporation is a mid-tier U.S. retailer that offers clothing, accessories and shoes for the whole family; home products, such as pillows and bed sheets; and house ware. The brands sold at KSS include Van Heusen, Rock & Republic, Marc Anthony and Jennifer Lopez. At May 10, 2012, it had 1,134 stores spanning 49 states of the U.S. The company also recognizes the importance of e-commerce in today's world, and therefore has Kohls.com for online shopping.
KSS's same-store sales for June 2012 were down 4.2%, as compared with Wall Street's estimate of -3.2%. This follows a 4.2% drop in May 2012.
The quarterly revenue growth for KSS is 1.9% compared with Macy's 4.3%.
Below is a graph showing the quarterly profit margin that has been varying greatly from quarter to quarter, and has fallen to its lowest level since 2009, in the last quarter (i.e. 3.63%)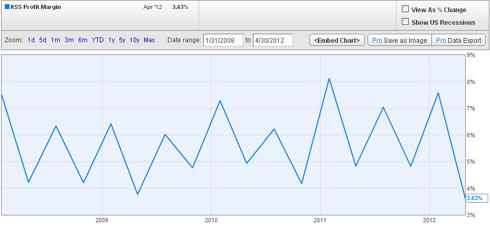 Moreover, in the past four quarters, KSS has only narrowly managed to exceed or meet analyst estimates for its EPS, as shown by the table below:

Source: Yahoo finance
Kohl's debt is currently $4.25 billion (debt-to-equity is 67%), while its cash is $1.03 billion. This might pose a problem in case earnings continue to decline.
The short ratio is 3.9, which means that there are bearish sentiments in the market regarding KSS's stock price.
KSS offers a forward dividend yield of 2.7%, slightly above Macy's (NYSE:M) 2.3%.
Currently, the forward P/E for KSS is 9x (same as competitor Macy's P/E of 9x), and it is trading at $47.95 i.e. 14% above its 52-week low value.
Applying the forward P/E to consensus EPS estimates, we get the following target price estimates:

*2014 EPS is derived by applying an earning growth rate of 14.5% for the next five years.
In last 52 weeks, KSS is down 13% compared with Macy's, which is up 16% as shown by the graph below.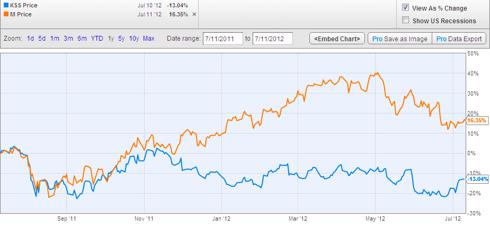 In light of the continued economic tensions, investors should avoid the stock and take a short position if comparable-store sales continue to decline for July. Moreover, the July sales will determine whether Kohl's is able to meet its expected quarterly profits (next earning release date is August 9) of between $0.96-$1.02/share or market estimates of $0.96/share. The earnings guidance range of $0.96-$1.02/share was based on total sales growth of 2%-3%, and same-store sales growth of 0-1%. Achieving this seems unlikely based on sales in the last couple of months.
Disclosure: I have no positions in any stocks mentioned, and no plans to initiate any positions within the next 72 hours.