Healthways (HWAY) is finding that working with Medicare on an experimental disease management program (Medicare Health Support) is difficult because Medicare enrolled sicker than expected patients in the program and won't give the contractor the freedom to select patients who are most likely to benefit from preventive care and disease management services, Reed Abelson reports. After preliminary results of the Medicare disease management program were announced back in January, Healthways dropped 16%, according to the New York Times. It is trading at $35.30, down from a 52-week high of $71.20 and up from a year's low of $28.43, according to Yahoo.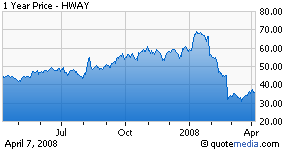 The company's key statistics are here. Despite its problems with Medicare, HWAY still has a 12-months trailing PE of 28.8 and a forward PE of 17.6. It's PEG ratio (PE/5-year growth projection) is a reasonable 1.18. The company's trailing 12-months profit margin is 6.6% while its return on assets is a relatively low 6.6% and its return on equity is 14.3%.
Morningstar.com analyst, Jeffery Stafford, says that under the most likely scenario for HWAY, its fair value is $32 and recommends considering buying the stock at $20.80 or lower and selling it at $48 or higher. Under a worst case scenario, he says the stock's fair value is $17, and under the best case scenario it would be worth $50. He considers the stock risky and gives it three stars out of a possible five.
Investor's Business Daily (investors.com) gives the stock a composite rating of 69, or a C+, and an accumulation/distribution rating of B, which means that some institutions are buying the stock. HWAY's chart is here. Click on the chart for more information. HWAY's bullish point and figure chart has a $57 price objective.
During its March 18 conference call with securities analysts, which is available on Seeking Alpha, company executives painted a pretty positive outlook. HWAY's winning new clients and recently won a major contract in Brazil. But Morningstar points out that large health insurers have the capital and expertise needed to take their preventive care and disease management services in-house, and with the economy slowing, it's not known yet what will happen to the enrollments in insurers'' plans. Also, if employers see their bottom lines shrinking, they may cut out HWAY.
Healthways told the NY Times that if it could serve Medicare patients the way it serves chronically ill patients for the private sector, it could save a lot of money for Medicare. But it may not get the chance. Whether preventive care pays or not is being widely debated. There is no consensus about the definition of preventive care, as the Healthways experience is showing.
Morningstar is concerned that HWAY's failure to save money for Medicare will cause its clients such as MCD, GE and INTC and insurers to take another look at whether its preventive care and disease management services save money for them. Cigna (NYSE:CI) and McKesson (NYSE:MCK) have dropped out of the Medicare experiment, according to the Times. Cigna is HWAY's largest client, accounting for some 20% of its revenues, according to Morningstar.
Interestingly but not surprisingly, Medicare reportedly is interested in the Medicare Health Support program only if it saves money, according to the Times. On its conference call, HWAY made it clear that it doesn't expected to be involved with the Medicare program in its fiscal 2009. That preventive care and disease management obviously improve the quality of care for seriously chronically ill Medicare beneficiaries apparently is not important to the government officials running country's larges single-payer program. Members of congress are being lobbied by physicians whose patients are served by HWAY under Medicare Health Support to keep the program going, according to a news release put out by the company.
For more information about companies involved with disease management, search Seeking Alpha for "disease management" or "Medicare".
Full disclosure: I don't own these stocks.