By Ramu Iyer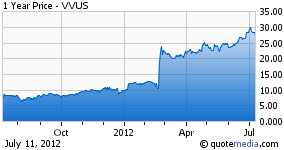 VIVUS (VVUS) is a biotech company that has focused on anti-obesity treatment and its flagship drug Qnexa, as the objective of curbing obesity in patients. It uses an extended release capsule containing compounds that have been approved by the FDA, namely phentermine and topiramate. Phentermine is a drug that works by depressing the appetite of patients, while topiramate is a medication for convulsions that is used to control seizures, and also controls receptors that are associated with hunger pangs. The company is now waiting for a response from the FDA on its application for Qnexa. In October 2010, the FDA had rejected Qnexa on the basis of a rejection from an advisory panel. The reasons cited were ambiguities in the safety evaluation with regard to memory loss and depression. In addition, the increase in the heart rate evoked concerns about possible cardiovascular problems. More concerns were expressed about the fact that the drug had only been tested on patients for a period of one year, when patients could be expected to continue with the treatment for a much longer period.
Now, as another FDA decision is due fairly soon, potential investors will be anxious to know whether the safety concerns regarding Qnexa have been adequately addressed. The SEQUEL trials produced encouraging results when conducted on a group of 676 overweight patients. The group using Qnexa reported a sustained loss of weight of 10% and showed lower chances of the progression of diabetes. Another encouraging result was, despite the effect of the drug on heart rate, the weight loss actually resulted in the need for lower heart medication when compared to the group on placebos. Remember, back in February 2012, an advisory committee voted overwhelmingly in favor of approving Qnexa. The committee's recommendations were subject to favorable results in the proposed risk evaluation and mitigation strategy studies to be conducted post approval. These studies will further evaluate the risks associated with possible cardiovascular complications as well as birth defects. Because of its past experience with drugs such as "Fen-phen" from American Home Remedies that had to be withdrawn due to side-effects, the FDA is particularly careful in approving any new anti-obesity treatment.
It goes without saying that the stock of a biotech company awaiting approval for its first drug should be considered highly risky for investors who are not particularly comfortable with high risk investments. However, for the next few weeks, there is an opportunity to invest in Vivus up until the point where we know the outcome of the FDA approval. Qnexa is a cocktail of two approved drugs with lower prices. This should not have a serious impact on the sales potential of Qnexa. Moreover, Qnexa uses a lower dosage of each drug, and doctors are unlikely to prescribe large doses of both separately, because of possible side-effects and safety considerations.
Lorcaserin, manufactured by Arena Pharmaceuticals (ARNA), has now received FDA approval because experts say that it has a better safety profile than Qnexa, even though Qnexa may be more effective. The fact that Arena is ahead of Vivus means that Vivus needs to push hard once it receives FDA approval. Again, experts say that the potential anti-obesity and weight-loss market is so large that there is room for several treatments. This will also be the case because some treatments may not suit some patients while other treatments do. The need FDA approval is now critical for Vivus, because they will have to play catch up.
The obesity problem in the United States continues to get worse, and some predictions say that over 40% of Americans will be considered obese by the year 2050. The rest of the world is moving in a similar direction. I believe most people would rather lose weight by popping a pill rather than go through the discipline of a healthy diet and exercise. Some people believe that the market for obesity treatment could be in excess of $3 billion by the year 2016. Obesity treatments are profitable, as was shown by Xenical, launched in 1999, and the only diet drug with FDA approval for long-term use. Sales quickly reached $600 million annually.
Orexigen (OREX) which is developing diet drug Contrave, and also waiting for FDA approval, is now said to be optimistic after the FDA approved Lorcaserin. There are other possible biotech investment candidates with drugs in the pipeline waiting for FDA approval. Alkermes (ALKS) is developing drugs focused on addressing central nervous system disorders such as addiction, depression, and schizophrenia. It has an array of roughly 20 drug products, such as Vivitrol, with additional drugs currently in the research and development pipeline. The company has recently received FDA approval for its diabetes treatment Bydureon. Another promising candidate for biotech investment is Questcor (QCOR), which is developing drugs to address multiple sclerosis, infantile spasms, and nephritic syndrome. The company's flagship treatment, Acthar Gel, is approved for use in 19 different conditions.
At this time, I would not recommend an investment in Vivus. The risk of investing in a single drug biotech company awaiting FDA approval is compounded in this particular case. For one thing, Vivus is no longer first in line, and will lose some momentum in the market. The FDA approval is risky and convoluted, and there is by no means any certainty that it will come through. Moreover, even if it does come through, the time frame remains uncertain, which makes it difficult to predict how much ground Vivus is going to lose. However, if you have an existing investment, I do recommend holding onto it in the hope of returns following a speedy FDA approval.
Disclosure: I have no positions in any stocks mentioned, and no plans to initiate any positions within the next 72 hours.