Waste Management (WM) is certainly being treated like a "waste" stock instead of the gem that it really is. An analyst downgrade has pushed the stock down more than 5% today. Oh, the analyst is from Morgan Stanley (MS) of Facebook (FB) fame. A dividend paying stock yielding 4% falling 5% in a single day on an analyst downgrade. That should have prompted series of articles on Seeking Alpha and other sites urging value investors to pick this up. But, nope. Waste Management seems to be neglected everywhere. Is it fair ? We certainly don't think so.
Here are some reasons why believe investors should make use of this chance to initiate/add to their WM positions.
Leader: To start with, WM is undoubtedly the industry leader. Even in the downgrade statement linked above, the analyst concedes WM is still showing better results than the competitors. For investors who love to diversify by picking the best stock in each industry, WM is your pick in the waste management industry.
Dividend History: WM has increased its dividends at an average of 8% over the past 5 years.
WM paid its first dividend in 1998 but has been increasing dividends each year only since 2004
WM's current yield is 4.4%, which is a full percentage point higher than its closest rival Republic Services Inc (RSG)
WM's current payout ratio is about 70%, much higher than RSG's 57% but its still a reasonable number
Dividend Growth Potential: As in earlier exercises, let us take a look at the power of dividend growth for an investor who can set aside his/her money in WM.
Assume you purchase 1000 shares at the recent price level of $32 for a total initial investment of $32,000. The current yield works out to 4.4% as shown in the table below. A dividend growth rate of 6% has been assumed for the calculations below, slightly below the last 5 year average.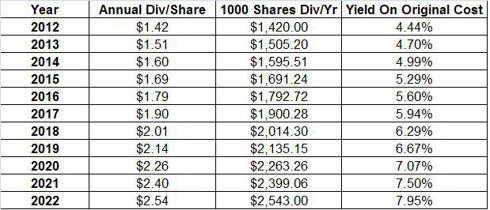 Peter Lynch Reason #1: Based on the reaction from investors in dumping the stock so quickly based on just an analyst downgrade, its very clear WM is not loved much by investors. And the lack of coverage of this huge fall in price - on Seeking Alpha or other sites - indicates there is not much following for WM. That's double whammy for people who like to invest like Peter Lynch. An under-appreciated stock with lesser following.
Peter Lynch Reason #2: Temporary bad news for a firm which commands a good market share and has its fundamentals right is a great buying opportunity for long term investors.
Disclosure: I am long WM.