Agriculture has been one of the hottest industries for an investor to be in. However, a majority of the market has already had significant gains. And although I do have positions in the large agriculture companies; as a value investor, I feel somewhat uncomfortable buying into companies that have already had tremendous returns.
I'm still very bullish on agriculture, and I've been trying to find value plays, particularly in China's emerging market. In this article, I will introduce a few of the companies that I'm interested in and high-level rationale behind why they might be good investments in the coming months. But first, let us explore the agricultural landscape in China.
The Chinese Agricultural Landscape
China has 1.3 billion people with over 900 million living in rural areas, contributing to tremendous amount of consumption. The agricultural sector accounts for approximately 13% of China's GDP growing approximately 8% annually. Arable land in China is less than 1ha per household versus 100ha in the US. The Chinese agricultural technology is slowly improving, but the production efficiency continues to lag behind western countries. With decreasing supply of soybeans, corn and wheat and increasing demand, China has changed from being a net exporter to being a net importer of major agricultural crops. The government heavily supports the agriculture sector with year on year increases in financial support.
Why Invest In Chinese Agriculture?
Chinese agricultural companies are protected by the government and foreign competition is heavily regulated
Recent droughts have made have contributed supply shortage which has driven prices upward
Emerging markets can be thought of as a hedge against domestic agricultural markets, particularly when the domestic markets weak
Consumption has increased across the board for all commodities; this will continue as more Chinese people move out of rural areas into urban settings
Top Pick #1: AgFeed Industries (OTC:FEED) – High-Level Overview
Based out of Nan Chang City, AgFeed sells premixed food for livestock, particularly hogs
China is the largest pig and pork production country in the world as pork makes up almost two thirds of meat consumed in China
98% of pork produced in China is consumed domestically and 80% of Chinese people consume pork as their primary meat
China raised over 530 million hogs in 2006, compared with 100 million in the US for the same year.
The increasing supply of Pork is not offsetting the outrageous growth in pork prices, as the price of pork has gone up by 29% over the past year, and the price of live pigs gone up by 71%
AgFeed's total output amounted to 53,000 metric tones, with pre-mix sales accounting for approximately 85% of revenues. Premix is important because it accelerates the growth of hogs from over two years to as little as several months
The company sells its feed products through 550 wholesale distributors and 630 retail stores across the country
In addition to feed revenue, AgFeed also raises its own hogs and is benefiting from the current TAX-FREE environment due to the blue ear disease
The company recently gained license for export to the Hong Kong market
Revenues increased by 321% in 2007 versus 2006
Net income increased by 467% in 2007 versus 2006
Total feed in metric tones increased by 225% in 2007 versus 2006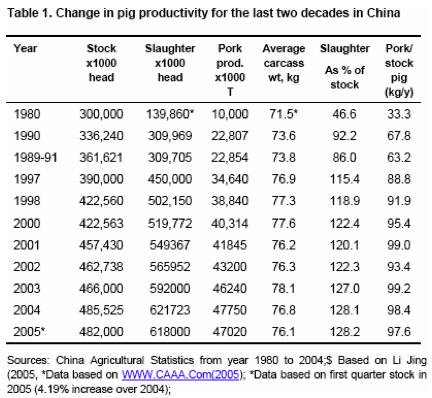 Top Pick #2: Agria Corp (NYSE:GRO) – High-Level Overview
Agria is involved in the research & development, production and sale of corn seeds (50%), sheep breeding products (40%) and seedling products (10%)
Agria sells its products to local and regional distributors
Agria has access to 27,000 acres of farmland, of which 23,000 acres are used for producing corn seeds
Besides producing seeds and seedlings, Agria also owns 17,000 sheep
Revenues likely to increase by 5-10% in 2007 versus 2006
Gross margin of 58% versus industry gross margin of 31%
P/E of 14.8 versus industry P/E of 20
Although I will not discuss further in detail, other potential plays in the Chinese agriculture sector may include Origin Agritech Ltd. (NASDAQ:SEED), and China Organic Agriculture (OTC:CNOA).
Throughout this article, I have offered my high-level thoughts on China's agriculture sector in and a general overview of some of the companies that I'm interested in.
Based on what I've seen so far, agriculture, like many commodities, is here to stay. The high prices are well justified by economic fundamentals, unlike other price bubbles we've seen in the past. This sector will continue to benefit from the increasing global demand. Prices will continue to rise, and I think every investor needs to attribute a good percentage of their portfolio to this sector.
Disclosure: Author has a long position in FEED.