There are an infinite number of reasons to buy or sell equities. Reasons to buy can range from a whimsical feeling about your favorite company to carefully thought out economic and industry strategies. On the other hand, reasons to sell might include a less-than-favorable analyst rating, or a lapse in earnings over several quarters.
Investors who carefully consider economic and industry trends may be able to capture superior profits by taking a stake in Alcoa (NYSE:AA) while simultaneously selling partial positions in Ford (NYSE:F). I believe this is so because Alcoa's aluminum business is at the tail end of a disappointing collapse in aluminum prices, while Ford is hitting the bottom of a trend of strong global sales that are likely to weaken in the coming months.
To be more specific, Ford's business has drastically improved over the last three years, and its share price has enjoyed over a 500% gain since the November 2008 bottom. However, Ford's rally is easily explainable, and not surprising. Due to the recent recession and bankruptcy of General Motors (NYSE:GM), investors were fearful that Ford would suffer the same fate. During this panic, Ford's share price plummeted to bankruptcy levels. Therefore, it was destined to have an incredible rally to make up for those fears.
Unfortunately for die-hard Ford investors, this trend will begin to reverse. It is undeniable that the company's revenue and income have seen impressive improvements over the past four years. However, it is also undeniable that Ford's revenue and income in the first quarter of 2012 slipped 2% and 45%, respectively, on a year over year basis. It is also important to note that while car sales in China, Canada, and America have been strong this year, the lack of sales in Europe will continue to put negative pressure on Ford's margins. In fact, to make up for lost sales in Europe, Ford has already stated that it will cut workdays and shut down manufacturing sites until sales improve.
click images to enlarge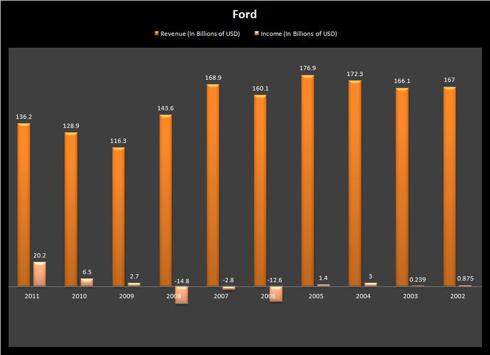 Therefore, it is clear that Ford is thriving everywhere except Europe. It's important to note that Europe accounted for roughly 22% of Ford's total sales volume in 2011. In fact, as the chart below shows, Europe is the only region that has had sequentially lower sales volume over the past five years. I believe this trend will continue through 2012, and possibly throughout 2013, until the European economy stabilizes.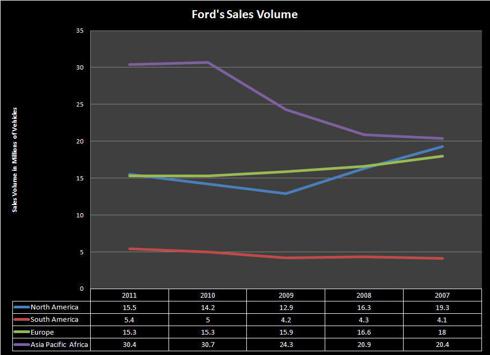 (Source: StopETFs.com)
In the meantime, I am expecting the other three regions to continue to produce strong sales numbers. Although Ford is currently selling about 3-4 million fewer cars in the United States than before the recession. However, in time, I expect the company to repeat and surpass pre-recession auto sales in the United States, which will improve overall margins.
It's important to note that outside North America, Ford's margins are terrible, and showing no signs of improvement. It may be important for Ford to increase sales volume, however, if the company is not churning out profits from these sales, the share price will remain stagnant, as investors will be content with its valuation.
Furthermore, due to the lack of profits from sales, Ford's stock will remain range bound for at least 2-3 years while the global kinks are shaken out. In fact, Ford's share price is currently re-testing the $9.30 low we saw back in October 2011. The share price bounced off this low on July 2, but it has been unable to move higher. Although a range bound stock is not terrible for long-term investors, because Ford's 2% dividend will at provide a little income or the opportunity to purchase additional shares at this low level.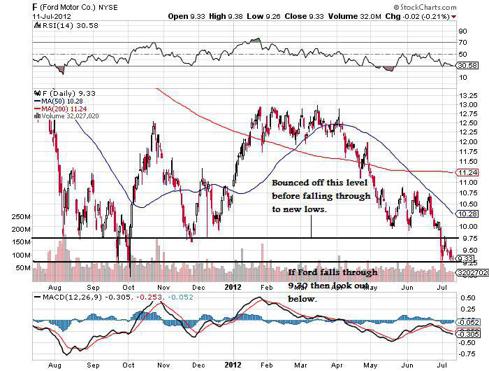 (Source: StockCharts.com)
On the opposite end of the spectrum, Alcoa's stock has only grown about 65% since the 2009 bottom. Compare this to the 95% gain in for the Dow Jones Industrial Average (NYSEARCA:DIA) over that period, and we can see that Alcoa has been a laggard. Alcoa is also a component of the Dow 30. Therefore, the company's underperformance of its own index should raise concerns.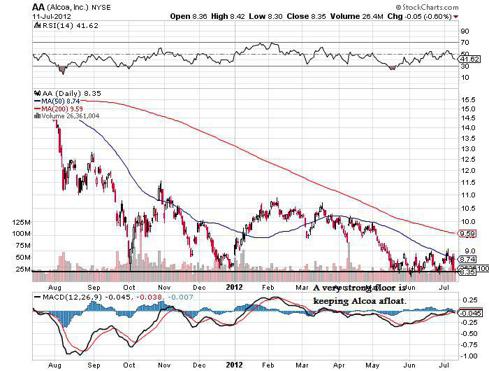 (Source: StockCharts.com)
However, Alcoa's weakness can easily be explained. The company has suffered through volatile aluminum prices and an increase in aluminum stockpiles due to oversupply, lower demand, or a combination of both. Regardless of the reason, the excess supply of aluminum has put downward pressure on the metal's price. This, in turn, has caused Alcoa to struggle to increase revenue and income.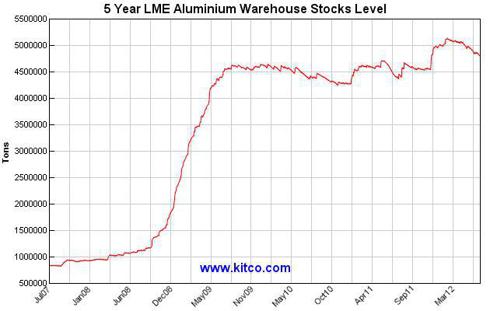 (Source: Kitco.com)
Currently, Alcoa's numbers look similar to 2002 and 2003, as the table below shows. The difference is the price of aluminum is almost double what it was a decade ago. What accounts for the difference? My best explanation goes back to the concept of oversupply and/or weak demand.
Alcoa

2011

2010

2009

2008

2007

2006

2005

2004

2003

2002

Revenue

$24.9B

$21B

$18.4B

$26.9B

$29.3B

$30.4B

$25.6B

$23.5

$21.1B

$19.9B

Income

$611M

$254M

-$1B

-$74M

$2.6B

$2.2B

$1.3B

$1.3B

$938M

$420M
Due to weaker demand, Alcoa's sales aren't the same as they were 5-6 years ago. The company has also suffered from a 14-month slide in the price of aluminum. Lastly, Alcoa's weak financial results are due, in part, to the inherent lag time between the price of aluminum and the company's earnings results and accounts receivable practices.
This is important to note because it proves that Alcoa's long term future is tied to a number of variables, such as construction, aluminum prices, aluminum supply and demand, and the possibility of another cheaper or synthetic metal being created. However, on the other hand, I believe Alcoa's future over the next 2-3 years is very bright, because I expect aluminum prices to make a turn and head higher from here.
As the chart below shows, aluminum is at an important point. Aluminum essentially triple bottomed, but if it can bounce off this level, then we may see at least another 12-24 months before that low is tested again. It is also important to mention that inventory levels are beginning to decline. This will ultimately help the price of aluminum over the long term.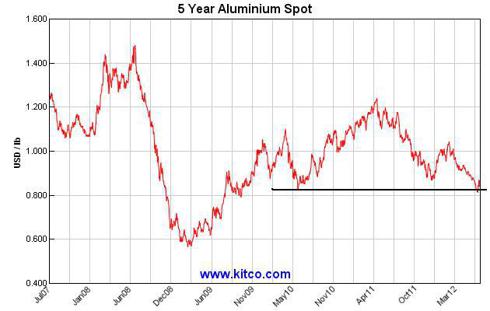 (Source: Kitco.com)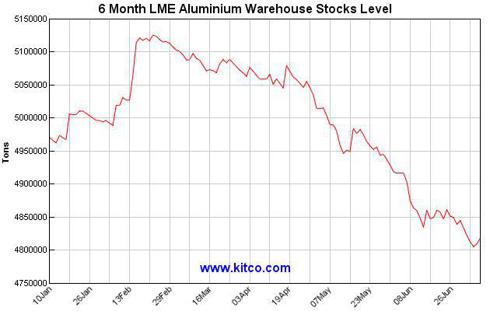 (Source: Kitco.com)
As the price of aluminum begins to increase, we will see Alcoa's share price move higher as well, because attentive investors and traders have been waiting for aluminum's tail spin to reverse. Once the price of aluminum begins to increase, we will see confirmation from Alcoa's earnings over the next 3-4 quarters. In this case, I expect to see Alcoa's share price move upwards into the $18-20 range over the next three years.
So is it time to trade a stake in Ford for a position in Alcoa? It should be clear by now that I am expecting Ford and Alcoa to struggle through the rest of 2012 due to European weakness and feeble aluminum prices, respectively. However, I believe Alcoa will begin to move higher in 2013, while Ford remains range bound until there is confirmation that sales in Europe and margins outside North America have improved.
Is today the best time to make this trade? No. As I outlined above, questions remain about Alcoa. The price of aluminum could easily move higher, and if you are more of a risk-seeking investor, then now would be a great time to buy Alcoa. However, more conservative investors probably need to wait another 3-6 months to see which direction the price of aluminum will move.
At the end of the day, Ford remains one of the better long term stocks available to investors. But for the next three or so years, I believe Alcoa will outperform Ford by a substantial margin. Are there headwinds for Alcoa? Of course. But I believe Alcoa's headwinds are calming, and will soon become tailwinds.
Disclosure: I have no positions in any stocks mentioned, and no plans to initiate any positions within the next 72 hours.