When we have the world´s leading producer of primary and fabricated aluminum, largest miner of bauxite and refiner of alumina trading at such a discount relatively to book value, a good investment opportunity may arise.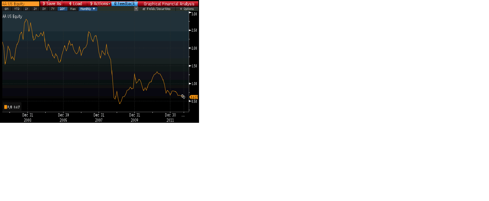 First we have to try to understand why investors are willing to trade Alcoa (NYSE:AA) at such a discount. It can be because they expect the company to destroy shareholder value in the future, or because they have a more attractive alternative to their money.
Given Alcoa's dominating position in most of its markets, it's reasonable to expect that the company has some kind of control over them, and that is a pretty good position in the long term. Companies need Alcoa's products and, very likely, will continue to do so for a long time. Even as I was writing this article, it signed a $1,4B multi year supply deal with Airbus (OTCPK:EADSY), so currently it's business as usual at the company.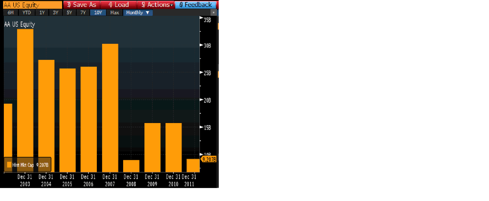 Let's check the last quarter's results and see if there are some clues of why the company is trading at market cap of around $8,9B.
| | | | |
| --- | --- | --- | --- |
| | 2Q 2012 | 1Q2012 | 2Q2011 |
| Revenue millions | $5,963 | $6,006 | $6,585 |
| Cost of goods sold millions | $5,154 | $5,098 | $5,247 |
| Income from continuing operations millions | ($2) | $94 | $326 |
| Income excluding special items millions | $61 | $105 | |
| Free cash-flow millions | $246 | | |
| Cash millions | $1,700 | | |
Compared with a year ago, sales were lower but the cost of goods sold as a percentage did not adjust correspondingly and significantly climbed from 79,7% to 86,4% (5154/5963). Was this because of bad management? Let's check some segment information:
| | | | |
| --- | --- | --- | --- |
| After-tax operating income millions | 2Q 2012 | 2Q2011 | DIFF. |
| -Alumina | $23 | $186 | ($163) |
| -Primary Metals | ($3) | $201 | ($204) |
| -Global Rolled Products | $95 | $99 | ($4) |
| -Engineered Products/Solutions | $160 | $149 | $11 |
Regarding management execution (more information can be found here), investors don't appear to have reasons to complain. Most of the negative variation in results is due to things that management cannot directly control such as higher raw material costs, fuel oil, an 18% year on year drop in aluminum prices and others. Management has been doing a good job generating good levels of cash (positive free cash-flow of $246 millions), reducing working capital, maintaining a healthy balance-sheet and delivering record quarterly results in some segments.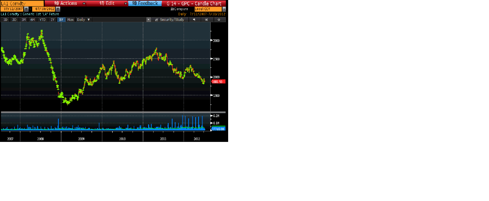 The problem seems to be in the net income sensitivity to the LME aluminum prices, where a variation of $100/MT represents a variation of $220 million in annual results. A drop of 18% from a year ago is not something that the company can directly control and it acknowledges that market fundamentals remain sound. So, given that in the long-term market fundamentals prevail, prices will adjust-- and it seems that Alcoa is positioning itself to benefit from that when it happens.
If you believe this is the case, current prices may be a good investment opportunity to start investing. The company should, at least, be closer to its book value and that alone would represent a very attractive return for an investor today. The cost of replicating a company like this is very likely a lot higher than its current market cap and there is also a very high probability that Alcoa's products will remain needed in the world, so the company will continue to create and deliver value to its shareholders.
Disclosure: I have no positions in any stocks mentioned, and no plans to initiate any positions within the next 72 hours.