The average coal mining stock, as represented by the Market Vectors® Coal ETF (KOL), is down about 30% YTD, after a crippling 33% loss in 2011, and currently sits about 55% below the highs below highs it hit just over a year ago. The group has been hammered over falling demand due to both the weak global economy, competition from cheap natural gas and renewable fuels as a source fuel for electricity generation by utilities, and a seasonally mild winter earlier this year. This has pushed many coal mining companies to the brink, with many trading near multi-year lows, and it has already claimed a casualty in the form of the bankruptcy of leading coal miner Patriot Coal.
However, the group is cyclical, and as counter-intuitive as it may seem, often the best time to invest in such groups is on a contrarian basis. In other words, as bad as the news is, much of that is most likely baked into the prices of coal mining stocks, and the risk given the recent steep fall in the group may be to the upside if any of the negatives cited above reverse themselves, even to a measured degree. It is with this intent that we identify here, based on the latest available Q1 institutional 13-F filings, the coal mining companies that are being accumulated and those being distributed by the world's largest fund managers.
These mega fund managers, such as Fidelity Investments, Goldman Sachs, BlackRock Inc., Vanguard Group, and 22 others, manage between $100 billion and over $1 trillion each, and together control about 40% of the assets invested in the U.S. equity markets. Together, these mega fund managers are bullish on the coal mining group, adding a net $630 million in Q1 to their $14.24 billion prior quarter position in the group. Furthermore, overall they are under-weight in the group by a factor of 0.15; that is, taken together, the 25 mega funds have invested 0.2% of their assets in the coal mining group, significantly less than the 1.5% weighting of the coal mining group in the overall market (for more general information on these mega funds, please look at the end of the article).
The following are coal mining companies that these mega fund managers are most bullish about (see Table):
Consol Energy Inc. (CNX): CNX is a producer of bituminous coal and coal-bed methane gas primarily in the northern and central Appalachian and Illinois basins. Mega funds together added a net 18.54 million shares in Q1 to their 123.00 million share prior quarter position in the company, and taken together mega funds held $4.29 billion or 62.2% of the outstanding shares.
The top buyer was T Rowe Price Associates, with $520 billion in assets under management, that purchased 11.57 million shares. Other large mega fund purchasers included Franklin Templeton Investments (8.18 million shares), with over $152 billion in 13-F assets, Wellington Management (1.17 million shares), one of the largest private independent investment management companies in the world, with $634 billion in assets under management, and JPMorgan Chase & Co. (0.76 million shares), with $1.4 trillion in assets under management. Overall, institutional investors loaded up on CNX in Q1, adding 12.6 million shares to their 206.1 million share prior quarter position.
In its latest Q1 (March), CNX missed analyst earnings estimates (42c v/s 58c), with earnings down 50% year-over-year, and also down sequentially from 70c in the prior quarter. Its shares have fallen, down just over 17% YTD, and off about 54% from the highs a year ago, approximately in tandem with the drop in the Market Vectors Coal ETF. At current prices in the $30 range, the shares trade at an attractive 13 forward P/E and 1.8 P/B, compared to averages of 10.5 and 1.6 for its peers in the coal mining group, while earnings are projected to fall off from $3.04 in 2011 to $2.29 in 2013.
The stock recently has been forming a nice technical bottom in the $25-$30 range, and looks ready to rally on a break-out. Wall Street analysts are also bullish on the stock, with a mean price target of $44, well above current prices in the $30 range. Furthermore, speculation has begun to grow that coal stocks may have bottomed (or indeed be close to one), a scenario in which CNX would do well given its cost leadership and strong financial position, and would be well-positioned to take advantage of any rebound in coal prices due to an improving global economy and rising natural gas and coal prices.
Other coal mining companies that mega fund managers are bullish about include:
The following are coal mining companies that mega funds are bearish about (see Table):
Table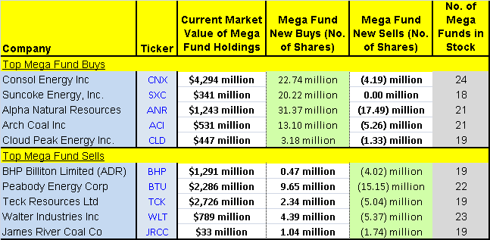 General Methodology and Background Information: The latest available institutional 13-F filings of the largest 25 mega hedge fund and mutual fund managers were analyzed to determine their capital allocation among different industry groupings, and to determine their favorite picks and pans in each group. These mega fund managers number less than one percent of all funds and yet they control almost half of the U.S. equity discretionary fund assets. The argument is that mega institutional investors have the resources and the access to information, knowledge and expertise to conduct extensive due diligence in informing their investment decisions. When mega Institutional Investors invest and maybe even converge on a specific investment idea, the idea deserves consideration for further investigation. The savvy investor may then leverage this information either as a starting point to conduct his own due diligence.
This article is part of a series on institutional holdings in various industry groups and sectors, and other articles in the series for this and prior quarters can be accessed from our author page.
Disclosure: I have no positions in any stocks mentioned, and no plans to initiate any positions within the next 72 hours.
Disclaimer: Material presented here is for informational purposes only. Nothing in this article should be taken as a solicitation to purchase or sell securities. Before buying or selling any stock you should do your own research and reach your own conclusion. Further, these are our 'opinions' and we may be wrong. We may have positions in securities mentioned in this article. You should take this into consideration before acting on any advice given in this article. If this makes you uncomfortable, then do not listen to our thoughts and opinions. The contents of this article do not take into consideration your individual investment objectives so consult with your own financial adviser before making an investment decision. Investing includes certain risks including loss of principal.